New Leaf Dominates Executive; SRC Divided
Posted On August 22, 2019
---
By Eliza Croft and Anthony Lotric
Results are in for the 2019 ANUSA elections! Lachy Day will preside over a divided SRC, with candidates from all major tickets elected.

The New Leaf ticket won 5 out of 6 Executive positions: President, General Secretary (elected unopposed), Treasurer, Social Officer, and Education Officer. Lachy Day's election as President alongside a similarly-aligned Executive means that he will be in a position to put through his three key policies: instituting a five year plan to achieve greater ANUSA policy continuity year to year, devolving power away from the President, and increasing student consultation.

Madhumitha Janagaraja, who ran independently as 'Madhu for ANU', has been elected as Vice President. The current Disabilities Officer has policies which include improving the flexibility of learning and teaching and implementing a mental health strategic plan.

General Representatives were elected from a number of tickets. New Leaf won four positions; You! For ANUSA, Empower, and Climate Action each had two successful candidates; one Electrify candidate won; and Cahill di Donato ('Count on Cahill'), Jacob Ellis ('VOTE!'), and Will Fletcher (ungrouped) were also elected. There were two people named "Nick" elected as Gen Rep, three people named "Ben", and only two women.

Half of the College Representatives elected are from New Leaf. Two College Representatives are from Electrify, and there is one each from You! For ANUSA, Empower, and VOTE!. There was also one successful 'ungrouped' candidate, Millie Wang for CAP Representative, and there is one casual vacancy (unfilled position) in CECS.

Two New Leaf candidates, Lachy Day and Skanda Panditharatne, were elected as delegates to the NUS . New Leaf has stated that all of its candidates will sit with the Grassroots Independents. Henri Vickers, who is aligned with the National Labor Students (Labor Left) faction and Nick Pagonis aligned with Student Unity (Labor Right), also gained NUS delegate positions. Vickers and Pagonis both ran for ANUSA Executive positions, but were unsuccessful.

The results indicate that tickets had varying levels of success, and that the Student Representative Council (SRC) will have diverse points of view.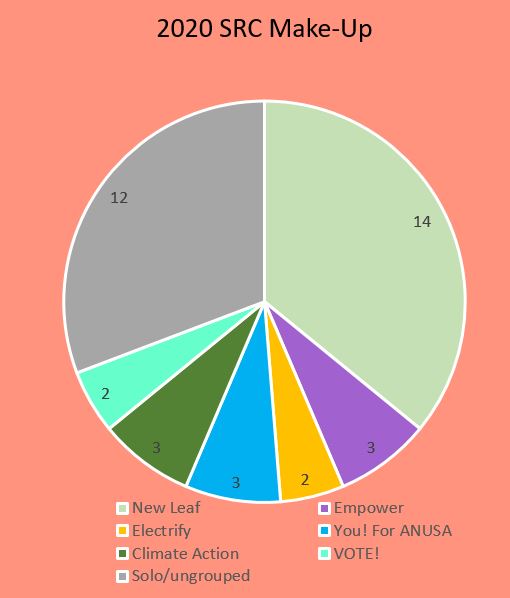 New Leaf, which had mostly non-partisan candidates but was aligned with the Grassroots Independents NUS faction, won 17 positions in total. This represents 68% of its ticket's candidates. Due to the fact that NUS Delegates and the University Council member do not get a vote on the SRC, the ticket will only have 14 votes on the SRC – just over one-third of all votes.

Liberal-aligned You! for ANUSA had 3 candidates elected, or 14.4% of its total list. All three of these will have a vote on SRC. Empower, which had many Labor Left-associated candidates, won 4 positions – 20% of those it contested – and will have 3 votes on the SRC. Electrify, which had connections to Labor Right, won 3 of the 19 roles (15.8%) it contested and will have 2 SRC votes.

Climate Action, which had many Socialist Alternative candidates, won 4 positions – two-thirds of those it contested. It will have 3 votes on the SRC. Both candidates from VOTE! won their elections, and will have a vote on the SRC. 3 solo candidates also won their elections, and ungrouped candidates were elected unopposed as CAP Rep and various Department Officers.
This year's election was more competitive than last year's, where only a few positions required an election – all others had candidates elected unopposed. Perhaps due to the higher level of competition, voter turnout this year was 2321 – almost 40% higher than 2018's turnout of 1688. However, this is still lower than past years as a percentage of total undergraduate students. Approximately 17% of undergraduates voted, compared to approximately 20% in 2014, 2015, and 2017.
Samuel Wright, Adelle Millhouse, and Annemiek Dols contributed to reporting.
Skanda Panditharatne was an Observer News Editor in 2017 and 2018. He ceased all involvement with Observer in March 2019.
---
Know something we don't know? Email [email protected] or use our anonymous tip submission.

If you have an issue with this article, or a correction to make, you can contact us at [email protected], submit a formal dispute, or angery react the Facebook post.

Want to get involved? You can write articles, photograph, livestream or do web support. We're also looking for someone to yell "extra!" outside Davey Lodge at 1AM. Apply today!
---