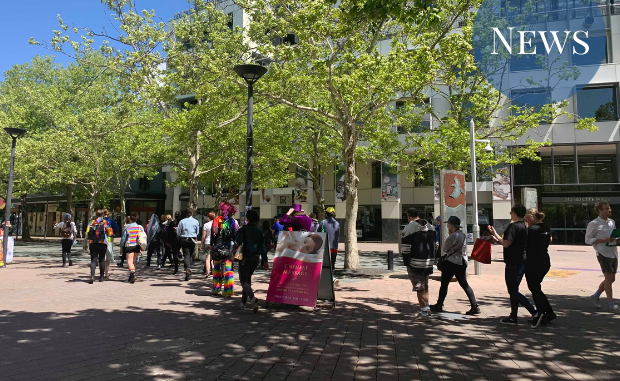 By Hayley Hands
ANU students joined other activists in Garema Place Saturday afternoon to protest the proposed religious discriminations bill.
The proposed bill seeks to prohibit direct and indirect discriminations against people based on their religious belief or 'activity', which is not defined in the bill. However, exemptions have been given to religious bodies discriminating 'in good faith'. The bill has been criticised as homophobic and transphobic on the grounds that it would allow religious organisations, including schools and employers, not to admit queer* people.
Speaking to Observer before the rally, ANUSA Queer* Department Officer Sam Neave said the protest would be "the start of what is to be the biggest campaign for our Queer* department". He expressed concern that the bill would cross the line into "hateful discrimination", stating that in response "we must take action". He also stated the bill create a "perceived 'right to discriminate' against queer* people". He encouraged all "students, staff, media and the community" to participate in the rally in a "respectful manner".
ANUSA did not respond to Observer's request for comment. They did, however, make a Facebook post opposing the "homophobic and transphobic religious exemptions bill" and supporting the protest. A motion was passed at SRC 7 to support the LGBTI* civil rights movement and oppose the bill.
Despite the windy weather, protesters gathered at Garema Place for the rally on Saturday afternoon. A representative of the National Union of Students (NUS) led the protest, criticising "homophobes" pushing back against protest movements, and leading the crowd in a number of chants. 
Kenya Matsebula, Equal Love Canberra representative and ANU Socialist Alternative (SAlt) member, spoke next at the protest, stating that despite the "persecution" the queer* community is faced with, they are "still bright, colourful and ready to fight for [their] rights". Matsebula also critiqued the legislation as being "against the democratic will of the people" and that it was not representative of "working class, regular people" who are religious.
Greens MLA Shane Rattenbury also spoke at the rally. He said that the crowd "should not have to be here today", and argued that the existence of the debate "reflects poor leadership" at a federal level. He criticised the "discrimination and vilification" of queer* people by conservative governments and their policies, stating that "the price of freedom seems to be constant vigilance".
Unions ACT president Madeline Northam also delivered a speech. Northam criticised the bill as being "not about freedom and definitely not about religion," but rather "about hatred and bigotry". In addition, she emphasised the apparent hypocrisy of a bill surrounding 'freedoms' when there have been "attacks on public servants for simply liking a Facebook page". She ended her speech by stating that people should say "no to hate, no to division, no to discrimination and no to this bill".
Finally, high school student and activist Tess Carlton expressed her dissent to the bill. She stated that high school is a time when students can choose whether or not they want to "create a world that is accepting, or create one that isn't". She went on to say that "conservative Christian groups feel oppressed" because they have to treat LGBTQ* people "like humans" and that the bill was "idiots in Parliament" feeling like they can oppress "our human rights". 
Following the speeches, activists led a march around Garema Place and Civic. Some protesters were dressed in rainbow colours, and led protest chants throughout the area. 
Support is available:
ANU Counselling – (02) 6125 2442 (9am-5pm Mon-Fri)
ANU Crisis Student Support Line – Phone: 1300 050 327; Text: 0488 884 170  (5pm-9am Mon-Fri, 24/7 weekends)
QLife – Phone: 1800 184 527; Online chat: https://qlife.org.au/ (3 pm – 12 am, Mon-Sun)
Lifeline – 13 11 14 (24/7)
Know something we don't know? Email [email protected] or use our anonymous tip submission.
If you have an issue with this article, or a correction to make, you can contact us at [email protected], submit a formal dispute, or angery react the Facebook post.
Want to get involved? You can write articles, photograph, livestream or do web support. We're also looking for someone to yell "extra!" outside Davey Lodge at 1AM. Apply today!