---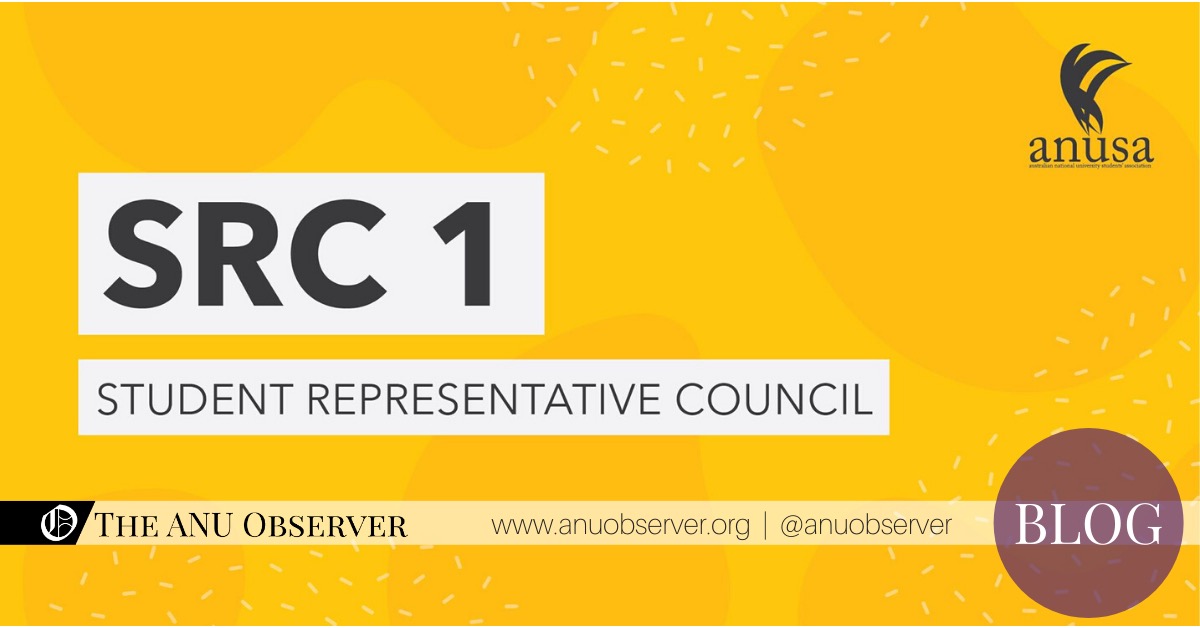 22.36
We now move to motion 6.12, the last of the night(thank goodness!) It concerns a number of ANU based businesses that are allegedly not paying employees the correct wages and entitlements. The motion, moved by General Representative Will Fletcher, calls on ANUSA to condemn these businesses, and for ANUSA to put pressure on the University to take responsibility for students and employees on campus.
Fletcher provides a number of quotes from workers at ANU businesses who have experienced wage theft. He states that wage theft is "rampant" in Canberra and all of Australia.
CASS Representative James Eveille asks everyone to "join their union", stating that those who don't are a "scab".
The motion passes.
SRC 1 is closed at 10:35pm. Thanks for joining us! We hope you tune in for our next liveblog.
22.31
We now move to motion 6.10, which is moved by Maddy Wang. The motion calls for the SRC to establish a exploratory committee on Alumni and Donor relations in response to recent efforts by the ANU to increase alumni and donor engagement.
Wang states the motion was written by Kai Clark and thanks him for his "massive intellect".
She also asks anyone who wishes to be apart of the committee to send her an email.
The motion passes.
22.29
We move back to motion 6.6 which now has a friendly amendment.
Will Fletcher states that the changes will allow current sponsorships to continue until SRC 2, at which point "no further sponsorships will be allowed to happen without a majority vote of the SRC".
The motion passes.
22.25
We move to motion 6.11
The motion calls for ANUSA to support the Refugee Action Campaign's Palm Sunday rally. The motion also states that ANUSA condemns mandatory offshore detention, boat turnbacks and the anti-refugee sentiment displayed by both the Government and the opposition, and that ANUSA will put a statement out supporting refugees and co-host the University contingent to the aforementioned rally.
John Dove speaks for the motion, stating that it is important that ANUSA takes "concrete steps" to oppose anti-refugee sentiment.
The motion passes unanimously.
22.22
Hill gives the right of reply to another student. The student states that ANUSA "shouldn't be sponsored by businesses at all" and that this "isn't how a union should be run".
The motion passes.
22.19
Motion 6.8 is moved by Environmental Officer Grace Hill. The motion claims that ANUSA should reject corporate unionism and should not engage in any corporate partnerships or sponsorship deals in the future. The motion also claims that ANUSA should condemn JWLand and equivalent corporations and that ANUSA should support Universal Student Unionism.
This motion, like Motion 6.6 comes in response to ANUSA's O-week being sponsored by JWLand, a property development organisation who, the motion claims "profited from the demolition of Public Housing in Lyneham." Hill believes that the partnership decision was "an insult to students".
An amendment has been proposed to motion 6.8 by General Representative Ben Yates. Yates describes the motion as it currently stands as "bloody minded and ill thought out". Hill clarifies this amendment is not friendly.
The amendment passes.
22.13
We move to a 2 minute break before we go back to motion 6.8.
22.12
Grace Carter exercises her right of reply, stating the motion is not to "discount the work done in the uni break". She states that it would "really mean something for ANUSA to vote this down" and urges members to not "let their vendetta against socialists" impede their decision making.
Carter's motion does not pass.
22.10
Motion 6.9 is moved by non-SRC member Grace Carter, and concerns the COVID-19 (coronavirus) outbreak. The Australian travel ban has left thousands of students stranded overseas and has been extended three times since its implementation. This motion claims that ANUSA should condemn in writing both the federal government's travel ban and ANU accommodation's decision to continue to charge stranded international students.
International Students' Officer LC speaks against the motion. She claims that international students need "practical solutions" and that SAlt members are "speaking over" international students. 
SAlt member Kenya Matsebula speaks for the motion, stating it had been raised in "the spirit of anti-racism". She claims that some students are not being represented by bodies like ANUSA.
Yip raises a point of clarification, stating that she never said that she was the only one who could speak on behalf of international students, but that her collective should be consulted.
Another SRC member speaks against the motion, stating that she doesn't "need you to tell me that you are against racism", and referring to the motion as being "sickening for me to sit here and listen to". 
22.01
Our livestream is having some technical difficulties, so bear with us.
Will Fletcher speaks to a new amendment made to his motion which provides clearer terms surrounding the process of working with sponsors when they are not disputed by the SRC.
Education Officer Skanda Panditharatne passes a motion for the question to be laid on the table, which will allow it to be picked up at a later SRC.
International Students' Officer LC Yip moves a motion to progress to motion 6.9, as well as to skip the reading of it.
The motion passes.
21.48
Hill speaks against the motion, criticising it as being conservative and stating that people should vote for her left-wing motion which opposes all Corporate Sponsorships instead. She says that "we should be fighting for universal student unionism".
A friendly amendment is put forward which prevents ANUSA from accepting further corporate sponsorships until sponsorship guidelines are "finalised and approved by the SRC".
General Representative Ben Yates asks whether this motion will affect sponsorship deals that have been made since O-Week.
Janagaraja moves a procedural which allows a discussion for three minutes. There is some confusion about what would be defined as corporate sponsorship deals under the new amendment.
We move to a 5 minute break as another amendment is sent through.
21.37
Motion 6.6 moved by General Representative Will Fletcher relates to the sponsorship of ANUSA's O-Week by Canberra Property Developer JWLand. 
The motion calls for a public or internal statement regarding how and by whom the decision to accept the sponsorship deal were made, including whether it was approved by the whole Executive, the financial details of the sponsorship, information regarding other sponsorship offers ANUSA has received and which sponsors(if any) have been turned down by ANUSA.
The motion also requests that the Executive, after input from the SRC, will draft guidelines regarding the acceptance of future sponsorships which will be submitted to SRC 2 for approval.
Fletcher states that whilst he has "personal positions about whether we should have sponsorships at all" that "the best way to go forward from this is to have some guidelines" surrounding them.
21.34
We move to motion 6.13, which concerns changes to the use of debit cards. A procedural is moved to skip reading the motion.
The motion passes.
21.32
Carlton says that "we have a responsibility" to look after the climate and that everyone is under attack apart from "big business".
Environment Officer Grace Hill speaks on the motion. She reiterates the impact of the events of summer, and speaks in favour of protesting and striking rather than being "respectable". She emphasises the need to "[Mobilise] the social networks that we run" to make it "the best that it can possibly be". 
A student speaks against the motion, referencing his own use of ANUSA services, and stating that closing the office is something we should "unanimously" get behind as it is just a "long lunch break".
Aryanne Camnischi speaks for the motion, clarifying that she has "also used ANUSA's services and believe it should stay open".
Both motions 6.5 and 6.7 are passed together.
21.21
The amendment to remove the section which calls for ANUSA to close its office during the strike passes. Heslington moves discussion onto the motion itself.
Nick Carlton criticises those who voted for the amendment, saying that it misses a crucial opportunity. He swears during his statement, and is named for a third time. Heslington asks Carlton to leave the meeting. 
General Representative Ben Yates puts forward a motion to dissent the chair to prevent Carlton from leaving the meeting. The chair moves to Madhu.
Lachy moves that the chair's ruling be upheld, which would mean that the decision to remove Carlton from the meeting would be considered valid. The motion fails and the naming is reversed.
The chair passes back to Heslington, and Carlton is allowed to continue to speak to the motion.
21.12
Motion 6.5, put forward by SAlt member Nick Carlton, calls for ANUSA to support the March 13th National Uni Student Climate Strike by closing its offices, advertising the strike on posters, leaflets and newsletters, as well as demanding that classes be cancelled without penalty so that students can attend the strike. It also condemns the Australian Federal and State Governments for their subsidisation of coal and projects, and links the bushfire crisis to this support of fossil fuels.
General Representative Cahill Di Donato speaks for an amendment to this motion which would remove the demand to shut down the ANUSA offices for the duration of the climate strike. He justifies this on the basis that ANUSA should continue providing services to students. He says it is "problematic" to stop providing services to students.
Grace Carter speaks against this amendment, stating that it is "bullshit" that ANUSA is primarily a service.
Madhu Janagaraja speaks for the amendment due to the importance of the services provided by the ANUSA office, especially in situations of crisis.
A student then speaks to the motion, saying that ANUSA officers should not be forced not to work, as this goes "against what a strike is about", which in his words is "worker autonomy".
ANUSA President Lachy Day clarifies that many ANUSA staff already attend strikes and they are paid regardless of whether they decide to strike.
Nick Carlton speaks for his motion, expressing that the argument behind closing the ANUSA office is to send a message and that if they are paid if they go on strike, it makes Day's statement a "moot point".
Will Fletcher briefly speaks against the motion, drawing upon what Madhu said earlier.
Nick Carlton has been named for speaking over Fletcher.
We move to a procedural to allow another speaker against, but it does not pass.
20.46
Motion 6.4, moved again by former CAP Rep Dominic Harvey-Taylor, has the SRC "take note" of a finding of the ANUSA Disputes Committee, regarding "attempts made by the 2019 Education Officer and General Secretary to pass a motion outside of a meeting of the SRC".
According to the ruling, an attempt was made to move a motion outside of an SRC meeting in October of last year by the then-Education Officer, Tanika Sibal, and ANUSA President, then-Gen Sec Lachy Day. The motion concerned whether ANUSA should accredit with the NUS, and was sent to SRC members to vote on by email. Once voted on, this was to be treated as a Resolution, as though it had been voted upon.
The Committee ruled that, as an email chain was not a valid meeting of the SRC, the motion was invalid. Just one member of the Disputes Committee – Chair Kevin Tanaya – ruled on this motion.
The motion passes.
20.45
We've suspended standing orders to have a discussion on the motion.
A student speaks against the motion, saying that it shows that it shows an orientation towards "running to a corporation" to ask how ANUSA should be run, rather than asking students. Day states that in some cases you can tell that the consultants that did the review didn't "understand how a union works and how ANUSA works as a whole". He maintains, however, that claims that anyone who has been on the SRC would confirm that the current structure does not work, and that it functions "in spite" of these problems. He also asserts that these issues contribute to the quick turnover of representatives from year to year.
Hill asserts that the problem is a result of the corporate approach of the ANUSA executive, as opposed to the governance structure itself. Day refutes this, and says that the example of the Clubs Council Executive, who are unpaid volunteers, are proof of this. This review would allow for Clubs Council to be paid, among other changes, including clarifying the role of College Representatives, and adding a welfare role to the ANUSA Executive. 
Nick Carlton moves a procedural so that he can speak against the motion. The motion passes. He asks why a meeting is not called to put forward a motion to include a Welfare Officer in the SRC. He goes on to argue that the review is a right wing corporate exercise with a few "nuggets" such as the Welfare Officer. He reiterates that the SRC can pass constitutional changes in its own time and that it does not need a "rubber stamp of approval".
We move to a vote, and the motion passes.
20.31
The Chair passes to VP Madhu Janagaraja for the discussion of Motion 6.3, regarding the the Governance Review. After a brief break to include some friendly amendments.
General Secretary Taylor Heslington speaks to motion 8.3, which pertains to a governance review into improvements of ANUSA's Constitution. The motion calls for the empowerment by the SRC of a "Governance Review Working Group" which will consist of the President and the General Secretary, as well as one General Representative and a member of the Clubs Council Executive who will be chosen through an application process. Any Department Officer who wishes to be on the Committee will also be allowed.
The group will draft changes recommended by the governance consultations, and will have the ability to conduct further consultation "if deemed necessary".
20.07
After a short break, we move to discussion on Motion 8.2.
The next item, moved by former CAP Rep Dominic Harvey-Taylor, relates to the 2019 College Representative funding pool. The motion concerns the 2019 ANUSA executive's failure "to follow through with making any form of payment in conformity with the decision of the CRC". The decision in question was made by the CRC last year regarding the purchase of communal textbooks for the Brian Kenyon Student Space (BKSS). 
The motion also claims in its preamble that this failure led to the CRC budget being "significantly slashed" compared to last year's budget.
The motion calls for the acknowledgement that CRC funding is to be used for initiatives and events as endorsed by College Representatives, and that this be done in "good faith". Furthermore, the motion states that if an agreement is made regarding a purchase then the Trustee "must make that payment", and that if this does not happen, a written explanation must be provided to the CRC. Finally, the motion calls for the ANUSA Treasurer to provide the CRC with a "detailed breakdown" of how the CRC line item has been spent at the first meeting of Semester 2 this year.
19.58
Motion 8.1 has the SRC confirm the election of all Department Officers who were not elected at the ANUSA Elections last year. Most Departments chose their Officers with a closed ballot within their collective, and thus do not appear on the ANUSA ballot. This is for reasons of Departmental autonomy – although technically, only students from within the Department (e.g. Queer* or indignous students) can vote, this is completely self-identified and unpoliced. This motion has the SRC confirm the election of Emily Genn as Disabilities Officer, Zenia Vasaiwalla as Ethnocultural Officer, Siang Jin Law as Women's Officer; LewChing(LC) Yip as International Students' Officer, and Maddy Crowe as Indigenous Officer.
This motion is a constitutional requirement, and passes unanimously.
19.57
Clubs Council Chair Jacob Howland delivers his report. The report states that 78 clubs reaffiliation requests as well as 2 new affiliation requests have been received. 19 of these requests were approved in the first round. The reaffiliation period ended on 2 March.
Whilst most casual vacancies have been filled, Howland states that a resignation received from Harry Vinter has created an opening for the Special Interest Branch Officer.
In his report, Howland states that discussions about the Governance Review have been "productive", and that he has provided a 2,500 word document to the General Secretary with feedback on the recommendations.
Responding to a question asked previously, Howland states that the reaffiliations workload is unreasonable for unpaid volunteers. He states that it is, and notes that those responsible are not eligible for honouraria under the ANUSA policy, as it is simply within the confines of their role, not "above and beyond".
Hill asks what Howland's attitude was in regard to Club's spaces at Market Day being inferior to those of corporate sponsors that paid to be in the middle of Kambri. Howland states that he believes that clubs were still in "pretty good real estate". Howland encourages anyone who has any feedback about Market Day to give it to himself or to Social Officer Sophie Jaggar. 
Skanda Panditharatne asks whether Howland will be foreseeing any changes to funding policy as Clubs Council ran out of funds in 2019. Howland says that he is not seeing any changes as they have been allocated ",000 less" than last year with no funding for Clubs Ball. Howland says that the main objective is for "as many student voices as possible" to say that the students expect the money paid by students in SSAF to go to student associations, rather than to university departments. 
The report passes.
19.49
The Ethnocultural Officer, Zenia Vasaiwalla, speaks to her report. The  report is quite brief. It notes their Department's merchandise launch during O-week, and planned workshops that will explore "different experiences of being ethnocultural". It also advertises the 'chai and chats' events that the Department has planned for the year.
Vasaiwalla is congratulated for reviving Ethnocultural Revue, after it was cancelled last year.
The report passes.
19.46
Environmental Officer Grace Hill delivers her report. The report states that the past summer has been a "watershed political moment", and calls for the Environmental Collective to be part of a surge in "climate interest and activity". 
She draws attention to the bushfire rallies that she has been part of organising around Australia since the beginning, collaborating with other climate activists around Australia. 
Hill also flags the "new climate denial" of pushing off action until 2050. She calls for PM Scott Morrison to be sacked, and states that "capitalism is destroying the planet".
Responding to a question on ANU Council's 'Below Zero' initiative, Hill states that this is "greenwashing" while ANU continues to have academic ties with polluters.
Gen Rep Will Fletcher asks what the difference is between a strike and a rally. Hill clarifies that a strike includes student withdrawing from classes to make a statement, rather than merely coming together in a public place to demonstrate. Hill believes that ANUSA staff should be paid for their time, but that the office should be shut down during the strike. Fletcher asks a follow-up, questioning whether there is an over-use of the term 'strike', rather than rally, especially given that larger strike events are planned for later in the year. Hill disagrees.
In response to a question, Hill states that it is important to liaise with Indigenous groups while participating in climate activism.
The report passes.
19.30
Disabilities Officer Emily Genn is not present, and therefore cannot speak to her report. Her report passes in her absence.
The report highlights the Department's fete, market day during O-Week, and Movie Night. It also brings attention to a number of training modules that ANU staff can participate in to become more sensitive to the needs of disabled students.
19.29
International Students' Officer LC Yip is now speaking to her report. It's an emotional start as she thanks ANUSA VP Madhu Janagaraja for her support "both as a friend and as VP". She also notes that her report was written last week, and much has happened since then.
Due to the coronavirus outbreak, Yip said that it has been a "hectic month" for the International Department. Yip thanked Vice-President Madhu and the ANUSA assistance teams for their support. Concerning the travel ban, the Department has been in negotiations with the ANU in regard to financial packages to support affected students. She also notes that affected students who have travelled through other nations are starting to arrive, and that she plans on holding a mini O-Week in Week 8, so that they have something to look forward to. Yip also states that conversations are ongoing with the ANU regarding international students who are still being charged for their accommodation. 
The report passes.
19.22
Queer* Officer Shivali Trivedi delivered her report as the 2020 Queer* Officer. In her report, she provided summaries of the Queer* Collective events which ran during O-Week. Trivedi also broke down the Department's income and expenditure during O-Week and the current term, as well as a provisional budget for the rest of the year. 
During O-Week, the Department ran five events, all of which Trivedi said had "an amazing turnout". She noted that these events, which included various social meet-ups, Market Day and the Department Fete, consistently had good student attendance and engagement.
Trivedi notes that the Queer* Collective's submission on the Religious Freedom Bill has been accepted by the Attorney General's Office, and will be published on the Department's website. She also flags that there has been some damage to the Queer* House due to hail, and the House is currently closed to the collective. She urges students to contact her if they have any concerns.
The report passes.
19.18
Content warning: sexual assault and sexual harassment
The Women's Department report was delivered by this year's Women's Officer, Siang Jin Law. Law provided updates on completed Department projects, which include O-week events and the revamped Rapunzel Room; she then goes on to discuss ongoing projects and campaigns in her report.
She stated that O-Week has been a "resounding success" for the Women's Department, with a good turn out at events like the Department board games night, a welcome picnic, the Department Fete, and Market Day. 
Another completed project has been the renovation and refurbishment of the Women's Department's Rapunzel Room. Law reported that she, alongside the deputy Women's Officers, spent time over the break painting the space's walls, installing a mural and putting in wooden floors.
On upcoming campaigns and projects, Law wrote on the continuing work that the Women's Department has been engaged with in Respectful Relationships and Residential Hall advocacy. Notably, the Online Reporting Tool has been launched after lengthy delays over the last two years. This will allow students to make disclosures and seek support via an online form— more information and a link to the form can be found here.  She also stated that she is working with Queer* Officer Shivali Trivedi to establish an "internal community of GSAs" which could support student leaders in their advocacy at residential halls.
She also stated that the Women's Department is in the process of selecting a campaign focus for Semester 1. Currently, the Department is considering a "sexuality-focused campaign that will analyse sex and sexuality through a critical lens", as well as a life-skills and upskilling-oriented campaign, which may include "changing a type or navigating a pay raise." Law expects that a vote on the campaign theme will take place at the Week 4 Women's Collective meeting.
The report passes.
19.13
Maddy Crowe, this year's Indigenous Department Officer, delivers her report. She reflects on the autonomous and non-autonomous events run by her Department during O-week, which included the Department Fete, Market Day, a non-autonomous weaving workshop and social events for Department members. 
Crowe described the engagement that herself and her Department had with non-Indigenous students at the Department Fete as "valuable … due to the education and awareness it provided." She also flagged the possibility of a similar event to the weaving workshop during NAIDOC Week, following the success of the O-Week workshop. Crowe described the Indigenous Department's attendance at Market Day as "largely successful", as the Department was able to reach new Aboriginal and Torres Strait Islander students.
According to Crowe's report, the Indigenous Department is currently looking to fill the positions of Treasurer and Secretary; nominations are currently open, with elections to take place at the first Department meeting. She concluded her report by thanking the 2019 Indigenous Officer, Sarah Loynes, for their work in the previous year, and their support in the Officer handover process.
The report passes.
19.09
Sophie Jaggar's report opens with celebrating the successful running of O-Week. Jaggar thanks those who helped her to make this possible and says that "most of our [ANUSA's] events were highly attended". Jaggar will be producing a survey for feedback on O-week to be released later this week.
 ANUSA's 'Horizon' party, held on the 21st February, was a success; Jaggar said in her report that although less people attended than in previous years the event ran more smoothly with problems from 2019 being improved upon this year. Ticket numbers will be released at the next SRC and a feedback survey has been posted on the ANUSA Facebook page to help next year's organizers.
 Jaggar also said that she is working towards the creation of a "mini O-week" for any international students effected by the current travel ban. She believes that it will potentially be similar to last year's 'O-week in a day, but over more days.'
When questioned about Market Day and why some clubs were "shoved in a corner and not in the centre action in Kambri" while corporate sponsors were in the heart of Kambri, Jaggar responded that Market Day was a "logistical nightmare". When asked whether there was a  "tier of sponsorship" required for a club to get a priority spot on Market Day. Sophie confirms that Corporate sponsors do pay to have their marquees in Kambri, and that this is how they recoup the costs of O-Week. Jaggar also notes that Kambri is not the only "prime spot" on campus and that the purpose of University Avenue is so that students can have engagement with all the stores. 
The report passes.
19.05
We are now onto Treasurer Maddy Wang's report. It begins with a profit and loss table accounting for the period from 31 December and ending on 31 March. The table shows that with 40% of SSAF already paid out to ANUSA, they have 8,897 left over after expenses.
Wang announces that the Economist would like to advertise on campus next week, which would bring in 00 of revenue for ANUSA.
In response to a question on corporate sponsorship and JWLand, Wang says that she "[doesn't think] ANUSA is in a position to turn down sponsorships". She notes that ANUSA lacks non-SSAF funding for capital such as a storefront or bar. She states that she did not consider beforehand the damage to ANUSA's reputation that accepting the sponsorship.
Wang noted in her election promises that property developers were particularly problematic sponsors for ANUSA. In response to a question on this, Wang states that she made this election promise "because [she] thought it was funny… and [she] was cringe back then". When pushed, she says that she regrets that she had to break her election promise, but that it was necessary so that ANUSA "could continue providing O-Week to the standard people expect it to be".
ANUSA received 00 (five thousand dollars) from JWLand. Other Silver Sponsors included Lifeblood (the Red Cross), Zoo Bar and Grill, and Bank Australia.
18.52
Taylor Heslington, the 2020 Gen Sec, states in her report that she is currently consulting with various groups in ANUSA, such as the Department Officers and General Representatives, to obtain their feedback on the recently completed Governance Review. "If people in the internal consultations don't agree with [the recommendations] we won't take them on." 
There are also a number of questions on the Governance Review. The report has not yet been published, though Heslington states that copies will be provided to those in consultation. Heslington refused to clarify her own views on the report's recommendations, stating that she did not want to influence the upcoming consultation sessions. When pressed, she clarified that she would be happy to provide her views at SRC 2, once consultation has concluded.
We move on to a question on a motion passed at SRC 7, which was later declared invalid. This concerns the Off-Campus Collective, which has been effectively disestablished, as it was an overreach of the SRC's powers to establish a committee.
The report passes.
18.38
Education Officer Skanda Panditharatne delivers his report. He states that EdCom has "only just kicked into gear", as the first meeting took place last night. Panditharatne says that he is currently looking for two deputies with nominations closing at 5pm on 13 March.
He also states that the recent Teaching and Learning Development Committee (TLDC) was "highly productive" and that automated transcripts of Echo360 Lectures would remain turned on by default.
As a result of the COVID19 travel ban, Panditharatne states that the First Year Retreat has faced numerous push backs and is now likely to become a weekend event for first years, with leftover funds to be used for an event for first years who were impacted by the travel ban.
Responding to a question regarding his planned expanded 'Get Enrolled, Get Informed, Get Voting' campaign, one of his election promises. 
Grace Hill, the Environmental Officer, questions the invitation of a Liberal politician on campus as part of last year's 'Get Enrolled' campaign. Panditharatne replies that endorsing particular candidates in these contexts is not what ANUSA should be doing.
18.34
Vice President Mahdu Janagaraja speaks to her report. Most of her report concerns advocacy that she has planned for 2020. Firstly, it mentions Access and Inclusion's proposal that its name be changed to Access, Inclusion & Empowerment, which Janagaraja opposed on the grounds that it suggested a potentially problematic service provision model.
Janagaraja then discusses ANUSA's response to the bushfire smoke affecting ANU. A timeline of when and how many face masks were procured by ANUSA executives and handed out to students is provided.
She states that she has reached out to ANU Facilities and Services regarding the delays to the University organising a promised internal campus shuttle, which she worked on as Disabilities Officer last year. The report also lays out ANUSA's response to Coronavirus, stating that International Officer LC has "crushed it". 
In another section, Janagaraja explains her intention to ensure that there is "minimal overlap" between the work of ANU Counselling/ANU Thrive and the Mental Health Committee, which she chairs. She also states that she would like to make the committee less events based than it has previously been. 
She also expresses her intention to do more with the BKSS, despite funding cuts, notes her work with ANU Academic Skills to develop a program to assist honours students write their thesis. 
The report passes.
18.32
Apologies for the late start to our liveblog tonight, we should be all up and running now!
The meeting begins with Gen Sec Taylor Heslington explaining a little about the SRC process for those who have never attended. We then move on to Exec reports, beginning with President Lachy Day.
Day's report opens by introducing a new initiative for SRC meetings that involves acknowledging good work by students inside and outside of ANUSA. Day congratulates International Officer LC Yip for her work on the COVID-19 travel ban as well as Social Officer Sophie Jaggar and her O-Week team.
In a coronavirus update, Day acknowledges the negative effect the virus has had on students and the campus as a whole. Some wins for ANUSA, however, have been that the University has agreed to waive tuition fees for affected students and allowed them to retake courses. Day urged any students who needed further support to contact the ANU. He  also condemned anti-Chinese sentiment, and asked that students report any such behaviour whenever it occurs.
Day also praises Vice-President Madhu for her action in providing P2 masks for the student population over the summer.  ANUSA reps chose to distribute masks even when ANUSA itself was closed. While the hailstorm did not cause any significant damage to ANUSA's offices, ANUSA ensured that the campus was safe before students were allowed to return.
After introducing several KPI's for SRC #2; consultation, decentralisation, strategic plan and ANUSA functionality, Day said that he will be "taking the lead" on Course Representative-based projects. Day also said that the Course Representative Policy is undergoing consultation, but after it is completed it will be the first "codified student representative/active feedback mechanism" at any university in Australia. The second project in motion is for Course Rep training, which will be run jointly by ANUSA and PARSA.
---