COVID-19 Leads to Reduced Res Hall Re-admission for 2021
Posted On September 20, 2020
---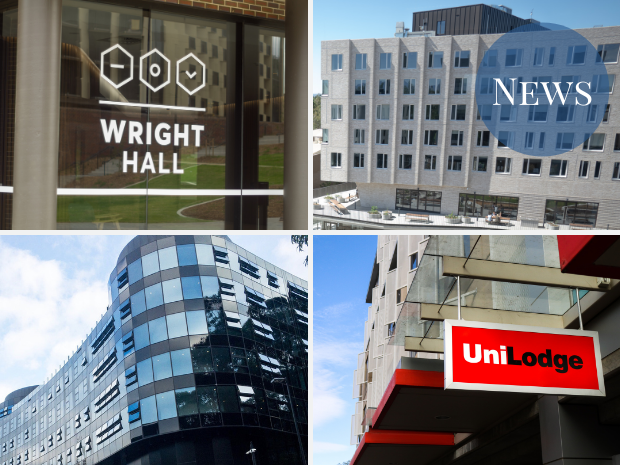 By Madeleine McDonald
Many later year students will not be returning to on-campus accommodation in 2021, due to reduced occupancy levels in line with COVID-19 social distancing and health directives, and a higher than average influx of first-year students. Students have raised concerns about the impact this will have on campus life, and the ability of residences to provide proper pastoral care.
Returner applications have typically been conducted later in the academic year, towards the end of October. However, they were moved forward this year after student feedback indicated that more time was needed to find alternative accommodation. Returner Applications for 2021 were open from 21 August to 4 September, while leadership applications were made between 4 September and 18 September. Although accommodation offers have been issued prior to the formation of student leadership teams, students who did not receive an accommodation offer are "still encouraged to apply for any leadership position". 
An ANU Spokesperson told Observer that "Pre-COVID, the returning rate for residences was usually 60%", adding that "in 2021, roughly 50% of students in residences will be returners". Applications for first-year accommodation for 2021 have increased three-fold "compared to previous years," which may be due to ANU's decision to accept incoming students based on their Year 11 results. This directly reduces the number of places available for later year students due to the accommodation guarantee, which stipulates that all first-year students who apply for on-campus accommodation will receive an offer to one of the University's residential halls.  
One student, who has been moved to his Hall's postgraduate wing, described the criteria determining who would stay as "very vague". He added that it did not seem to be "based on the contribution of students to the college," given that many highly involved students "have not been offered a room". The student in question, who is also an international student, raised his fear that his hall will be "super white" next year as "only a few [current] first year [international students] will remain", and the only international senior year students to have been offered a room next year have permanent residency in Australia. This concern is exacerbated by the fact that "no new international students will come because of COVID".
Observer also spoke to a current Senior Resident who expressed her concern that pastoral care will be compromised if there are not "enough returners to put a leadership team together". She noted that the NOUS review recommends that residential halls have "more returners than first years," and hopes that this will be the case next year.
ANU conducted a survey in April, where students were asked to indicate "whether [they] were or weren't coming back". One Unilodge resident, despite indicating that she would not be returning, "received three emails welcoming [her] back as a returner". She replied to Unilodge to clarify that she would not be returning, and received yet another email inviting her to make an initial payment. The resident in question found the back-and-forth "frustrating", and believes that Unilodge "must be desperate for ressies", despite the demand at other colleges.
According to Wright President, Lachlan Ballard, Wright Hall has had to knock back a disproportionate number of applicants due to it receiving the highest number of first preferences by prospective first-year students. Ballard stated that, "more than half of those who applied to return to Wright, which is over 100 students, were either denied a place at Wright or a place on-campus altogether". He claimed that "no other residence seems to have experienced such drastic cuts in spots offered to returners" and expressed disappointment at how this will regress "the hard work that has been done to build a college culture and community from scratch". 
"You cannot build a college culture without the continued contributions of a strong returners cohort", Ballard added. The decisions made by the ANU Executive and those working in residential experience, he said, "reveal a complete disregard for community, culture and atmosphere in residential halls, and the intrinsic value that those things have for the individual student living on campus". While ANU has defended its actions by iterating that many returners were offered some form of on-campus accommodation, Ballard said that "if the ANU thinks it can provide comfort to the absurdly large number of residents who have been kicked out of the community that they have built… by saying you can go elsewhere, perhaps they haven't quite wrapped their head around the fact that a residential community isn't simply a business, it's a home". A similar sentiment was expressed during the 'Who Pays the Price' protests in August, where students aired grievances about the University's "unwillingness to engage meaningfully with concerts about affordability of on-campus accommodation". 
"For the ANU it translates into a net gain for them," Ballard stated. "There are statistics that first-years who don't get their first preference reject their ANU offer," however, "the returners who don't get back into their residence will still continue their studies at the ANU". This means the "University gets more enrolled students" but at the cost of "community, culture… and student experience". 
An ANU spokesperson stated that "every effort has been made to maximise returners in each residence while meeting [the] accommodation guarantee". "The majority of people who were unable to return to their own residence were given offers of accommodation at other residences", they added. When asked about the reasons behind conducting returner applications well in advance of leadership applications, the spokesperson stated that "students are eligible to nominate for leadership positions even if they have not been offered a room", and that anyone who secures a leadership position will be "guaranteed a spot in that residence".
Regarding concerns around pastoral care, the spokesperson stated that "ANU has increased pastoral support in residence, including the appointment of Residential Wellbeing Coordinators in Bruce, Wright and Fenner for 2020 and beyond", with "further increases for 2021 under consideration". The University is also considering the "appointment of an Assistant Residential Life Manager… in Wamburan Hall (sic) as well as… increased debriefing support for SRs" in 2021. According to the spokesperson, the ability for students who did not receive a returner offer to subsequently apply for leadership positions will "address the risk" of not adhering to the NOUS review recommendation that residences have more returners than first years. They also stated that "residences with relatively low numbers of returning students will be proactive in planning safety and wellbeing measures to ensure…effective pastoral care arrangements". 
Offers to return to on-campus accommodation have already been issued, however students will be informed about their leadership applications in early October. 
Editorial Note: This article was updated on 21/09/20 to reflect a clarification in the appointment of an Assistant Residential Life Manager
Know something we don't know? Email [email protected] or use our anonymous tip submission.
If you have an issue with this article, or a correction to make, you can contact us at [email protected], submit a formal dispute, or angery react the Facebook post.
Want to get involved? You can write articles, photograph, livestream or do web support. We're also looking for someone to yell "extra!" outside Davey Lodge at 1AM. Apply today!
---