ANU's Most Famous Alumni: What Were They Like?
Posted On October 22, 2020
---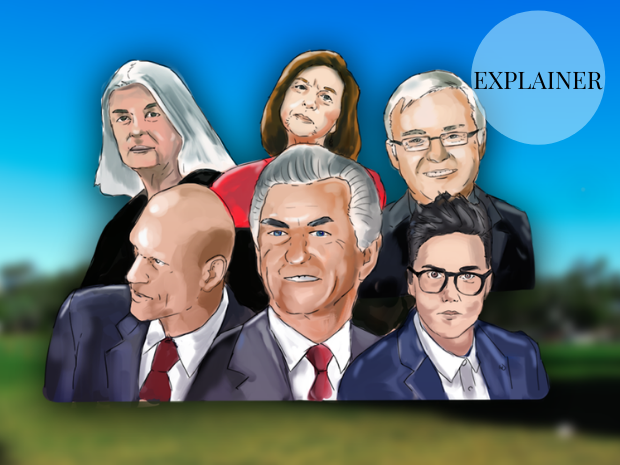 By James Day and Helena Burke

Disclaimer: The information provided in this article is for informational purposes only; it does not constitute any endorsements or approvals from ANU Observer


In its 74 year history, the Australian National University has accumulated a vast number of notable alumni. They come from all walks of life, and have proceeded to carve out their own unique paths since. But what were they like during their time here? Who did they socialise with? What did they study? Did they accidentally kill some goldfish? All these questions will be answered as we take a deep dive into the student lives of alumnus Bob Hawke, Kevin Rudd, Hannah Gadsby, Peter Garrett, Marcia Langton, and Bettina Arndt. 

Bob Hawke (1929-2019)
Doctor of Philosophy (PhD) in Law at ANU, 1956-1958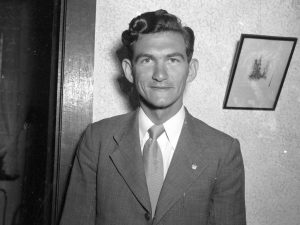 Hawke as a Rhodes Scholar in 1952
Source: The West Australian
Of all the alumni, Hawke had the shortest period of time at ANU. He came on a scholarship to be the first to study a doctorate in law at ANU in 1956, but left a year later to take a job as a Research Officer at the ACTU in Melbourne. Hawke never completed his ANU studies.

There is an infamous tale from Hawke's time at ANU which is frequently disputed and shrouded in mystery. In February of 1957, while nude and intoxicated, Hawke and five other ANU students allegedly "stormed up and down the staircases, disturbing a Conference of Bishops", and "swam about in the ornamental goldfish pool" at University House. Hawke and his five accomplices were subsequently "banned from University House, and asked to leave the University Council"; this may hint at another possible reason for Hawke's early exit from ANU.

Since the incident, Hawke, in penance for his actions, wrote a letter to the authorities of ANU stating, "the stupidity of the event has impressed itself on me and [you] need not fear that disciplinary action will again be required".
Dr. Jill Waterhouse, a researcher at ANU, confirmed the infamous tale in her book 'University House, As They Experienced It: A History 1954-2004'.

Despite never completing his degree at ANU, Hawke went on to serve as Australia's longest-serving Labor Prime Minister from 1983-1991. Hawke had a reputation as a true Aussie larrikin and his time at ANU appears to be no exception.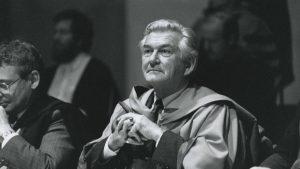 Bob Hawke attending the 1992 ANU graduation ceremony
Source: ANU
Kevin Rudd (1957)
Bachelor of Arts (Asian Studies) (Honours) at ANU, 1976-1981
Resident at Burgmann College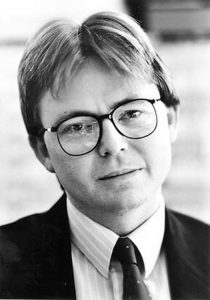 Rudd in 1990
Source: Peter O'halloran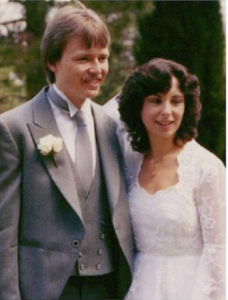 Rudd and his wife Thérèse Rein on their wedding day in 1981 – Rudd graduated from ANU this same year.
Source: Herald Sun
Kevin '07' Rudd was drawn to ANU back in 1976 due to his desire to study Sinology (the study of Chinese language, history, customs, and politics), something he had been interested in from a young age. Rudd admired the founders of ANU as a "new generation of Australian Asianists who saw China and the wider region through a different lens to that of our Anglo-American cousins", as stated in his memoir 'Not for the Faint-hearted'.

Rudd learnt both Mandarin and classical Chinese at ANU. He described his studies as "hard-going", and that while others studied Western political philosophers like Hobbes, Locke and Mill, he "only got to grunt, albeit grunts that were tonally correct". In his memoir, Rudd describes his experience studying and memorising the "thousands of characters" of Mandarin as "virtual slave labour". He recalls a time when one of his professors, Dr. Huang, told him that although he was a "very diligent student", his "Chinese characters look more like Australian blowflies". During his studies Rudd was given the name 'Lu Kewen' by one of his professors, meaning 'Overcomer and Conqueror of the Classics'.
Rudd lived at Burgmann College during his studies. It was here that he met his wife Therese Rein. Rudd described first seeing her in the Burgmann dining room at breakfast during O-week and asking her if she had read the Communist Manifesto. Their relationship developed gradually over time at ANU, and the two eventually married in 1981 during Rudd's final year of study.

At Burgmann, Rudd also became a member of the Christian Fellowship, and later a secretary of the ANU Evangelical Union. With the Chinese Department in tow, this defined much of his social existence at the ANU. Rudd describes himself at this time as a "bit of a self-righteous prig". "I didn't drink… I didn't do drugs… And so, the 'parties' I tended to go to were very much of the 'Kumbaya' variety", he added.

Unmentioned in his memoir is the group of evangelicals that he led at Burgmann called the "Navigators", which David Marr of the Sydney Morning Herald described as "intent – or so it seemed to other students – on imposing a puritan rule on Burgmann". Marr remarked that Rudd "is remembered as a serial complainer about booze being sold in the college bar" and for railing against "rock music and fornication". In Marr's article, he mentions Philip Hurst, a fellow student of Rudd's at Burgmann, stating that "he would walk down the corridor and in his wake like ducklings after a mother duck were his Christian acolytes".

Rudd, in his closing thoughts on the ANU, made the following remarks: "There was something earthy and inspiring about the ANU. It never sought to be a European university. Instead it became a quintessentially Australian university and, at its best, one that still encourages the brightest and the best of its graduates to consider a career in public life".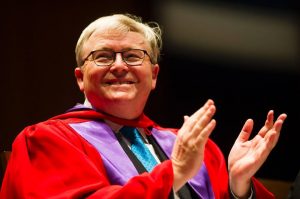 Rudd receiving his honorary Doctorate from ANU in 2016
Source: Rohan Thomson
Hannah Gadsby (1978)
Bachelor of Arts (Art History) at ANU, 2003
2019 ANU Alumna of the Year


Gadsby (right) in 2009
Source: ArtsHub
To quell the anxiety that many students have about whether their studies at university will define their career path, Hannah Gadsby has proven that your degree is not always your destiny.
Gadsby completed an Art History degree at ANU in 2003. Reflecting on her studies Gadsby has stated that, as a member of the LGBTIQ+ community, "Art history taught [her] that she has no place in history". Gadsby has joked about Art History, observing that "women didn't have time to think thoughts; they were too busy taking naps naked in the forest".

Since graduating, Gadsby has drawn upon her Art History degree by hosting a series on BBC Radio 4, the ABC and YouTube, where she comments on historically significant paintings as a stand-up comic. The series, called Renaissance Woman, has been immensely successful internationally.

Reflecting on her time at ANU, Gadsby described herself as "not a good student". "I did not shine during my time at the ANU" Gadsby says in a video thanking the ANU for her 2019 alumnus of the year award, concluding that "learning is not everything". "It's a lot, but I did enjoy my time at the ANU, it gave me the time I needed to, you know, give adulthood a bit more of a nudge". As a native of Tasmania, Gadsby saw Canberra as "a wonderful place to study"."Sydney and Melbourne, too big, Canberra, perfect", Gadsby explained.

In Gadsby's alumnus of the year acceptance speech, she addressed graduates directly:
"To be perfect and young is an utterly impossible thing to be so, please, take it easy on yourself. You need to make your mistakes so you can learn from them, because then you have a better chance at becoming a pretty good older person. And the world really needs great older people far more than it needs perfect young people".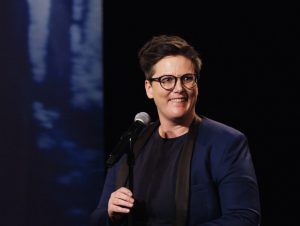 Gadsby performing her stand-up show 'Nanette' in 2018
Source: Netflix

Peter Garrett (1953)
Bachelor of Arts (Politics) at ANU, 1972-1976
Resident at Burgmann College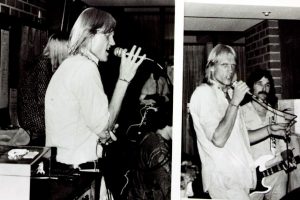 Garrett performing in the common room of Ursula College at the ANU, early 1970s
Source: ABC
This musical, political and environmental heavyweight began his Bachelor of Arts degree at ANU, but completed it at the University of NSW (UNSW). During his time here, Garrett entered the first stage of his musical "process of osmosis", as stated in an interview with Alex Sloan. Garrett described creating the core message of what would become 'Midnight Oil' by just "interacting with people". "You're not starting off trying to write a manifesto and you're not seeming like you have all the answers".

Garrett describes a very active music scene in Canberra during the late 60s and early 70s, with people from all over coming to play, a few of which were "wonder[ing] why they were here". Garrett was able to see Chicago Blues legend Muddy Waters, playing in a circus tent in Lyneham, calling it "an unbelievable show". "To this day, all our popular music is still rooted in the blues", Garrett remarked. "I was mesmerised".

In fact, Garrett began his journey with Midnight Oil while still studying at ANU. After answering an ad in The Sydney Morning Herald, he went to the audition. The band immediately said "you've got it" because, as Garrett describes, "there were no other applicants". Garrett eventually moved up to Sydney to be with the band and finished his studies there. This did not end Garrett's time in Canberra, as the band still returned and played all over the city even at the height of their success. The band played at ANU Bar, recalling that when they played there they "were a bit closer to people because the energy of the audience and what was happening on stage were so palpable… It lifted us as a band".

In February last year, Garrett was awarded an Honorary Doctorate by ANU for his life's work in "Australian music, environmental conservation, reconciliation with Indigenous Australians and public service".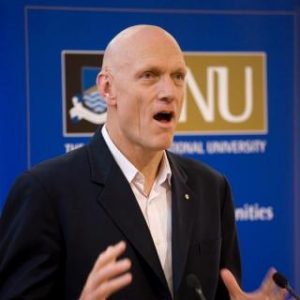 Garrett regularly visits the ANU
Source: Stuart Hay
Professor Marcia Langton (1951)
Bachelor of Arts (Anthropology) (Honours) at ANU, 1981-1984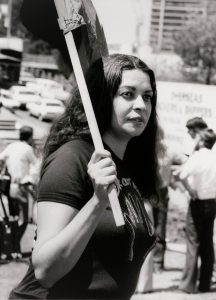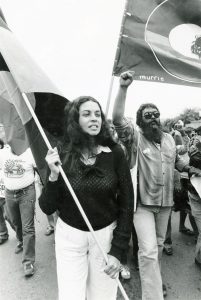 Langton at the Commonwealth Games Protest in Brisbane, 1982
Source: Juno Gemes
The most academically accomplished among these alumni, Professor Marcia Langton's journey as an academic began at ANU as the University's first ever (identified) Indigenous Honours graduate in Anthropology.
Since then, she has significantly contributed to Australian Indigenous studies, and advocacy for Aboriginal rights, for which she was made a member of the Order of Australia in 1993.

Professor Langton's activist work was already underway when she was a student at ANU. Back in 1972, following the election of Gough Whitlam, she was one of the lead Aboriginal activists for the establishment of the Aboriginal Tent Embassy in front of what is now Old Parliament House. This movement also gained direct support from ANU staff like Di Riddell, whose life and accomplishments have been detailed in the previous Observer explainer, 'Exceptional ANU Women'.

Aside from her activism, Langton's time at ANU also showed her that there was a desperate need for improved Aboriginal studies research and teaching, along with a cultural change throughout the Australian University system. She states that the reason she was the first Indigenous Honours graduate in Anthropology was that she was the first to be openly "self-identified" as Indigenous. At that time, Langton states that "many Aboriginal people went through the university system and in order to avoid the racism, did not identify [as Aboriginal]".

Professor Langton, while now a Foundation Chair of Australian Indigenous Studies at The University of Melbourne, still works with ANU as one of the inaugural patrons of the Indigenous Alumni Network.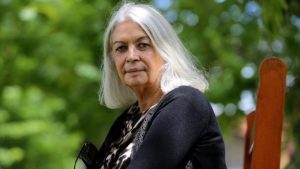 Langton today
Source: The Australian

Content Warning: This section contains mentions of sexual assault and sexual harassment

Bettina Arndt (1949)
Bachelor of Science (Psychology) 1969-1971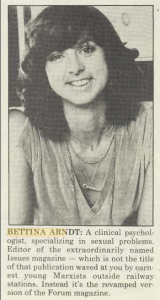 Arndt in 1982
Source: Trove
Controversial sex therapist, mens rights activist, and public commentator Bettina Arndt has had a long history with ANU, as a student, and as the daughter of notable Economics Professor H.W. Arndt (whose name adorns the Research School of Economics building). 
Arndt has told Observer that her path began with a major in chemistry and mathematics, however, after a bout of glandular fever in the middle of her first year of study (which she survived "neatly" with "passes"), she decided to transition to a degree in psychology "which was so much less demanding".

Arndt describes that there was an expectation she would become an academic "following the footsteps of [her] father", but decided after a visit to a psychiatric hospital later in her degree she would "divert to clinical psychology" so that she could help "real people rather than studying rats and stats". When Arndt decided to ditch her honours year at ANU and switch to a Masters in Clinical Psychology at UNSW, ANU's Head of Psychology Professor Cecil Gibbs was not impressed, asking her "why do you want to get involved in all that do-gooding?"

In her father's biography 'Arndt's Story: The Life of an Australian Economist', Arndt describes trying to keep her personal life private from her parents whom she lived with while studying at ANU. On one occasion, Arndt describes travelling "halfway across Canberra" to visit a GP she had found in the Yellow Pages to secretly obtain the contraceptive pill.
In recent years Arndt has received criticism for not representing herself properly as a Psychologist, with the Guardian finding that she is not legally registered under the national regulator, Ahpra (Australian Health Protection Regulation Agency). Arndt has also faced criticism for her 2018 university speaking tour, 'Fake Rape Crisis', which sought to stop the amendment of sexual consent laws.
Arndt told the Observer that after a few years away from the ANU as "one of Australia's first sex therapists", she returned and was elected to the ANU Council by alumni who she says "loved the idea of adding a sex therapist to the group of heavies who comprised that governing body". Arndt sat on the Council alongside Bob Hawke, Sir John Crawford, and Nugget Coombs.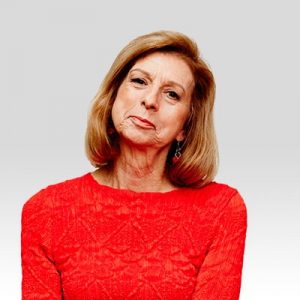 Arndt today
Source: Joshua Morris

Graphic by Joseph Oh
---