"Hybrid Grand Graduation Celebration" to Take Place in February 2021
Posted On November 22, 2020
---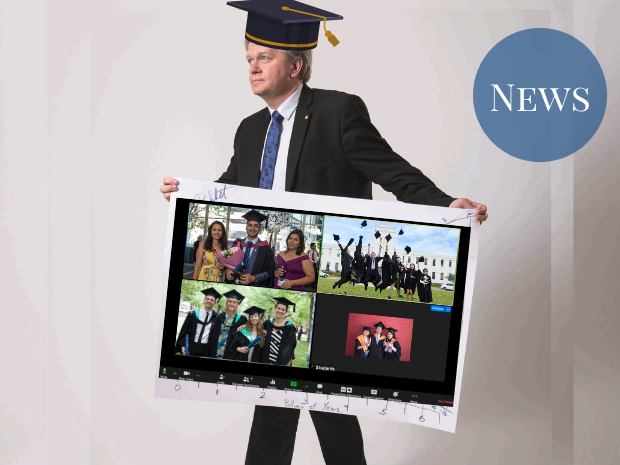 By Brandon How
The University will hold a hybrid online and in-person 'Grand Graduation' celebration on 8 February 2021 to ensure 2020 Graduates "have the opportunity to celebrate with friends, teachers and family". This will include "a number of events around Australia and a few international locations".
On 20 November, Vice-Chancellor Brian Schmidt unveiled the event through his blog. Although in-person attendance will be limited, the entire event will be live-streamed. Graduating students can expect to receive "formal invitations" within the "next few weeks", and may also register their interest in the event here to receive updates on venues and other details as they are confirmed. 
Due to ongoing health restrictions in response to the COVID-19 pandemic, the ANU has been "unable to hold our normal graduations this year", with events held on campus currently subject to a capacity limit of 200 people. Graduation ceremonies usually take place at Llewellyn Hall and are often attended by over 3000 participants. 
A University spokesperson clarified that the Grand Graduation event "won't replace the conferring of degree ceremony, where students receive [their] degree and walk across the stage". This year's graduates will do so in-absentia and receive digital copies of their testamur, academic transcript, and Australian Higher Education Graduations Statement. Online conferral will take place on 21 December, but students can also opt to receive physical copies of their testamur via post. 
Students are encouraged to complete the existing 'Previously Graduated Student Ceremony Attendance Application' to have the opportunity to "attend in-person graduation ceremonies at ANU when they are up and running again in the future". The spokesperson also stated that the University would be running online graduation celebrations in January. PARSA President Eve Walker said that she was "under the impression from conversations with ANU's staff" that they are taking a "decentralised approach…as many students leave Canberra after they complete their degree".
The in-person Grand Graduation celebration was introduced last year on 10 December and hosted over 2,300 attendees. At the time, Vice Chancellor Brian Schmidt described it as "an exciting new tradition…to not only congratulate our Graduands but to thank those around them for their support". The day's festivities were capped by a "student parade as well as a picnic for students and their guests". The day also included the conferral of honorary doctorates and musical performances by students from the ANU School of Music and the ANU Choral Society. 
Speaking to Observer, incoming ANUSA President Madhu Janagaraja stated that ANUSA had been contacted by the University in order to determine how students would feel about online events. However, Janagaraja expressed her belief that "not enough effort" has been put by the University toward "reimagining the [graduation] events" so that they could be held before the end of the year.
In mid-October, the University of Canberra (UC) reportedly offered students the chance to book attendance at a graduation photoshoot, with a similar offering being considered at the Australian Catholic University. Although UC provided free "single-use gowns and mortarboards and a photo booth", the option to pay for a professional photographer was also available. Students could also collect their testamur and transcript in-person. 
Despite the lack of conferral ceremonies, the ANU Alumni Relations team has continued their tradition of rewarding recent graduates with a light blue rubber duck nicknamed "Graduation Etta". Recent graduates were able to 'book-a-duck' before 19 November to be collected from the Cultural Centre, Kambri between 23 – 25 November. The event was shared on Schmidtposting on 4 November to a chorus of support from students, with several exclamations of "duckies!" in the comments. On the other hand, in a comment to Observer, recent Bachelor of Visual Arts Graduate Jamie Hengst shared her belief that this event was not "thought through that well", as many recent graduates now work fulltime and are likely to have difficulty collecting the ducks during the allocated time slots.
The University spokesperson also commented that "a range of smaller celebrations across different areas of the University" have taken place for graduating students where they "have been held in line with our COVIDSafe campus guidelines". On 11 November, outgoing Tuckwell Scholars were able to attend a smaller version of the annual 'Tuckwell Pancake Breakfast' with the Vice-Chancellor. According to a University spokesperson this event would ordinarily welcome "scholars and their families", but was only attended by 23 people this year "in accordance with the university's…COVID-19 safety guidelines".
Tuckwell Scholar Graduand Tom Goodwin expressed his appreciation to the "University and Scholarship Program going to this effort" to run a downsized version of the event, although he maintained that it was "incredibly disappointing" not to be able to celebrate with his cohort at an ordinary graduation ceremony. Goodwin further reiterated that graduation "is a moment which can only be captured once and I do not think a future ceremony will be able to achieve the same thing". Nevertheless, he added that he intends to take part in a future graduation ceremony, stating it would "be a good way to keep up my ANU networks and friendships".
Unfortunately, many students have thus far been unable to attend any alternative graduation events and have expressed their disappointment to Observer. Alex Voce, who is finishing her PhD at the Research School of Population Health, stated that "missing my opportunity to attend an in-person graduation ceremony is devastating, both for me and for my family who wanted to share this once-in-a-lifetime milestone with me". She further added that "it's hard to feel that same sense of finality and accomplishment without graduating in-person". Voce also expressed that "there's something special about being in Llewellyn Hall", where graduation ceremonies are usually held, and argued that "a hybrid or virtual ceremony" wouldn't feel the same.
Hengst expressed similar sentiments, saying that after "4 and a bit years" spent studying, "to have no real celebration or anything at the end made it seem like it wasn't that significant". However, Hengst said that the hybrid celebrations being offered may provide students with the chance to "celebrate the achievement of completing a degree properly". 
Graphics by Brandon How
Know something we don't know? Email [email protected] or use our anonymous tip submission.
If you have an issue with this article, or a correction to make, you can contact us at [email protected], submit a formal dispute, or angery react the Facebook post.
Want to get involved? You can write articles, photograph, livestream or do web support. We're also looking for someone to yell "extra!" outside Davey Lodge at 1AM. Apply today!
---