In Pictures: ANU Staff and Students Join Invasion Day Protest
Posted On January 26, 2021
---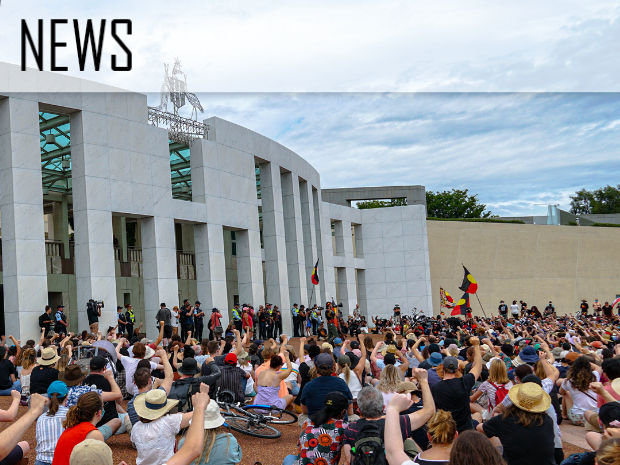 By Helena Burke
Photography by Konstantinos Katsanis
ANU staff and students joined a crowd of approximately 1,000 people today to protest the government's resistance to change the date of Australia Day. The ANU Contingent, alongside the rest of the protesters, gathered at the Aboriginal Tent Embassy in the morning before ascending to Parliament House.
ANU staff and students were heard chanting slogans such as "always was, always will be, Aboriginal land" and "sovereignty never ceded". The ANU Contingent, which was led by the ANUSA Indigenous Department, described 26 January as "a day which marks the beginning of genocide against First Nations Peoples".
ANUSA and PARSA have come out in support of the Change The Date campaign, pronouncing 26 January as a "day of mourning" and urging students to "stop and check yourself" before celebrating today. ANUSA emphasised the importance of taking "active steps" to decolonising attitudes, suggesting students consider supporting local Indigenous businesses and organisations, donating to Aboriginal and Torres Strait Islander charities, and engaging with books and podcasts regarding the topic.












Know something we don't know? Email [email protected] or use our anonymous tip submission.
If you have an issue with this article, or a correction to make, you can contact us at [email protected], submit a formal dispute, or angery react the Facebook post.
Want to get involved? You can write articles, photograph, livestream or do web support. We're also looking for someone to yell "extra!" outside Davey Lodge at 1AM. Apply today!
---