Women's Department Releases "Broken Promises" Report
Posted On August 10, 2021
---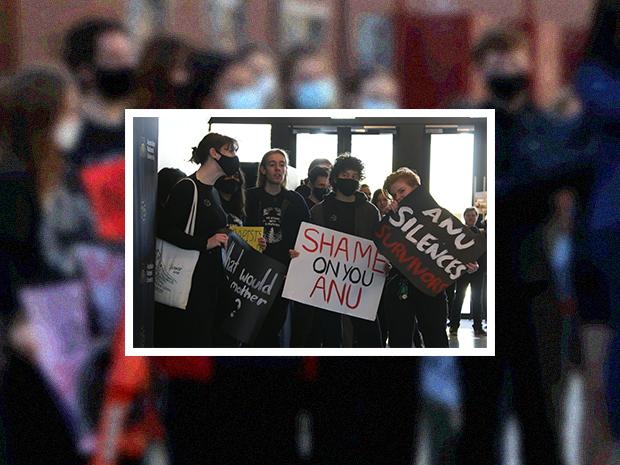 By Nathan Bow
Content Warning: This article contains mention of sexual harassment and sexual assault
On Tuesday, 2 August, 500 students gathered in protest of ANU's failure to provide adequate support for survivors of sexual assault and sexual harassment (SASH). Coordinated by the ANU Women's Department, in tandem with ANUSA and PARSA, the protestors called for reform of the "deeply flawed system" that has "failed and betrayed" survivors. 
In 2017, a report by the Australian Human Rights Commission (AHRC), titled "Change The Course", found that ANU's SASH rates were some of the highest in the country – second only to the University of New England. Each year since, students have gathered on the anniversary of the report's release to protest inaction by ANU on issues related to SASH. 
The AHRC report detailed nine recommendations to address sexual assault and harassment in Australian universities, with Vice-Chancellor Schmidt agreeing to implement all nine back in 2017. 
However, according to the ANU Women's Department, ANU has been largely inconsistent in implementing these changes. The Department has asserted that some recommendations "have been entirely ignored without any real accountability mechanism to hold the University to their promises". 
Such frustrations culminated in the recent publishing of the "Broken Promises" report by the ANU Women's Department. As the title suggests, the report refers to ANU's failure to adequately implement reform regarding SASH support services. Amassing 23 pages, the Women's Department lists 28 "broken promises" that ANU has made since the proposed recommendations in 2017. 
These include, but are not limited to, ANU's failure "to actively seek out community feedback and criticism", and their "failure to acknowledge the need for unique, specialised services for survivors", as well as the "diffusion of responsibility", and a "lack of clear actionables for staff and students".
A further five recommendations are also proposed by the Broken Promises report, including the introduction of:
"a multi-person unit specifically responsible for and specialising in receiving reports and conducting investigations" 

a "designated senior executive staff member" who is "responsible for…SASH service provision on campus"

a "Cultural Change Action Plan" that addresses "the drivers of sexual violence" 

the "publicisation of data" that is "de-identified and anonymous" and includes the "investigative outcomes in sexual misconduct cases"

the "need for an oversight mechanism of ANU's SASH response"
The report also  featured the frustrations of past ANUSA Women's Officers regarding ANU's response to SASH reform at the University. 2019 ANUSA Women's Co-Officer, Nupur Apte, said that while "countless student advocates" had approached the University in regards to reform, they were "only met with excuses, nonchalance, and a lack of accountability".
Avan Daruwalla, the 2021 ANUSA Women's Officer, echoed the sentiments of Apte, stating that ANU "has set a precedent of making empty promises and letting students down time and time again".
An ANU spokesperson told Observer that the University plans to directly respond to the "Broken Promises" report, including to the subsequent recommendations that have been put forward by the Women's Department. They further stated that while "clear progress has been made" around the SASH recommendations, "things aren't perfect" and "changing systems takes time". The spokesperson maintained that "we want to improve our processes and our practices…to make sure we keep making progress".
Speaking to Observer, Camille Schloeffel, Director of the STOP Campaign, criticised ANU's decision to release its strategic plan for 2021-2025 on the anniversary of the AHRC's report, stating that it "demonstrated an act of disregard and disrespect to all victim-survivors of sexual violence, advocates and students of the ANU". Schloeffel continued that ANU has "regressed in their efforts to prevent and respond to sexual violence on campus", criticising the Respectful Relationships Unit's (RRU) sessions on sexual consent in residential halls as having a "stark similarity to the infamous 'Milkshake Ad'". 
Going forward, Schloeffel suggested that ANU "should be engaging with student leadership more meaningfully" and called for the University "to publicly acknowledge the harm done due to their inaction". 
PARSA President Eve Walker also expressed displeasure with Schmidt's address to the crowd of protestors. While she acknowledged that "it's an unpleasant experience to have to address a crowd of upset students", she found that Schmidt's "answers came across as too rehearsed and political".
In a comment to Observer, Daruwalla echoed the sentiments of Schloeffel and Walker. She described VC Schmidt's response to the protest as "like a politician…rather than a human being", leaving "many student protestors incredibly hurt and aggrieved given his unwillingness to appropriately commit to demands". 
Daruwalla further stated that the Women's Department will be submitting their "Broken Promises" petition to members of the University Administration, and will present their "Broken Promises" report at the next RRU Working Group Meeting. 
She compelled everyone to sign the petition as "every added voice demonstrates the dissatisfaction students have with the ANU's neglectful practices and condemns their continued institutional betrayal".
Graphics by Joseph Oh
Photo from ABC Canberra
1800RESPECT (Ph: 1800 737 732) – National Sexual Assault, Domestic Family Violence Counselling Service
​​ANU 24/7 Wellbeing and Support Line: 1300 050 327
ANU Counselling: 02 6125 2442 (9am-5pm, Mon-Fri)
Lifeline: 13 11 14
Know something we don't know? Email [email protected] or use our anonymous tip submission.
If you have an issue with this article, or a correction to make, you can contact us at [email protected], submit a formal dispute, or angery react the Facebook post.
Want to get involved? You can write articles, photograph, livestream or do web support. We're also looking for someone to yell "extra!" outside Davey Lodge at 1AM. Apply today!
---