Self-Described "Reformed Eshay" Blake Iafeta Contests Presidency Against ANUSA VP Christian Flynn
Posted On August 28, 2021
---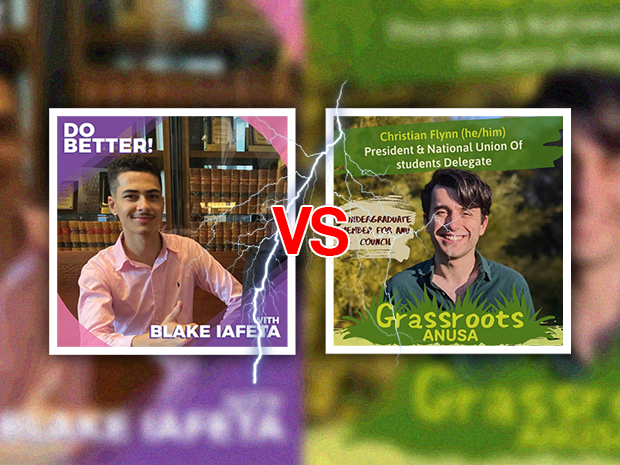 By Nathan Bow
This year's ANUSA Presidential elections have seen the nominations of only two candidates: Blake Iafeta and Christian Flynn. Iafeta is running on the ticket 'Do Better! With Blake Iafeta' and Flynn on the 'Grassroots ANUSA' ticket. Last year's elections saw five candidates run for the position of President.
Blake Iafeta – 'Do Better! With Blake Iafeta'
Self-described "reformed eshay" and "highschool dropout", Queenslander Iafeta believes his candidacy is "a good opportunity to spread awareness of the many problems that affect people like me". 
Iafeta is running on a policy platform dedicated to:
rebuilding "ANU's sense of community" 

waiving Student Services and Amenities fees for students from low-income backgrounds 

addressing on campus sexual assault and sexual harassment

increasing the variety of scholarships available for students 

improving access to disability and mental health services 

providing "essential supplies to students in need"
According to Iafeta's ticket, ANUSA needs to "focus its time, energy, and funding solely on things that students will directly benefit from". This includes "alleviating the financial burden that is taken on by many students over their tertiary education journey" and helping to increase support services to students from lower socio-economic backgrounds, and those affected by mental health and SASH issues. Iafeta affirms that he will "diligently" work to implement these measures.
Iafeta is contesting another 10 ANUSA positions on top of President.
Christian Flynn – 'Grassroots ANUSA'
As the current Vice-President of ANUSA, Christian Flynn is no stranger to student politics. This year, he is vying for the top spot of President and leading a ticket dedicated to "left-wing, activist student unionism". Flynn envisions "an ANUSA that is truly grassroots" and "built by members who have a track record of making a difference in their own communities". 
If elected, Flynn hopes to "[increase] student oversight and [rebuild] the strategic direction of key ANU services, particularly the RRU" (Respectful Relationships Unit). He is also dedicated to "refocusing the SRC's energy into building a genuine grassroots student movement" that will "sustain ANUSA as a powerful voice on campus for years to come". 
Flynn's ticket also outlines his intention to open an ANUSA business that seeks to "provide affordable services to students and secure the association's financial sustainability". 
In addition to President, Flynn is running for Undergraduate Member on ANU Council and National Union of Students Delegate.
Grassroots ANUSA was subject to "small breach" in ANUSA electoral regulations. The ticket was issued with a warning.
Campaign violations are common during elections. GSD and Get Going for ANUSA have also been issued campaign violation notices. 
Graphics by Joseph Oh
Know something we don't know? Email [email protected] or use our anonymous tip submission.
If you have an issue with this article, or a correction to make, you can contact us at [email protected], submit a formal dispute, or angery react the Facebook post.
Want to get involved? You can write articles, photograph, livestream or do web support. We're also looking for someone to yell "extra!" outside Davey Lodge at 1AM. Apply today!
---