Details Emerge of the Positive COVID Case at Wright Hall
Posted On October 7, 2021
---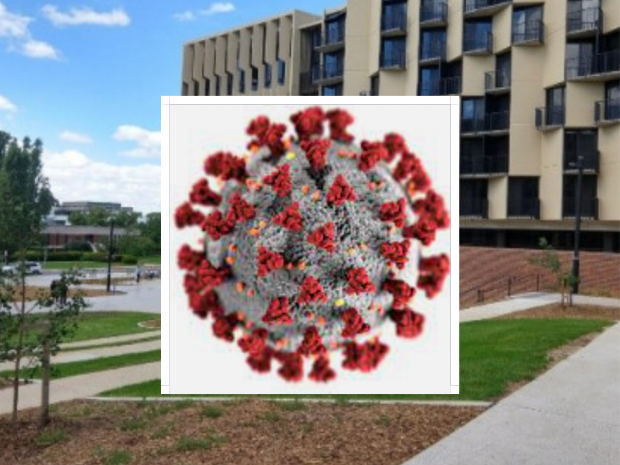 By Nathan Bow
During the morning of 7 October it was confirmed that a resident of Wright Hall had returned a positive test result for COVID-19. The individual has now been moved out of Wright Hall to complete their quarantine in a self-contained apartment.
An ANU spokesperson from the ANU COVID Response Office joined residents from Wright at 2pm in a hall-wide meeting via zoom to discuss the developing situation. Here it was confirmed that the positive case was a resident of Wing C on floor one (1C). Wing C is the only wing on floor one, with the rest of the space consisting of laundry and common room facilities.
The positive case was infectious from Monday to Wednesday, attendants of the meeting heard. It is so far unknown to Observer whether they were infectious in the community.
Only residents of 1C have become subject to quarantine arrangements at this time, contrary to other reports. They have been so since yesterday afternoon after an email was sent to residents of 1C instructing them to enter quarantine arrangements until the individual, initially identified as a close contact, returned a negative COVID test result. Prior to the positive result announced today, residents of 1C were considered secondary contacts. 
After the positive test return, the residents of 1C were met in a morning zoom call by Wright's head of hall. It was not until the 2pm meeting until all other residents of Wright were informed of the positive case. An ANU spokesperson said to Observer that "the other residents were told as soon as possible and as soon as the University received relevant advice from ACT Health."
The ANU spokesperson also confirmed the residents in 1C will be able to leave quarantine "as soon as ACT Health says it is safe for them to do so".
All other residents of Wright will still remain under the regular lockdown measures, as outlined by ACT Health, but are only allowed to eat in their rooms and cannot access the dining hall or use the common spaces.
Graphics by Junyoung Chun
Know something we don't know? Email [email protected] or use our anonymous tip submission.
If you have an issue with this article, or a correction to make, you can contact us at [email protected], submit a formal dispute, or angery react the Facebook post.
Want to get involved? You can write articles, photograph, livestream or do web support. We're also looking for someone to yell "extra!" outside Davey Lodge at 1AM. Apply today!
---