War in Ukraine: An Interview with Dr. Sonia Mycak
---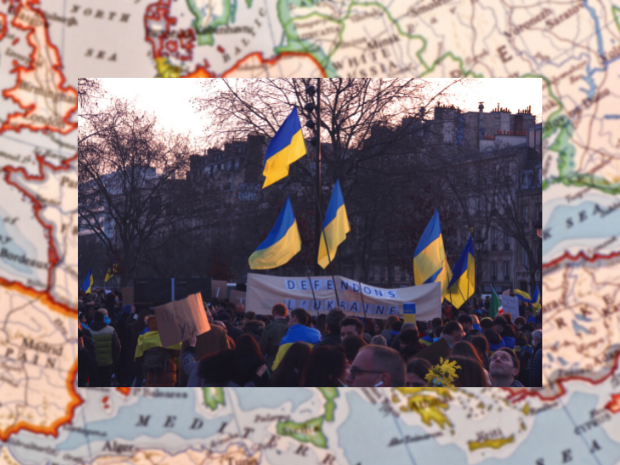 By James Day
Content warning: This article contains discussions of war, mental illness, and death.
ANU Observer had the chance to sit down and talk with Dr. Sonia Mycak, who has been a visiting fellow at the Centre for European Studies here at ANU since 2014. Her research is supported by the Ukrainian Studies Foundation in Australia. Over the past three weeks, she has been working to inform the public on the invasion of Ukraine by Russia.
Born in Australia with parents from Ukraine and extended family still living there, Dr. Mycak has unique insight into the war's personal impact on those living through it and their families living abroad. She is also a Director of the Ukrainian Association of Sydney in a voluntary capacity, through which she has been working to assist those fleeing the war and seeking refuge in Australia.
We talked about the personal toll her family has experienced since the invasion, elements of Putin's disinformation campaign to watch out for, and how one can best support the people of Ukraine during these terrible times. Observer has added a guide of links to organisations supporting Ukraine.
Q: How is your family in Ukraine and here in Australia dealing with the invasion?
A: To be honest when media outlets have asked me 'how am I feeling?', I've kept it very short. Largely because I haven't wanted to focus on my own reaction but instead get as much accurate information out there as possible.
Regarding my family here in Australia, I've realised that I have to provide – or I am providing, I hope – intergenerational support for my family.
My 91-year-old mother is very shaken and is grieving for Ukraine now. But at the same time, she's reliving her own traumatic memories of escaping as a refugee after World War II. So it's bringing up post-traumatic stress in her.
My teenage daughter – who is 18 years old – on the other hand, is dealing with anxiety and depression now, because she's not only watching devastating news reports about an ancestral homeland that she's travelled to and knows quite well. She's also in contact with cousins close to her own age, who are either fighting or evacuating.
I have family, both in western Ukraine and in eastern Ukraine. At this stage, I can only provide emotional support to them, and that is when I feel helpless. What can I possibly say to them to help them? I mean, how can words help them? And frankly I can't find the words. Yet I have to respond to them, because they are in contact with me, if not daily, then every second day. My cousin's son is actively fighting now in Chernihiv, and there are ferocious battles going on there. I don't know myself, what words to use when she asks me, 'How can I bear this?'
Q: How are you personally coping?
A: My state of mind is one of anxiety and anguish. I watch footage of bombs and missiles demolishing residential buildings, in towns and cities, knowing that civilians are being killed. It's just devastating.
Today (Friday 4 March), reports coming out of Chernihiv, which is that northeast area where my family live, is now being bombed very heavily. My cousin has told me that Russian soldiers are telling residents that it's a kind of revenge because the local resistance there was very strong. It's being reported that as a result of the airstrikes overnight, they already know 33 civilians are dead, and there may be more.
This is when I start to feel a sense of disbelief, because these are streets that I walked along two years ago with my family, pre-COVID in 2019, that are now in ruins. People that I might have passed in the street can be dead today. The same for Kyiv, I look at the footage of places that I went to, and they're in ruins.
I feel physically exhausted. I've had virtually no sleep. That's partly because I've been watching overnight media reports directly from Ukraine; and partly because of online conversations with my extended family members, which tend to happen overnight in our time.
But as soon as I say that I feel a sense of guilt. How do I complain about being tired and overwhelmed knowing what Ukrainians are going through? I keep asking how am I able to live peacefully while Ukrainians cannot?
Yesterday, I made myself go for a long walk because I had not left my home for seven days. But I couldn't stop thinking that Ukrainians can't walk along their streets right now and I can. Ukrainians can't go to their local park and get some fresh air, but I can.
I've been really touched by both my colleagues at the Centre of European Studies and the ANU Media Team. At every step of the way, they have told me that if it becomes too difficult for me to speak publicly about this war, particularly because of my own family involvement, that firstly, I have the right to withdraw from that and I should feel okay about withdrawing from that, and secondly, we have a wellness structure that I can draw on at any time.
Q: Recently we've seen that Russia has been stating that the Ukrainian army and government is controlled by Nazis. We know now that they're using this rhetoric to justify the invasion. But are there any points of misinformation being used regularly that people should watch out for and look at with a critical lens?
A: On 2 March, the United Nations passed a resolution condemning the invasion and requiring that Russian forces immediately withdraw. However, a part of that resolution also condemned Russia's decision on the 21st of February, when they announced that they were acknowledging the separate status of Donetsk and Luhansk. Together that region is called the Donbas, those two eastern provinces or states of Ukraine. The United Nations resolved that the Russian Federation immediately and unconditionally cancel its decision about the status of Donetsk and Luhansk.
To understand what that really means, we need to go back to 2014. That year Russian troops entered the Donbas region on the pretext of needing to protect Russian speakers. As with Crimea, there had been no evidence of any discrimination against Russian speakers or ethnic Russians in that area. In July 2014, the first act of open warfare occurred. Russian artillery shelled Ukrainian troops across the border, and later Russian troops actually crossed the border entering Ukraine. From that point on, there was a steady flow of Russian weapons and troops coming across the border.
Those of us like myself, who have a strong connection to Ukraine and could access news directly from Ukraine, knew that this was a military incursion involving Russian troops and weapons. But Russian disinformation portrayed that they were merely assisting so-called separatists, assisting local Ukrainians who wanted to separate from Ukraine, and that this was a civil war. However, the military conflict in eastern Ukraine has always used Russian or Russian-proxy forces. Throughout those eight years, Ukraine has always stipulated that this was not an internal conflict. This was actually a war, a Russia-Ukraine war. Ukraine and Ukrainian observers like myself, have always stipulated that we should not be referring to those two regions as 'breakaway territories' and instead should be calling them 'occupied territories' or territory 'under occupation by Russian proxy forces'.
Concerted, systematic disinformation by Russia, through media outlets like Russia Today and Sputnik News have had free reign in many countries, right up until very recently. These are known propaganda outlets, and Russian disinformation has actually been one part of what we call the hybrid war that Russia has been engaged in against Ukraine since 2014. We refer to this as a hybrid war because it consists of three parts. The first is conventional military incursions; the second is cyber warfare, something that was heightened during the troop build-up over these last few weeks and is still occurring; and the third is a well-organised program of disinformation. 
Putin's regime has been putting millions and millions of dollars into this program, across many different languages, to propagate untruths.
Part of that, for example, is the claim that the Ukrainian government is extremist. The right-wing vote in Ukrainian parliamentary elections is consistently under 3%, there's a higher right-wing vote in France. But that claim was obviously very effective Russian disinformation, because I would often hear this comment raised, even in academic circles.
Note: According to the Swedish Institute of International Affairs, Far-right party representation in the Ukrainian parliament as of 2019 was at 2.15%.
Even Russian soldiers were subject to Russian propaganda. It now seems pretty clear that Putin thought that this battle would be over in 3 days, moving in from three sides of Ukraine, effectively occupying the country. We know that partly because many of the armoured vehicles and tanks have actually run out of petrol. We also know that because Russian soldiers who have surrendered have said that they were only issued 3 days of rations.
We're also finding that many of those Russian soldiers who are surrendering are very young and inexperienced, and they're speaking openly about the fact that they didn't know they were being sent to war. Some were told they were going on military training exercises and expected to be home in 3 days' time. Others were told that they were going to Ukraine and would be greeted with bread and salt by the Ukrainian people. The first time a visitor comes to your home, the Ukrainian tradition is to greet them with a loaf of bread and a little dish of salt.
These soldiers were told that the Ukrainian population would welcome them, because they were actually liberating them from a Nazi government. They were told their job was to denazify Ukraine. Even I, who has a reasonable understanding of Russian propaganda, fail to understand what that means, because it's just so ludicrous that I'm not even sure what 'denazification' is actually referring to. There is footage of one captured Russian soldier saying,
'they told us that there were going to be Nazis and fascists here …. but I haven't seen any, they're just normal people like us'. 
Also heartbreaking is footage of another young Russian soldier saying words to the effect of 
'I didn't know we were coming to Ukraine, my grandmother's Ukrainian, I don't want to kill Ukrainians'.
The other footage that has recently come to light is of soldiers who have surrendered that are from those occupied territories (Donetsk & Luhansk, the Donbas region). They have said that they didn't willingly enlist, which negates another part of the Russian propaganda stating citizens in those so-called 'separatist' or 'independent areas' are rushing to enlist. Some of those soldiers who are now in captivity, are saying that they didn't even have any training but were forced to join the war effort. And they were Ukrainian, speaking in Ukrainian to the soldiers who were holding them captive.
Now clearly that's a section of the Russian army and there are other soldiers who are very seasoned and hardened. But we now know that at least that kind of soldier was psychologically unprepared for what they're facing. That's an example of Russian disinformation, even damaging their own people as well as Ukraine.
Q: Much of the community at ANU, as with the rest of the world, are wondering what they can do personally to assist those affected by the conflict. Can you detail how one can best help those currently in Ukraine, fleeing the conflict, and here in the Ukrainian-Australian community? Especially as there are some fake organisations being advertised that are not actually assisting those impacted but instead exploiting the moment for their own financial gain.
A: What I would say to ANU students at this moment is try turning to your local Ukrainian community organisation. Send an email or to make a phone call. The Ukrainian Association of Sydney website (linked below) has information on various ways you can assist right now. The website of the Australian Federation of Ukrainian Organisations is calling for volunteer contributions. Under the link "I want to help Ukraine" there are options ranging from support for Ukrainian refugees coming to Australia to legal, business, technical, IT, media, medical, humanitarian and community engagement initiatives.
It's very important to have information about donations from a reliable source. On the Ukrainian Association of Sydney website, we have prioritised one particular link that takes you directly to the National Bank of Ukraine. The information is in English and there is a Google Pay credit card option. We've also listed other options that rely on third parties and charities.
Know something we don't know? Email [email protected] or use our anonymous tip submission.
If you have an issue with this article, or a correction to make, you can contact us at [email protected], submit a formal dispute, or angery react the Facebook post.
Want to get involved? You can write articles, photograph, livestream or do web support. We're also looking for someone to yell "extra!" outside Davey Lodge at 1AM. Apply today!
---