COVID-19 Positive Residents to Use Designated Bay in the Fenner Communal Kitchens
---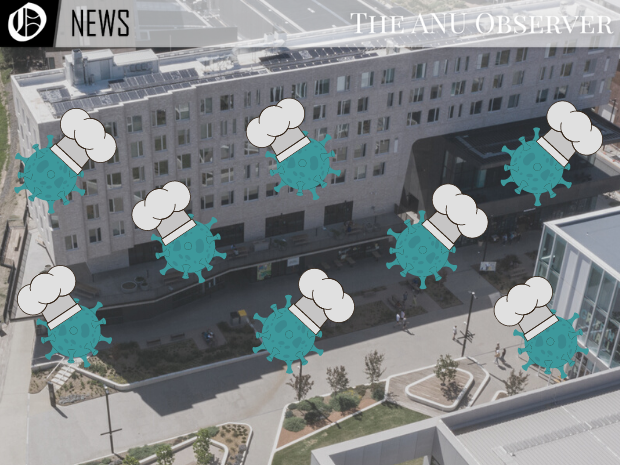 By Hannah Farrow 
From April 1st, the ANU will no longer provide catering to students who are isolating with COVID. At Fenner Hall, this means a designated bay in the shared kitchen space will be used by COVID positive residents. 
In the beginning of Semester 1, ANU saw a sharp increase in COVID cases within the campus residences as restrictions were lifted and students were able to move back to campus. 
Previously, students at residential halls were provided with three meals a day or vouchers to cover grocery and food delivery costs. This was achieved by a "team of professional staff from across the campus", according to the ANU website. Last year, the University provided breakfasts, snacks and dinners to all residents at Wamburun, Fenner and Toad Hall, which consisted of over 900 students.
Students are now expected to be responsible for their own meals.
At Fenner Hall, a self-catered residence, a kitchen bay has been set aside for isolating students to use. This means positive students will not be expected to remain in just their rooms for the 7 day isolation period, and will be using shared spaces alongside uninfected residents. 
Observer spoke to a current Fenner resident about the sharing of facilities with COVID positive students.
"ACT public health guidelines… clearly state that using shared spaces in a household should be avoided unless absolutely necessary."
They further stated that "Fenner Hall is failing in its duty of care with this new set up as it puts all healthy residents at a higher risk of catching COVID. This is a simply unnecessary risk. Since the beginning of semester, the hall has been providing meals or meal vouchers so why can't this just continue?"
"I am definitely anxious about the outcomes of this decision since I am so worried about catching COVID, especially from something I can't control like having to use the kitchen nearby people who have COVID or touching a surface that a COVID positive person has touched."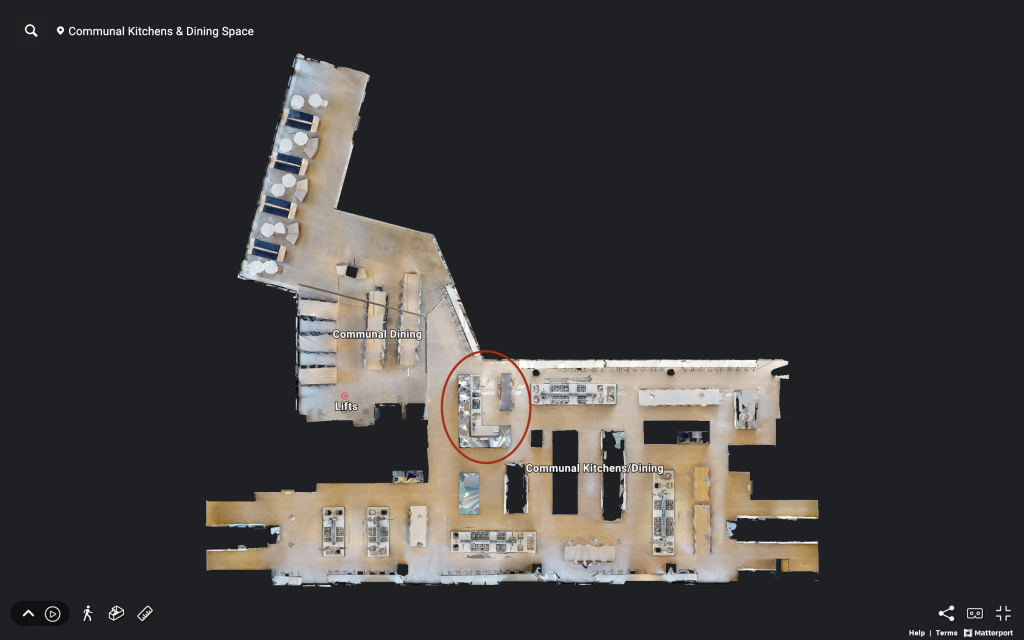 Red circle indicates the designated kitchen bay for Covid-19 positive residents. Photo: ANU. 
Fenner Hall Administration has commented that there will be "increased cleaning to minimize risk of transmission in the community" around the area. 
Some residents feel they were insufficiently consulted in advance to the protocol change. A Fenner resident who is uncomfortable with the change told Observer  "It felt like they weren't even considering all residents in their decision since all people I have spoken to about this have had the same views as me." 
They further stated that while they understood  the ANU's previous approach of "providing food for all isolating students is costly and unsustainable", they did not believe this change was wise.
"Forcing us to share lifts and stairs with COVID positive residents is not the answer", the resident asserted. "Forcing COVID positive residents to choose between eating and having to disclose to the entire hall their health status is not the answer." 
"In a bid for standardization the ANU is risking the health of every resident in Fenner Hall."
An ANU spokesperson commented that "when there was a larger number of COVID cases in our residences, the University provided catering to residents who were self-isolating and who did not have access to their self-catered central kitchens. This was to help restrict movement in our residences and help stop the potential spread of COVID."
However, the spokesperson stated that changes in residential hall COVID protocol were due to the fact that "there are now a very small number of cases in our residences and the risk of transmission has greatly decreased."
Another current resident at Fenner commented that this new protocol "defeats the purpose of separation, and has had a tangible impact on the community. Students feel less safe …and less able to use the kitchens – in their own home." 
They continued, "obviously there is a recognition that ANU's commercial interests need to be balanced with providing for students, but the layout of the Fenner Hall building simply does not provide adequate facilities for an isolating resident. This misunderstanding has truly been detrimental to student wellbeing and safety."
"The University is also working with residents in Fenner Hall on an appropriate way for those students to access cooking facilities in their residence."
Graphics by Alex Ellwood
Know something we don't know? Email [email protected] or use our anonymous tip submission.
If you have an issue with this article, or a correction to make, you can contact us at [email protected], submit a formal dispute, or angery react the Facebook post.
Want to get involved? You can write articles, photograph, livestream or do web support. We're also looking for someone to yell "extra!" outside Davey Lodge at 1AM. Apply today!
---