Big Night Out returns to ANU
---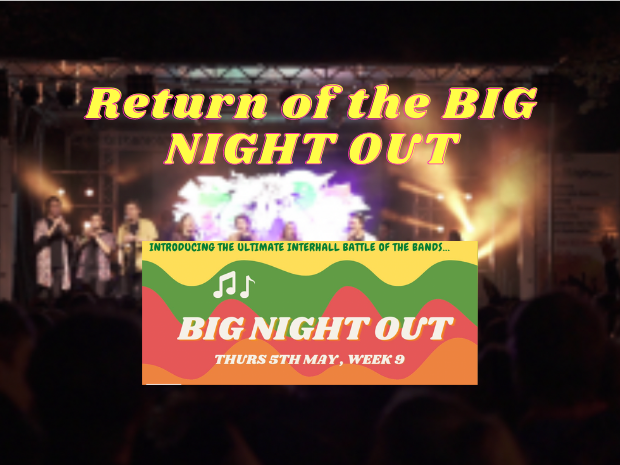 By Brianna Elliott
The Interhall Arts Committee (IAC) is hosting 'Big Night Out' (BNO) for the first time since 2019, on 5 May 2022 at Wamburun Hall courtyard. Bringing together bands from every ANU residential hall, this music festival inspires a combination of healthy competition and college unity.
BNO directors Aimee Lawler, Jeffery Yang, and Eve Hill are immensely excited to have the privilege to direct this event. As well as bringing together members of residential halls, Lawler told Observer, "there are hundreds of new ANU students who have never seen a BNO, but there are also enough later-year students and alumni attending to appreciate the nostalgia."
Hosting a music event of this scale, IAC has worked hard to overcome all the challenges that have been thrown their way over the past few years. According to Yang, some of these obstacles included, "the overconfidence of previous directors, polar vortexes, Covid-19, financial costs, and plain old bad luck."
Despite these complications and setbacks, IAC was determined to host BNO this year. When approval for the event was obtained there was an overall sense of delight, relief, and enthusiasm. Jeffery sums up this overall feeling as a "feverish, tentative excitement" and "a bit of a dream", matching the mood of not only the directors but the IAC entire committee.
The directors have utilised their excitement to organise an event that has something for everyone. According to Lawler, we can expect "5 hours of excellent music and dancing, along with a great atmosphere created by our food vendors, bar and Red Frogs – they'll be bringing a popcorn machine and many more fun snacks!" Yang furthered Lawler's statement by adding we can also expect, "10 bands, playing their hearts out. A massive mosh. And most importantly, an atmosphere of comradery and festivity that you won't get anywhere else."
When asked to elaborate on why everyone should come to BNO, Yang commented, "It is the best decision you will make during your time on campus and because no other university has anything like it. I have been at ANU for 5 years now and I can confidently say that the two years in which BNO ran, it deserved its reputation as the biggest and best event on campus for a reason."
Lawler has not had the opportunity to attend a past BNO, but she is absolutely thrilled to be a main organiser of the event. Barely containing her excitement in an interview with Observer, one of her personal highlights from this experience "has been seeing and hearing [her] own college's band preparation and knowing that [she is] part of making their dream of performing become a reality".
All tickets are on sale now and being sold fast! To purchase tickets, they can be found at bignightout22.getqpay.com
The BNO directors have ensured that there will be security, first aid responders and sober college representatives to keep everyone safe on this night of fun.
Graphics by Junyoung Chun
Know something we don't know? Email [email protected] or use our anonymous tip submission.
If you have an issue with this article, or a correction to make, you can contact us at [email protected], submit a formal dispute, or angery react the Facebook post.
Want to get involved? You can write articles, photograph, livestream or do web support. We're also looking for someone to yell "extra!" outside Davey Lodge at 1AM. Apply today!
---