Kambri's Hot-Star Health Inspection Results Released
---
By James Day 
On 2 March, the popular fried chicken store in Kambri Hot-Star, shut its doors following an ACT Health inspection that quickly declared a prohibition order on the premises. Following their closing, the notice was displayed on their front door and shared around student social media. Observer sent an FOI request to ACT Health for details on the store's closure, for which we received a 232-page report.
Hot-Star Large Fried Chicken is a franchise that was founded in 1992 and is based in Taiwan. It has stores operating in every state and territory of Australia except for the Northern Territory, and has another ACT store in Belconnen. The store on campus opened in 2019 in the Kambri precinct. 
It remained in operation until ACT Health received an email on 25 February from a customer requesting an inspection of the premises. The initial inspection of Hot-Star was conducted on 2 March. 
The complainant alleged poor hygiene standards, with chefs "wearing flip flops", raw chicken "out and not in a fridge", and "dead bugs in the kitchen and restaurant". ACT Health responded requesting the complainant fill out a questionnaire, which upon completion detailed symptoms of nausea, and six hours of vomiting. ACT Health's initial inspection report concluded that the store was "Non-Compliant" with the ACT Food Act 2001, and that the store had "voluntarily closed" as a result. 
Some of the principle issues in the initial inspection report illustrate a broad array of health violations. In processing ingredients, they found that "food delivered was not stored in the temperature control room and was left out for more than 2 hours", along with raw meat being defrosted in the "food preparation sink overnight at room temperature". 
On sanitation, they found that there was "mould build up in wash sinks and fridges", a hand wash basin "with no soap and paper towel", along with "another hand wash sink not in use and obstructed with foods and clothing". 
On top of this the "floors and walls [were] unclean with significant build up of food debris, fat, grease and mould", "no sanitiser [or thermometer] available onsite or in use", and the "refrigerator [was] not in working order". The store did not provide a "recent pest control report", and staff were "not aware of food safety and hygiene practices". 
On the same day of this inspection, the prohibition order was issued by ACT Health "to prevent or mitigate a serious danger to public health". It stated that the proprietor Winner Winner Chicken Winner Pty Ltd – who operate the store under the Hot-Star franchise – cease all sales of food until all 14 instruction points were carried out. On 4 March the store then paid ACT Health for a reinspection. 
The second inspection was carried out on 9 March, but again found the store to be "Non-Compliant" due to having still not completed 6 of the 14 aforementioned instruction points detailed in the prohibition order. Most of these incomplete points required further detailed cleaning. However, one notable issue found was that the "proprietor onsite who is also a food safety supervisor for the business was not able to demonstrate cleaning and sanitising procedure appropriately". 
Nearly a week later on the 15th, Hot-Star paid for another reinspection by ACT Health that was carried out the next day. The report from this inspection finally found the store to be "compliant", having completed all 14 points in the prohibition order and providing a 'Food Safety Management Plan' to ACT Health. Later that day after review of the inspection report, a clearance certificate was issued, the prohibition order was lifted, and the store reopened.
The images below taken by the inspection team, show the progress made in each inspection on certain spots until they sufficiently complied with ACT Health standards.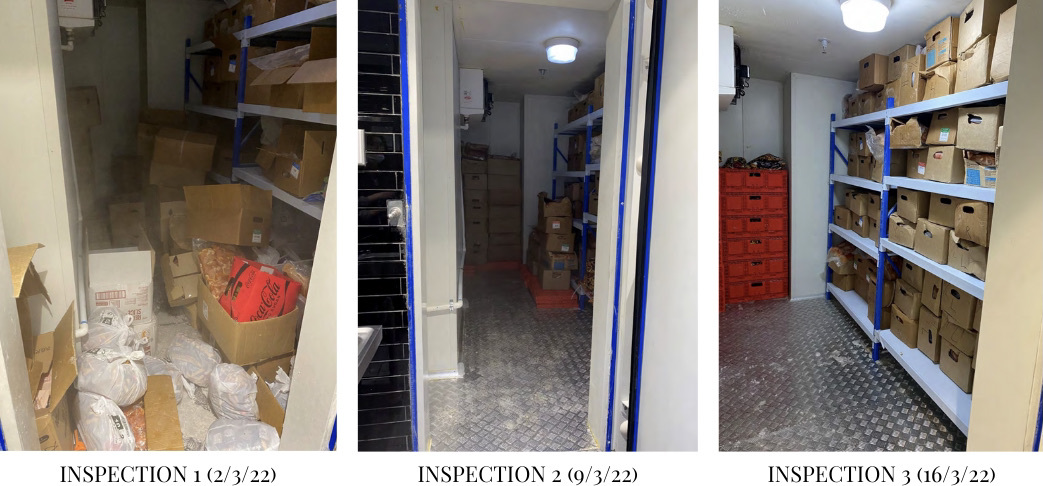 Freezer room.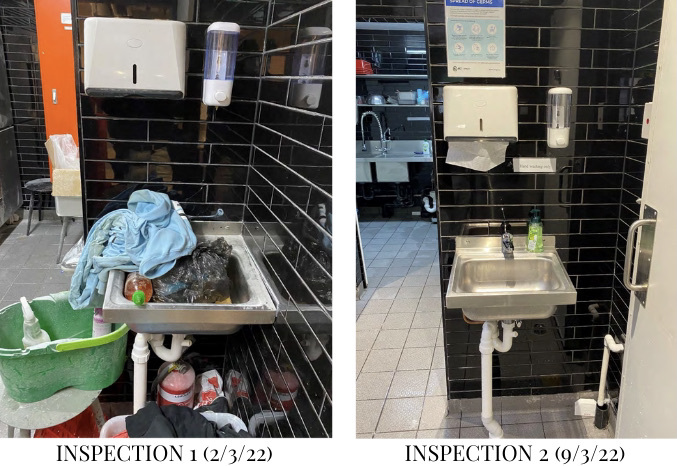 Hand wash basin.

Underneath the cookline.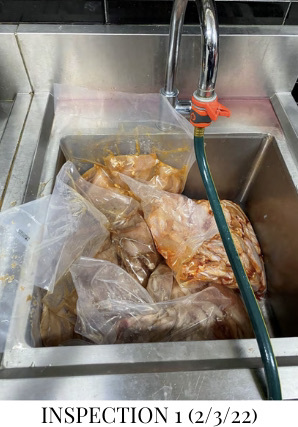 Chicken defrosted in the sink overnight.
Know something we don't know? Email [email protected] or use our anonymous tip submission.
If you have an issue with this article, or a correction to make, you can contact us at [email protected], submit a formal dispute, or angery react the Facebook post.
Want to get involved? You can write articles, photograph, livestream or do web support. We're also looking for someone to yell "extra!" outside Davey Lodge at 1AM. Apply today!
---