ANU to Disestablish Bachelor of Classics and Bachelor of Archaeological Practice
---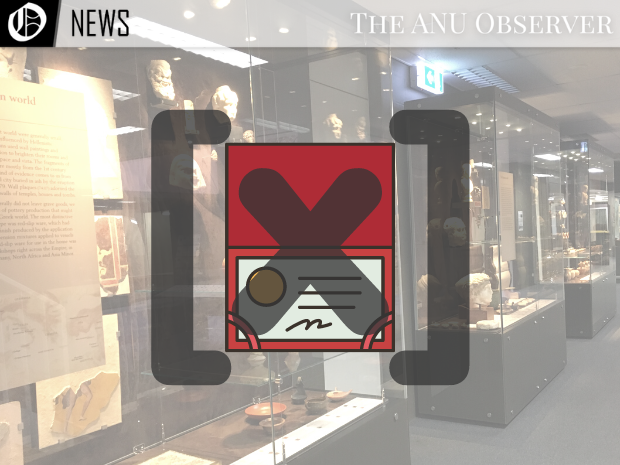 By Hannah Farrow 
Conflicting information has been released about the disestablishment of several degrees with the ANU College of Arts and Social Sciences (CASS). Observer has confirmed with ANU that at least two CASS degrees will be cut and instead can be completed as majors within the Bachelor of Arts. However, current students in these degrees alongside CASS representatives have provided different information. 
An ANU spokesperson confirmed the CASS degrees that will be disestablished are the Bachelor of Classics and Bachelor of Archaeological Practice. The ANU degree list on the Universities Admissions Centre website does not show the Bachelor of Classical Studies (BClass) at all, and states that the Bachelor of Archaeological Practice (BArchPrac) has been cancelled alongside the Bachelor of Development Studies and the Bachelor of Middle Eastern & Central Asian Studies.
An ANU spokesperson confirmed to Observer that "the College [CASS] is disestablishing a number of small named degrees that are also available through the Bachelor of Arts", which included the two aforementioned degrees.  
"The ANU College of Arts and Social Sciences reviews courses and programs on a regular basis", the spokesperson stated. "This is done for both regulatory compliance, as well as alignment with the College and University goals". 
"This means in some instances that new programs are proposed and others disestablished" they said. The spokesperson further clarified that the disestablishment of the two CASS degrees "does not include any immediate course closures and has no impact on students currently enrolled in any of the named degrees". New students will be directed to complete the Bachelor of Arts rather than these degrees.
Maggie-Mary – who is in their 2nd year of the BArchPrac – highlighted their frustration with the integration of their degree in the Bachelor of Arts. "This was the reason I chose ANU over other top universities also offering archaeology — I wanted a degree in archaeology, not in Arts", they asserted. "It also wouldn't give graduates the benefit of the prestige of the name of the degree, which distinguishes ANU's BArchPrac graduates from other Arts graduates at Australia's top universities."
Lucia – who is in her second year of a BArchPrac – holds similar misgivings about the integration of her degree. She stated that she was "surprised that it's not going to be continued", particularly as she does "think it is a vital degree to understanding and preserving history". 
"Scrapping the whole degree is unnecessary" Lucia said. 
However, conflicting information has been circulated. CASS representatives have denied the official disestablishment of these degrees in the College Representative Council (CRC) meeting on 25 May, and some students enrolled in these degrees have told Observer they were not aware of the changes. At the CRC, a representative also alleged that ANU believes students have too much choice with their degrees, proposing a curriculum review to generalise students' learning. 
"The current drop of the degrees is very much hearsay at the moment…the University has not officalised anything regarding it yet", a CASS representative told Observer.
Lucia said she "had not been contacted by any of the facilitators about the changes happening to the degree." Maggie-Mary also said "I had no idea my degree was being cut". 
Direct applications to receive an early offer to study at ANU in 2023 closed on 23 May, but applications for later round offers are still open through UAC. At the time of publishing, the Bachelor of Classics and Bachelor of Archaeological Practice degree pages are still visible on Programs & Courses.
Also at the time of publishing, the BArchPrac page on Programs & Courses still has the option to select 2023 as an academic year. Only after clicking on the 2023 option, an error message appears stating that the page does not exist, as seen below.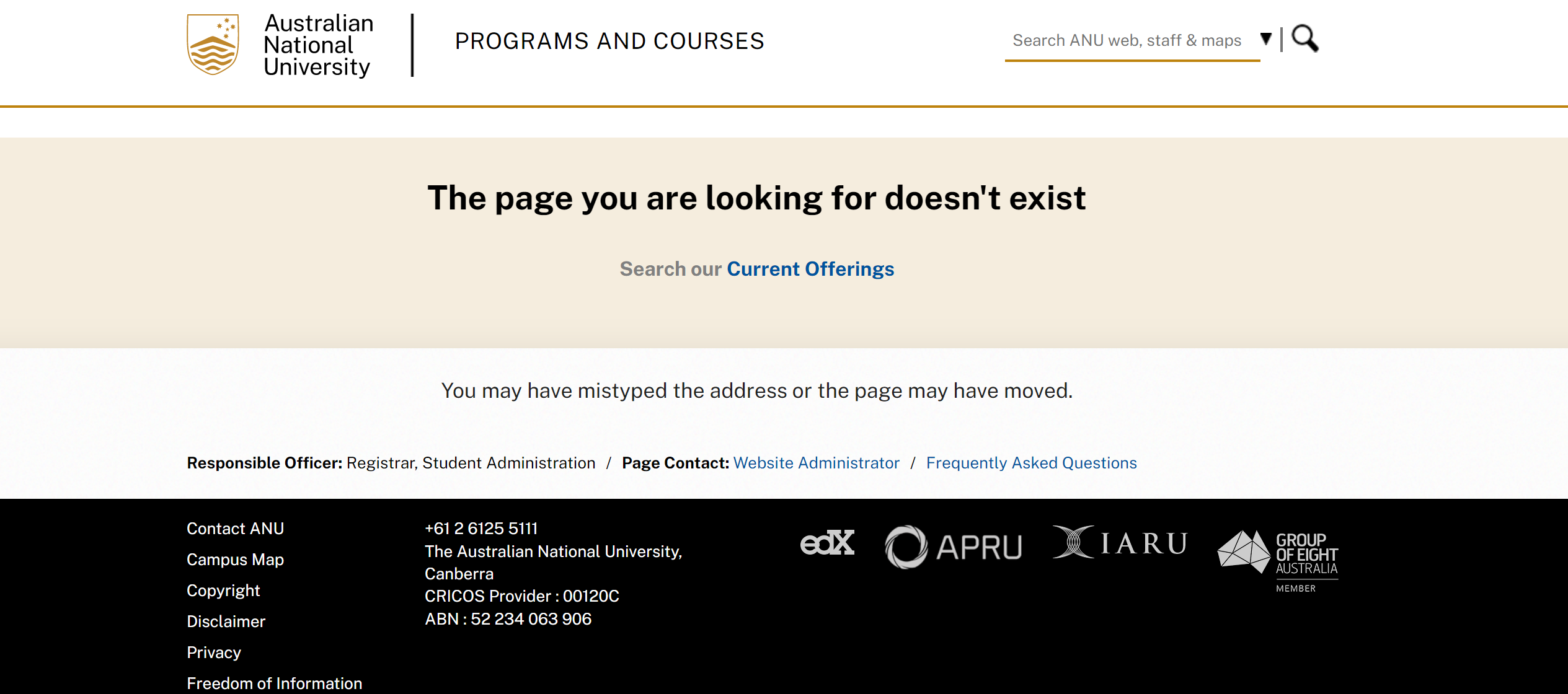 Photo: ANU
Despite the guarantee that students currently enrolled in disestablished degrees will not be directly affected, there are observed complaints from such students regarding the lack of course options for these degrees. A post to the ANU Confessions Facebook page from 6 May criticized that the Bachelor of Archaeological Practice "expects us to complete majors where half the units aren't even being offered in the next three years". 
According to Programs & Courses, BArchPrac students must complete 24 units – or 4 courses – within the minor of Archaeology of Aboriginal Australia in its Regional and Cultural Context. At the time of publishing, 4 out of the 7 course choices within the minor appear to no longer be available past this year's winter session.
For ARCH2004 and ARCH2005, there are no current or future offerings displayed and for HIST2022, which ran in Semester 1 this year, there are also no future offerings shown. LING2016 is being offered in this year's winter session, but similarly displays no future offerings for the course. The remaining three courses within the minor are available either in Semester 2 or in following years. 
The College of Arts and Social Sciences did not respond to multiple requests for comment. 
Graphics by Alex Ellwood
________________________________________________________________________________
Know something we don't know? Email [email protected] or use our anonymous tip submission.
If you have an issue with this article, or a correction to make, you can contact us at [email protected], submit a formal dispute, or angry react the Facebook post.
Want to get involved? You can write articles, photograph, livestream or do web support. We're also looking for someone to yell "extra!" outside Davey Lodge at 1AM. Apply today!
---