Civic2Surf: 30 ANU Students Run from Canberra to Sydney in Support of Mental Health Advocacy
Posted On September 12, 2022
---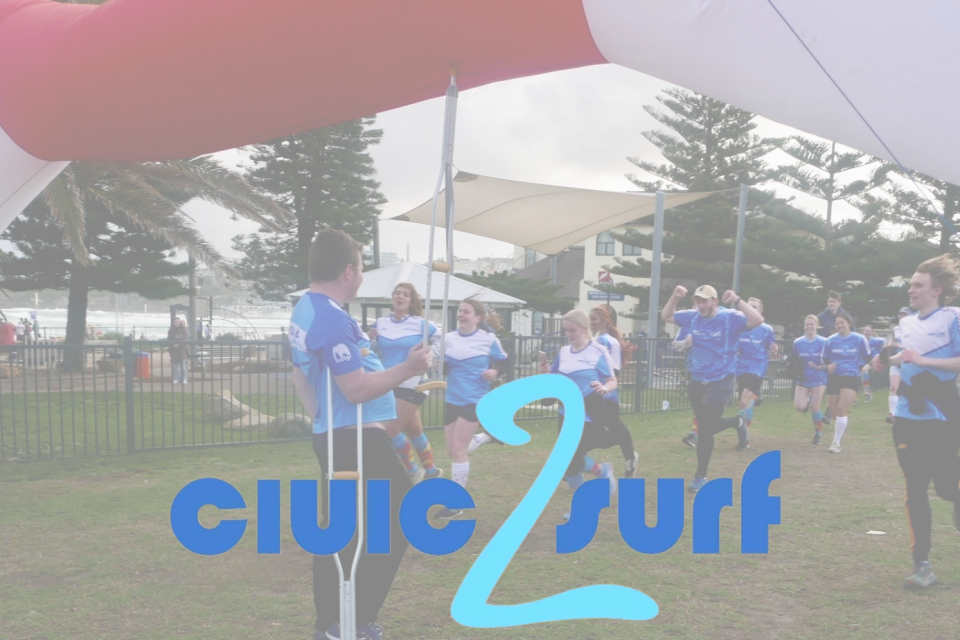 By Eleanor Ellis
Photography by Eleanor Ellis
Content Warning: Mental health
At 4.30am, Saturday 3 September, while most students were likely asleep – or perhaps frantically finishing a mid-semester assignment – 30 ANU students gathered at Fellows Oval, braving the chilly 2-degree weather and occasional winds in the pitch-black of night.
By 5pm on Sunday 4 September, they had arrived at Bondi Beach in Sydney having just completed the Civic2Surf (C2S), a student-led initiative where participants cover the 360-kilometre distance between Canberra and Sydney in paired-relays.
Despite the long, gruelling physical challenge they had just endured, it was all smiles (and sweat) at the finish line.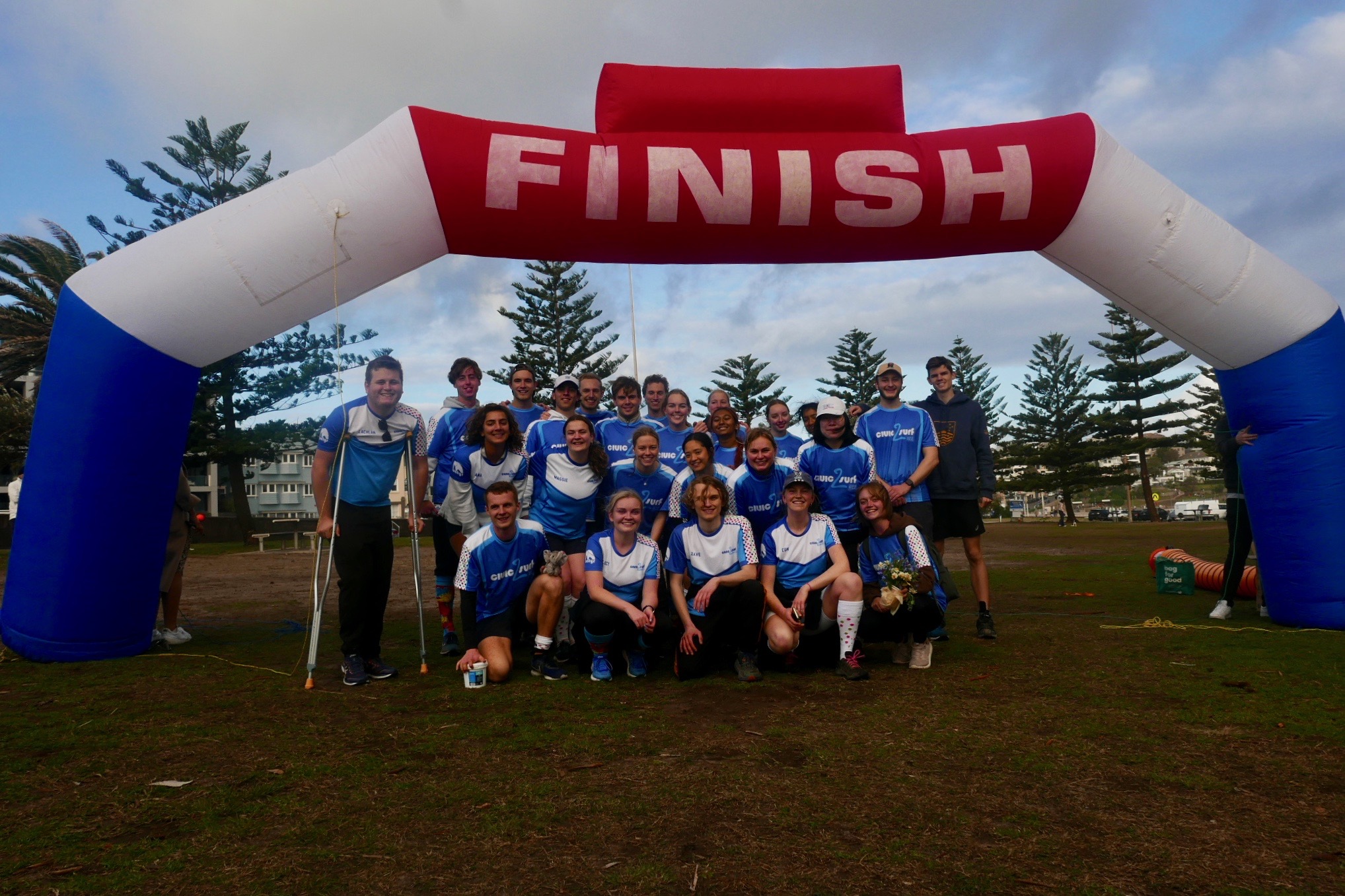 C2S is primarily focused on reducing the stigma too often associated with conversations about mental health, and "aspires to strengthen the emphasis of youth perspectives [and] allow young people to take charge of their stories". 
In addition to their advocacy work, C2S also raises funds for batyr. batyr is an organisation that aims to encourage young adults to speak up about their own mental health struggles, and reach out to others potentially facing similar challenges. It was founded by ANU alumnus and former John's College President, Sebastian Robertson, in 2011. 
C2S has currently raised over $7,000 this year, with a goal of $20,000. Their donations page will be open until the end of October. batyr also welcomes donations year round.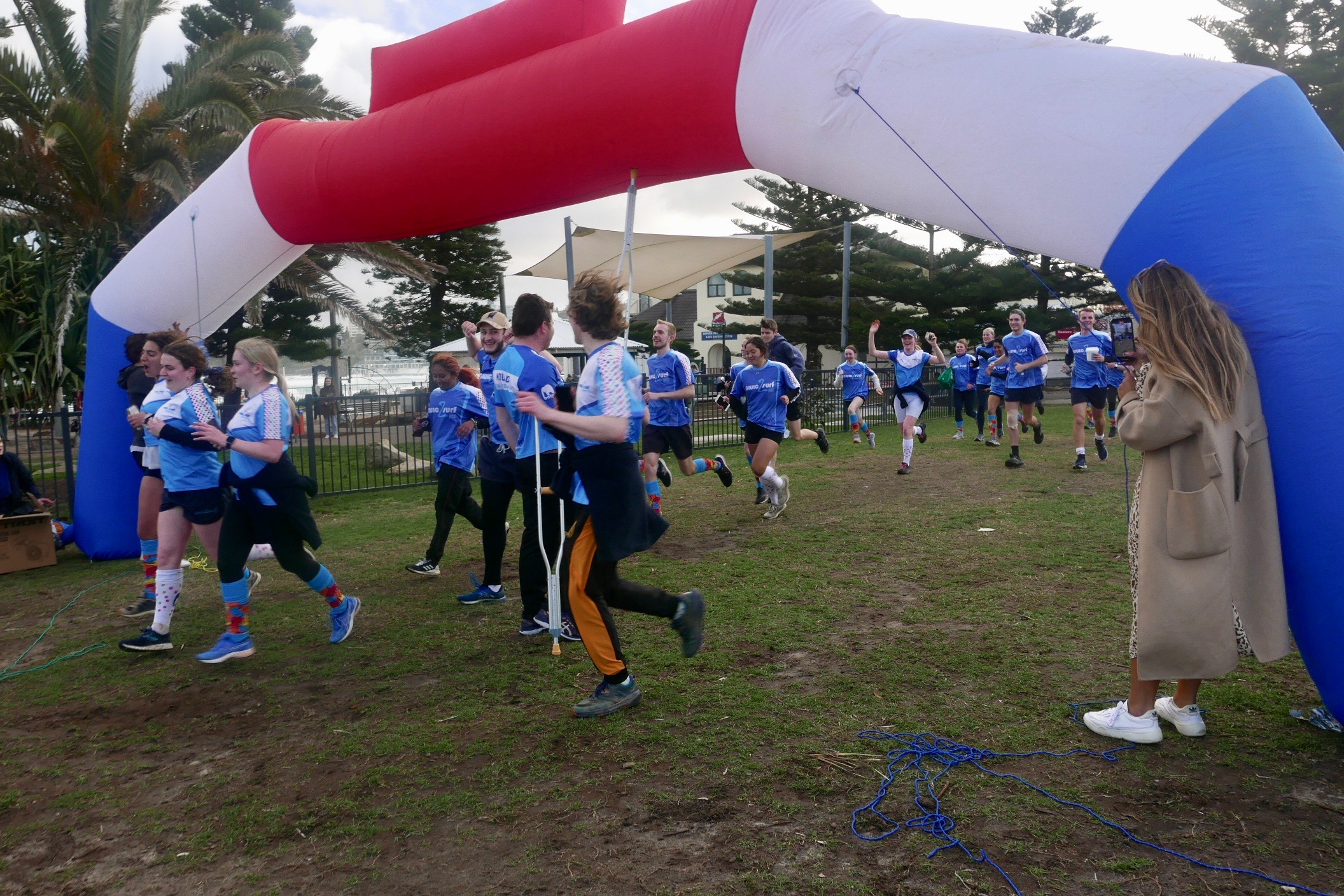 Observer spoke with the batyr's Head of Data and Insights, Josh Wiseman (another ANU alumnus), who said C2S has "contributed over $100,000 for batyr" since 2012.
Saturday morning, the team was joined by ACT Senator David Pocock, his wife Emma, and batyr's Wiseman. Also there was batyr's Courtney Kovac, the Senior Coordinator of Program Content and Delivery – and her kelpie dingo mix, Daisy, who did not participate in the event but did get plenty of exercise running circles around the participants at Fellows Oval.
The committee also provided breakfast for the runners and special guests.
David and Emma Pocock joined one of the training sessions on 17 May, involving a short jog followed by a discussion about the importance of mental health advocacy.
Observer spoke with one of the C2S Trainers, Conor Ammett, who said Pocock "gave us a brief speech on his experiences with mental health". Following this, the committee organised a social event at Badger, which was open to everyone (not just participants), inviting students to meet the C2S community.
Many of Pocock's policies are focused on improving community access to health services in Canberra, including increasing the number of specialists in the ACT to reduce wait times and eliminate the need to travel interstate; increasing funding for mental health services; and ensuring affordable healthcare for all.
Pocock, Wiseman, and the current C2S President, Maggie Reynolds, each gave a brief speech, before the team ran together to Willows Oval at 5am to send off the first pair of runners.
Each pair ran approximately five to six kilometres, with the rest of the team driving to the start of their leg to pass the baton.
The final stretch along Bondi foreshore was also completed by the entire team. They were met by batyr representatives, CEO Nicholas Brown; Head of Fundraising Sheree Webber; Campaign and Events Coordinator Nicole Cecil; and Partnerships Manager Cassandra Sofia.
They then moved to the North Bondi RSL to celebrate, where co-founder Jack Bennetto also made an appearance.
Reynolds told Observer she has been involved with C2S for four years, participating in 2019 and 2020, and acting as Vice President in 2021 (despite the event's unfortunate cancellation due to lockdown restrictions).
She expressed her passion for "de-stigmatising conversations around mental health in young people," and was drawn by the sense of community and peer support that C2S provides.
Reflecting on the "beautiful friendships" she has made with "people [she] probably wouldn't have met otherwise", and the impact C2S has had on batyr and her own life, she continues to support the event to "make sure students will always have the opportunity to be involved with something so special".
Despite the "intimidating concept" and organisational challenges, especially during lockdown, Reynolds said she "has never looked back".
This sentiment was echoed by former ANU student and 2019 participant, Grace Ross-Farrell. Speaking with Observer, Ross-Farrell commented on the "really positive experience [C2S] had on [her] own mental health".
In addition to the physical benefits of "going outside" and "on regular runs," she fondly recalled the connections she formed with:
"like-minded people that also have an interest in the importance of cultivating positive mental health, building a community, and fighting the idea that talking about things makes you weak…It makes you feel like you're a part of a very welcoming and safe community – and the fact that it was all for a really important cause was just the cherry on top".
Reynolds and Ross-Farrell further praised the unique approach batyr has, by focusing on early intervention and preventative education to help young adults from reaching the point of crisis, particularly through their [email protected] and [email protected] programs.
Wiseman explained each program "centre[s] around a young person sharing their experience of mental ill health" and provides "practical and tangible strategies… to pull learnings from the program". batyr stated they receive feedback in post-program evaluations from these schools "reporting improved attitudes towards help seeking behaviours".
Reynolds said this method of "going into schools and universities, empowering young people to talk about mental health and giving them the tools to support themselves and others" has a significant impact in teaching students "how to conceptualise mental health" and motivating young adults to "start conversations with family and friends".
She continued, "thinking back to my time at school, I know myself and the people around me would have hugely benefited from [these] programs…for a lot of my schooling, I just assumed [what] I was feeling was completely normal, so in my mind there was no point in talking about it".
Foundations of C2S
Before C2S became an official event, five ANU students – Evan England, brothers Jack and Harry Bennetto, Calder Hamil, and Bronti Ness – decided to run from Canberra to Sydney in 2011.
 Observer spoke with co-founder England, who recalled an event during O-week of 2011, during which Robertson spoke at a "Men's Night" at John's, "talking about mental health…[and] his personal story to break down the stigma of it". England said this "resonated" with the five co-founders, leading them to decide on batyr as the recipient of the funds they had raised, which according to England "was about $15,000… in the first year".
Unlike the current organisation of C2S, the students planned the course over five nights. England recalled "it was about 60-kilometres a day… which was enough, for sure."
Due to the challenging and less-officially planned nature of the first race, Observer asked England if they had any major troubles along the way.
England responded, "To be honest, I was probably in the worst shape at the end because I got shin splints…We also got lost on somebody's property at one point. But other than that, remarkably, no" – before adding, "I mean, Calder, almost got hit by a train on one of the days, which was quite an experience".
On a more positive note, he added, "We had lots of people join us along the way…for like half a day or an hour…[and] random acts of kindness".
He recalled one particular instance where they had spoken to a driver passing by in the Marulan area, and explained what they were doing. When they arrived into town that evening, a local pizza place owner told them their food and drinks had been paid for by the driver.
Overall, England stated, "There were more positive instances than there were negative".
Asked about the response from ANU, England replied, "They were supportive and… gave batyr a space on campus… the university really jumped on board, and the colleges assisted as well, through raising money and supporting events."
The five initially did not intend for it to become an annual event. However, they soon began strategising with Robertson and batyr, to develop the relay organisation, which was implemented the following year.
Despite the increasing awareness about mental health issues and acceptance for people speaking up, England said, "ten years ago, you wouldn't do that…it really has changed the conversation in the last decade – not strictly in terms of just batyr – but generally as a concept, it was a very different time then."
He added, "We certainly never envisioned it becoming this big…  seeing the impact it has had on batyr and to Seb… that's kind of the thing I find most unbelievable about it."
batyr
Observer spoke with Brown and Wiseman, who have both worked on the [email protected] programs. Wiseman explained they focus on "stigma reduction and mental health education," with "a young person sharing their experience of mental ill health…accompanied by practical and tangible strategies."
Brown was involved with the initial rollout, attending every school program and "provid[ing] input on ways to improve quality, safety, and scalability. What the team has been able to do since…is incredible and far beyond any contribution I could have made".
Observer asked Wiseman how C2S has supported batyr's mission beyond fundraising. He stated:
"Obviously fundraising is a huge help to the work that batyr does…[but] the impact goes so much deeper than this. C2S really embodies the purpose of batyr, which is supporting one another…creating a sense of community, [and] facilitating connections to form [and] conversations to occur".
C2S is free and open to all students, of varying running experience both on and off campus. Wiseman stated this provides "an accessible point of entry for people who might not normally engage in mental health initiatives [and] helps ANU Students to have conversations about how they're doing, their mental health and to help each other out".
Observer asked Wiseman about his experience at ANU and its impact on his mental health. Wiseman stated, "I loved my time at ANU…the pastoral care system provided me so much support…navigating an, at times, pretty complicated adjustment from living at home". Living on campus meant "my support network of friends was around me all time".
He also expressed his appreciation for the university's Counselling Centre, which he was able to access quickly in a time of need "by calling up first thing in the morning as they kept a couple of 'last minute slots' clear each day", a system still in place today.
C2S Training and Event
Since 2012, C2S typically draws in 60-80 participants, while this year's team consisted of approximately 30 runners.
Reynolds commented that one of the biggest challenges in engagement numbers derived from the fact that "previous years have often relied on second and third years' involvement… [in] promoting C2S to incoming first years."
Reynolds said their biggest achievement this year was "getting the event up and running again" after the "truly devastating cancellation…[of] the run last year".
She expressed her gratitude, stating "I am so honoured to be working alongside…the incredible team that's got us through numerous hurdles".
England praised this and all previous years' committees, saying, "I try to reach out each year to the people running it… and they're doing it so much more professionally, sleeker and better than we did".
"I'm eternally grateful to the people who've taken it on because I'm sure they're aware of how much work that is."
Ross-Farrell also commended the committees for "rallying that many people, organising cars, putting people in teams – that is such a feat of organisation on the committees behalf… and the event organisers should be so proud. That is a major accomplishment".
According to Ammett, training began in March, involving two sessions each week. 
She said the team is usually a "50/50 split of people who run a bit, or enjoy running" and "people who prefer walking, or the social aspects of communal training sessions".
Due to variations in participant's capabilities and preferences, these sessions are split into walking and jogging groups "to ensure that no one feels rushed or uncomfortable". She continued, "If there is a smaller group of keen beans, the jogging group can split off into a running group".
There were also a variety of social events held, including numerous pancake breakfasts, BBQs, as well as sessions hosted by batyr representatives.
Participants spent Saturday night in Bowral, the midpoint, to rest and recharge, and listen to speeches by special guests. 
Reynolds told Observer "the whole evening is focused on bonding as a team and giving a real sense of community to the event. It is quite an intimate evening as we have people sharing their stories about their own mental health journey".
 She continued, "In the past, speakers have included representatives from batyr [and] the original… runners". This year's speakers were Anastasia Dermatis, one of two C2S Events Officers (along with Grace Toakley), and Petrea King, the founder and CEO of Quest For Life. Quest is another organisation that focuses on physical and mental health and wellbeing.
Sunday morning, the annual "Walk for Harriet" took place, a memorial walk for Harriet Nixon. Nixon was the C2S President in 2016, and was "incredibly passionate" about C2S and "dedicated to raising awareness of youth mental health issues". Beginning at 7.30am, the walk involved a lap around Bong Bong Racecourse in Bowral, where Nixon grew up, according to England.
Quest for Life
Quest, founded in 1989, offers a variety of residential programs, workshops, online courses, and other initiatives to assist people with various physical and mental challenges.
Observer interviewed King regarding her organisation's involvement with C2S. King said she first met the C2S committee "about 10 years ago when they went through Bowral". This was her second time speaking at the midpoint event.
King stated, "As another charity that works in mental health, and particularly in the area of trauma, I was really impressed with Sebastian's passion to set up batyr, and so I always wanted to be supportive of what they were doing".
While Quest is open to people of all ages, King noted "the last two years…with so much disruption in the world" has had a "particular impact on young people and their mental health… who are really struggling to find a pathway forward into a life they want to live…causing many people to really question who they are, what their direction in life is, what they want out of life".
"It's been a very interesting time of self-reflection where people have confronted some of those deeper questions about their own existence".
Mental Health
England commented on the mental health benefits C2S provides for students:
"Obviously physical exercise has all the scientific proven elements to it… and the endorphin release doesn't hurt." But more than that, "physical challenges, they can kind of distract your mind…because all of your energy has to go into it…I know for some of the other of the initial five people, running was really their way of escaping what was going on in their lives at the time."
"The community that formed around it…there were people from everywhere and you got to go outside your bubble, chat to new people and expand your community, if you felt alone – even though there's so many people at university, it's hard to connect and engage with different individuals".
He encouraged future students, "as far as if you're free that weekend…you should absolutely do it".
England also encouraged students to join the C2S committee, stating "it was such a formative experience of the rights and wrongs of leadership and organisation – I still take things I learnt from that in my work today… because there's nothing quite like taking on that responsibility".
Regarding participation, Ross-Farrell commented, "Obviously it's a bit of a commitment to your weekends and if you have exams coming up…[but] you'll meet great people and gain connections to people from lots of different places and spaces and colleges at ANU, [and] you'll gain a bit of fitness all in the process".
King, asked for her advice for students, replied, "Reach out to each other, don't be afraid to have a challenging conversation with someone you care about".
Brown echoed this, stating, "The most positive change comes from people speaking up and maintaining pressure and conversation until there is significant enough progress. I think as a community we can speak much more about what is going on for young people when it comes to mental health and suicide".
An ANU Spokesperson commented: 
"The wellbeing of all members of the ANU community is a top priority for the University. It's wonderful to see long-running initiatives like [C2S] that support this."
"There are a range of support services available for students, including ANU Counselling and the ANU Wellbeing and Support Line. You can find full details of these services, as well as additional resources and contact details, on the ANU website."
Support is available:
ANU Counselling 02 61 252 442 or [email protected]
ANU Student Wellbeing  [email protected]
ANU Health 02 6125 3598 or 02 6178 0400
Lifeline 13 11 14
Donate to C2S or find out more here
Donate to batyr or found out more here
Graphics by Alex Ellwood
Know something we don't know? Email [email protected] or use our anonymous tip submission.
If you have an issue with this article, or a correction to make, you can contact us at [email protected], submit a formal dispute, or angery react the Facebook post.
Want to get involved? You can write articles, photograph, livestream or do web support. We're also looking for someone to yell "extra!" outside Davey Lodge at 1AM. Apply today!
---