Head to Head for ANUSA Education Officer
Posted On September 20, 2022
---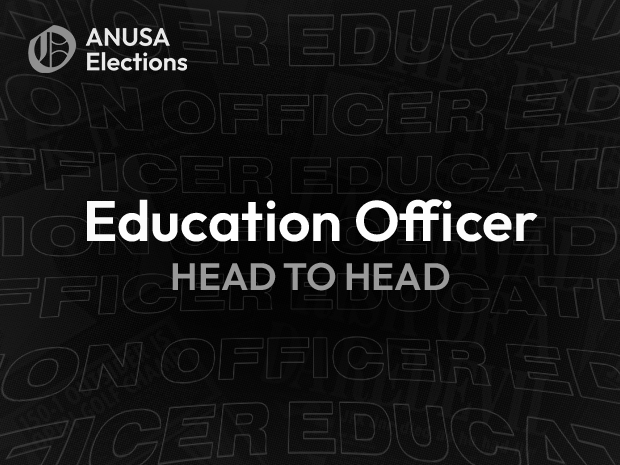 By Brianna Elliott
The candidates are running for ANUSA Education Officer this year. The candidates are Beatrice Tucker (They/Them) from Power in Community, Harry Danton-Jack (He/Him) from ACTION! For ANUSA, Carter Chryse (They/Them) from Climate Action for ANUSA and NUS, and Archie Crawford (He/Him) from Jedi Council for ANUSA. 
No information could be found on the candidate Archie Crawford from the Jedi Council for ANUSA ticket. 
The Job 
The ANUSA Education Officer is responsible for organising university campaigns on issues such as housing, youth allowances, degree structures, and HECS. They are often part of the National Union of Students, and mainly deal with Higher Education policy.
The Candidates 
Beatrice Tucker
Tucker is the current Education Officer aiming to continue representing students in 2023. They exercise their skills and knowledge from their past roles as ACT State Convenor of the Australian Student Environment Network (2020-2021), and as a NTEU member. In conjunction with their current roles as ANUSA Education Officer and National Union of Students ACT State Branch President, Tucker emphasises the importance of collective student power. 
Harry Danton-Jack 
Danton-Jack acknowledges the divide between ANU students and ANUSA leadership, believing the only way this can be improved is by running vocal campaigns about issues relevant to students. He is committed to bringing forward unionists who listen to student concerns and run dedicated, activist protests, as a mechanism to build a stronger ANU community. 
Carter Chryse
Chryse is running for both the Education Officer and NUS delegate. Their involvement in organising and running numerous protests across campus this year has given Chryse the platform they believe will boost student politics through a stronger student union. Chryse is determined to continue to fight back until they achieve changes in areas such as women's rights and safety, LGBTQIA+ rights, and the climate crisis. 
The Policies 
Beatrice Tucker  
Tucker emphasises that their previous 2022 election policy will continue for this upcoming election, "building an activist ANUSA would take more than one term, a mantle they're committing to continue". 
They believe it would benefit the ANU community by having a leader consistently accessible to students. The construction of a stronger, fighting activist union stems from the ongoing degree cuts debate. Tucker is not only wanting to protect and stand up for students, but alongside the National Tertiary Education Union (NTEU) is fighting for better working/wage conditions for staff. 
Harry Danton-Jack 
Danton-Jack's policy is centred around engaging students with the ANUSA executive body. He has planned eight key areas that are significantly relevant to all students, which he intends to run public campaigns on. 
These are tenancy rights; the climate crisis; cuts to courses; ANU's response to SASH issues; greater use of the ANUSA Education Committee; standing together as a student body; more funding and commitment towards activism and consultation with departments. 
Carter Chryse
Chryse is determined to shake up the dominated ANUSA and NUS perspectives of conservatism and close networking. Their policy instead emphasises a new version of student politics, one that is "unapologetically radical, activist, anti-capitalist, and ready to fight".
A earlier version of this article contained wording that has been flagged as misleading and has been updated to "[Tucker] believe it would benefit the ANU community by having a leader consistently accessible to students."
Graphics by Will Novak
Know something we don't know? Email [email protected] or use our anonymous tip submission.
If you have an issue with this article, or a correction to make, you can contact us at [email protected], submit a formal dispute, or angry react the Facebook post.
Want to get involved? You can write articles, photograph, livestream or do web support. We're also looking for someone to yell "extra!" outside Davey Lodge at 1AM. Apply today!
---