CanKet: Health Officials and ANU Students Discuss New Ketamine Variety
Posted On December 20, 2022
---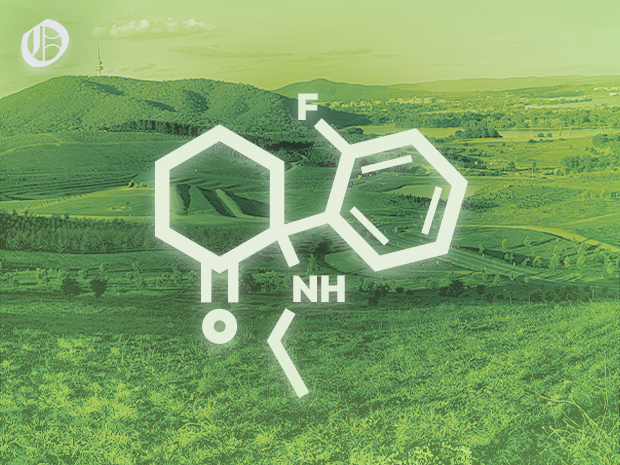 Content Warning: discussion of drug usage
By Hannah Farrow & Sophie Felice
An illegal new form of the drug Ketamine – unofficially dubbed "CanKet" – has been found for the first time in the ACT by ANU scientists working at the CanTEST CBR clinic.
They report it has "similar chemical qualities to Ketamine but with a unique makeup previously unseen." 
There are concerns recreational users of Ketamine, a powerful anaesthetic, may be unaware of the presence of this new variant.
Currently, there is little understanding of the physical and psychological reactions it may cause. 
Ketamine is legally prescribed by medical practitioners and veterinarians. It can be taken orally or intravenously. 
Canket researchers used varying techniques such as gas chromatography, mass spectrometry, high-resolution mass spectrometry, and nuclear magnetic resonance (NMR) to determine the new variety.
Observer spoke to anonymous sources who have used CanKet.
Harry* said it led to "a complete loss of sense of self…it was disorientating." 
Compared to his previous experiences with Ketamine, Harry said it took longer to take effect but then had a serious effect on his motor functions. 

Harry claimed CanKet is now widely available. So far there have been five samples of the drug reported by the CanTest clinic.
When asked about the potential issues of taking CanKet, Harry said: "People should be cautious because there is the potential for side effects they don't know about."
He supported any move to set up free and confidential pill testing at ANU.
Observer spoke with Bronwyn Hendry, CEO of the ACT Government Directions Health Services, about how they are promoting harm reduction through CanTest.
CanTEST has previously operated in partnership with Pill Testing Australia (PTA), which has reportedly saved "seven lives" at Groovin the Moo Festivals. 
The clinic is a combined initiative between Directions Health Services, Canberra Alliances, Pill Testing Australia and ACT Health. 
It offers information to individuals who want to test their drugs about how to reduce their risks and protect themselves.
According to the clinic, the response to CanTEST has been overwhelmingly positive, both locally and nationally. They have received support from the ACT Government in relation to pill testing at festivals, however, the clinic did discuss inherent issues regarding insurance and funding. 
The clinical team conducting the tests includes a Registered Nurse, an Alcohol & Other Drug (AOD) Practitioner and a Peer Support Worker.

Although CanTEST doesn't work directly with ANU it is "within easy walking distance" near UniLodge at 1, Moore St, Canberra,
It is open from 10am to 1pm on Thursdays and 6pm to 9pm on Fridays.
CanTEST releases a monthly summary of drugs tested on their socials. 
Observer spoke to Miah Argent, the current President of uniVibes (uV) – an ANU society that organises information nights about safe drug taking, and social events – both drinking and non-drinking.
They also run event planning sessions dealing with "alcohol and drug harm minimisation, organisers' responsibilities and also general risk and incident management."
Providing information about drugs, especially within residential colleges, is a major focus for uV. Argent believes "that ANU should have an on-site testing clinic." 
She stressed the importance of "getting [your drugs] tested, finding information on partying safer and updates on dangerous strains of drugs that may be on the market – such as the Canberra Ketamine strain."
Within the ANU Community, Argent is hoping to encourage "harm reduction prevention [to be] put in place… such as testing available at events and open discussions about drugs and drug education, during "O-Week and other big events".
uV does not currently have any information sessions planned, however it is looking to collaborate with CAHMA (Canberra Alliance for Harm Minimisation & Advocacy) for a panel for the 2023 O-Week.
*Name changed for anonymity. 
Graphics by Will Novak
_____________________________________________________________________________
Know something we don't know? Email [email protected] or use our anonymous tip submission.
If you have an issue with this article, or a correction to make, you can contact us at [email protected], submit a formal dispute, or angery react the Facebook post.
Want to get involved? You can write articles, photograph, livestream or do web support. We're also looking for someone to yell "extra!" outside Davey Lodge at 1AM. Apply today!
---