By Saffron Geyle and Eleanor Ellis
Photography by Will Novak
Content Warning: Racism, Institutional Betrayal
On 26 January 2023, hundreds of people across state lines and territories joined rallies in solidarity with the Aboriginal Tent Embassy and First Nations People, in what Tent Embassy organisers named 'Sovereignty Day' in Canberra.
This year, protests focused heavily on a sovereign recognition treaty, particularly in response to the government proposed Voice to Parliament and upcoming referendum. The Tent Embassy does not support the referendum and shifted the focus of this year's rallies back to sovereignty and truth-telling.
Hundreds gathered at Garema Place at 9.30am before marching through City Hill and over Commonwealth Avenue Bridge, before ending at the Tent Embassy's location on the lawns opposite Old Parliament House.
Protesters could be heard chanting "No justice, No peace, No racist police" and "What do we want? Treaty. When do we want it? Now" as they marched from Garema Place to the Tent Embassy.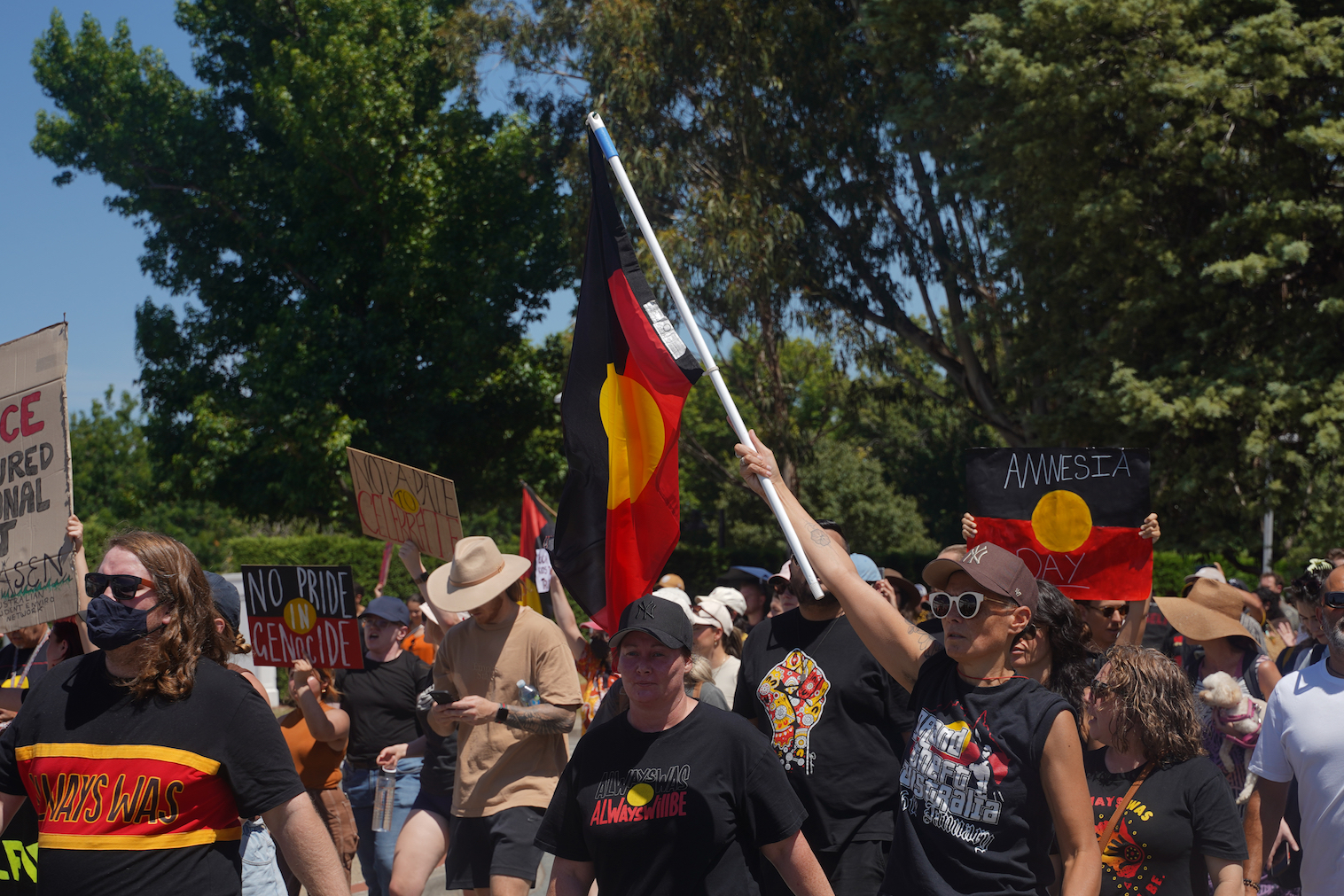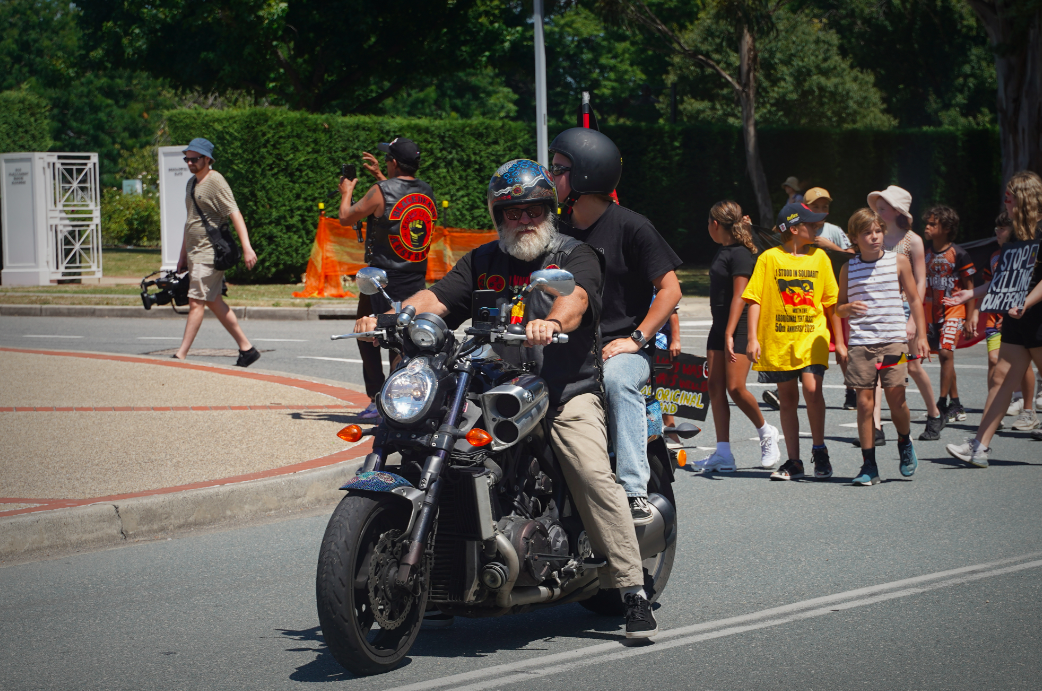 The Tent Embassy also named other rallies 'Sovereignty' or 'Survival Day' in Melbourne instead of 'Invasion Day'. The Tent Embassy stated that these rallies have moved from changing the date of 'Australia Day'  to achieving recognition for First Nations peoples as a sovereign people. 
Wiradjuri and Gomeroi woman Nioka Coe-Craigie, the daughter of founding member Billy Craigie, spoke on this, saying  "the date change is the least of our problems with what is happening in our communities".
Also speaking at the rally was Ngambri woman Leah House, who led the march from Garema Place to the Embassy.
"We always have been a sovereign people and if this colony recognised our sovereignty and respected our sovereignty, then why would we accept a political role in this country as an advisory body?"
Approximately 700 people joined the march, including several ANUSA and Socialist Alternative students. In a statement to Observer, ANUSA said they have a  "long-standing relationship of solidarity" with the Tent Embassy, including providing "logistical" support for this and past years' rallies. The statement continued, "ANUSA stands resolutely in solidarity with the First Nations activists fighting for justice". 
Observer spoke to Socialist Alternative and Environment Collective member Nick Reich, who commented that in the early days of protests on 26 January "rallies were traditionally smaller" however, now they have "grown immensely to the impressive size that they generally are today".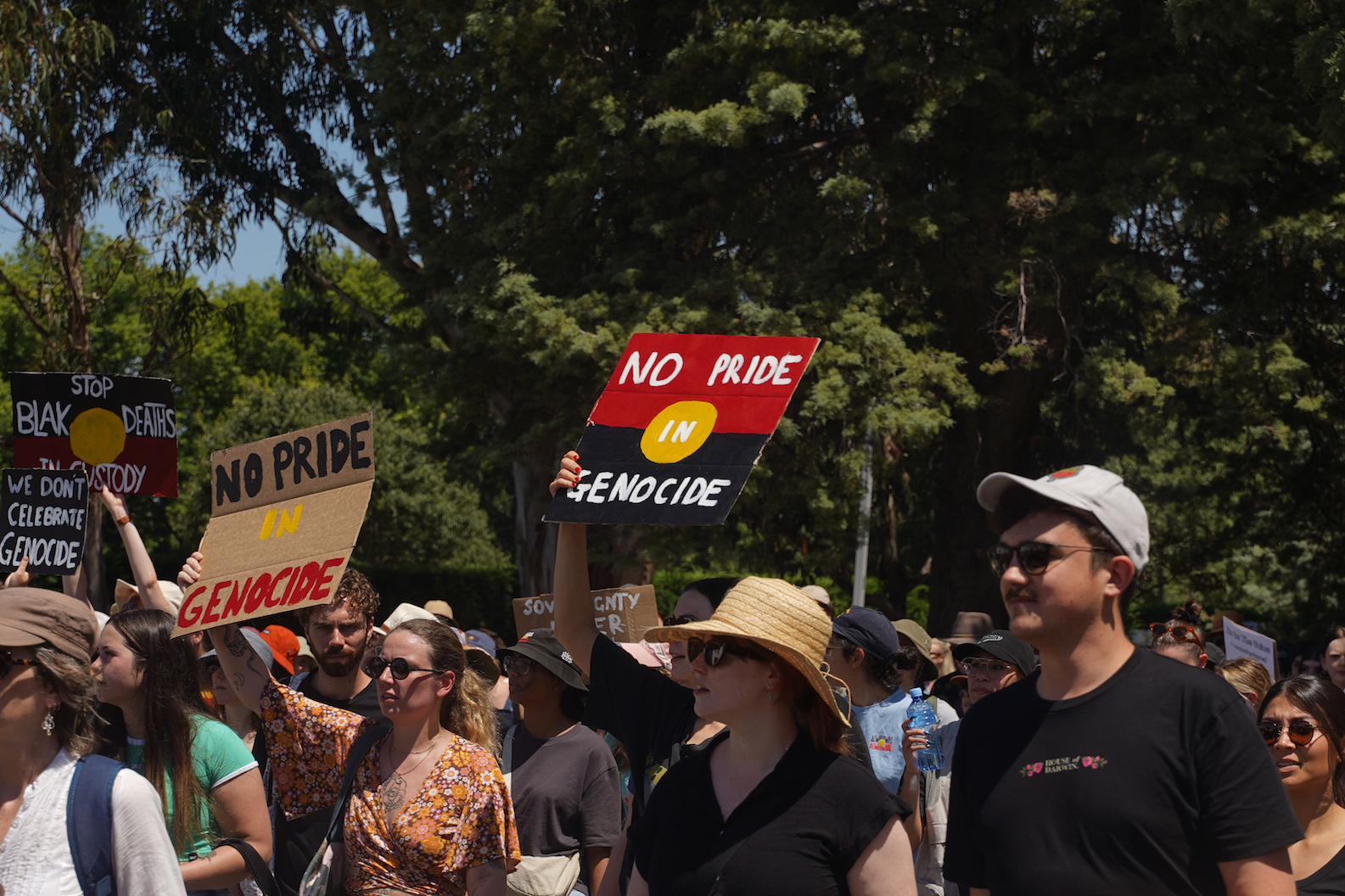 The referendum has been proposed as a change to the constitution to allow creation of a permanent advisory body to consult with federal parliament on laws and policies relating to the lives of First Nations peoples. 
"Australia is very diverse. There's over 500 different nations within Australia. We want everybody to have a place at that table, not [just] the government's select individuals that keep selling us out" Coe-Craigie said.
Reconciliation Australia has stated that they are pro-referendum on this occasion, stating that it "gives Indigenous communities a route to help inform policy and legal decisions that impact their lives". The referendum is said to be held as early as August of this year.
Gomeroi and Wiradjuri man Murriguel Coe, Embassy caretaker, stated "we don't really want anything to do with the Voice". 
"We want sovereignty, we want self-determination through sovereignty. And that's also part of breaking away from the Crown," Coe said.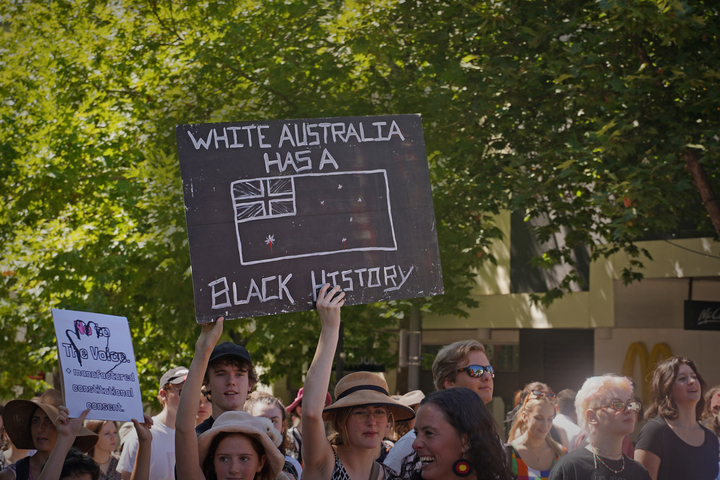 An ANU spokesperson told Observer that "ANU is committed to, actively encourages and consistently fosters student representation, as well as the provision of high-quality services, advocacy and support for our student body".
The Embassy posted promotional posters for the rally this year on their Facebook Page, naming it 'Sovereignty Day', with "Always Was, Always Will Be Aboriginal Sovereignty". In Facebook lives posted by the Embassy, protesters could be heard calling "Always Was, Always Will Be Aboriginal Land". 
Gunggari woman Aleisha Knack, the Indigenous Officer for 2023, told Observer that she "encourages everyone to learn about why this day can be quite difficult for First Nations people around the country". 
She reminded everyone."Please be mindful of what First Nations Australians have endured since the invasion and how that has continued to have devastating impacts on us mob".
Support services:
ANU Counselling 02 6125 2442
ANU 24/7 Wellbeing & Support: 24/7 1300 050 327 or 0488 884 170
ANU Security: 02 6125 5549
Indigenous Department: [email protected]
BIPOC Department: [email protected]
An earlier version of this article introduced Nioka Coe-Craigie as Ngunnawal, before Coe-Craigie informed us that she is Wiradjuri and Gomeroi. This has now been corrected. The earlier version did not contain photography due to technical issues, which have now been fixed.
Graphics by Will Novak
---
Know something we don't know? Email [email protected] or use our anonymous tip submission.
If you have an issue with this article, or a correction to make, you can contact us at [email protected], submit a formal dispute, or angery react the Facebook post.
Want to get involved? You can write articles, photograph, livestream or do web support. We're also looking for someone to yell "extra!" outside Davey Lodge at 1AM. Apply today!
---