Sorry Day: 15 Years On
Posted On February 28, 2023
---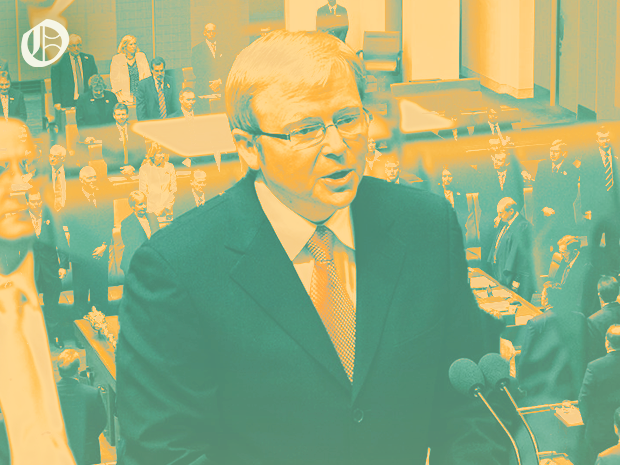 By Saffron Geyle
Content Warning: This article contains discussions of racism and trauma
February 13 this year marked the 15th anniversary of former Prime Minister Kevin Rudd's 'apology' address in parliament. This moment in Australia's political history entailed a formal apology to First Nations people on behalf of the country, particularly addressing the Stolen Generations.
The 'Stolen Generations' involved the removal of First Nations children from their families through government policies, where children were kept in institutions before being adopted by non-Indigenous families. A large amount of abuse has been documented, and First Nations children were not allowed access to their culture or language.
An ANU spokesperson told Observer that the university "recognises the historic significance of Kevin Rudd's apology" and understands that there is a long way to go to achieve "meaningful" reconciliation within Australia. The spokesperson also said that "as Australia's national university we have a crucial role to play…this is something we work towards every day".
In his speech, Rudd addressed this directly, saying "for the pain, suffering and hurt of these Stolen Generations, their descendants and for their families left behind, we say sorry". This day marked a change in Australia's history, one that signified a hopeful move towards closing the gap in reconciliation,  "yet more is said to be done in order for Australia to reach pivotal change in its treatment of First Nations children".
In a Family Matters Report released in 2021, statistics showed that there were 21,523 Aboriginal and Torres Strait Islander children in out-of-home care in 2020. Research also found in the report stated that Aboriginal and Torres Strait Islander children are 10 times more likely than non-Indigenous children to be in out-of-home care, and this number has increased consistently over the last 10 years.
Wiradjuri person Bel Humphreys also spoke to Observer for a comment, referencing the current youth housing crisis for First Nations children and saying that the apology was "merely a symbolic gesture that hoped to glaze over the government's continued perpetuation of violence against us".
Humphreys also referenced the 'Voice' referendum, to be held later this year, saying that it, along with Rudd's apology, fails to "address the trauma and wounds that splinter through our communities".
"As a direct descendant of a member of the Stolen Generations, an apology was beyond inadequate in addressing the trauma held within the lives and families of our communities."
Observer spoke to Gunggari woman Aleisha Knack, the ANUSA Indigenous Officer for 2023, who said the national apology was "pivotal" in Australia's fight for justice. However, in addition to the apology and commemoration of Rudd's speech, Knack believes that "Australia has a long way to go if we are to ensure Aboriginal and Torres Strait Islander children have equal opportunities to grow up with their community, culture and family".
"We must come together and acknowledge the pain that is still being felt from historical forced removal and the contemporary removal that we are still seeing in the Australian child protection system."
Regarding government initiative, Prime Minister Anthony Albanese addressed parliament earlier this month and added that there is still a "long way to go" towards closing the gap. The Albanese government has announced a $424 million implementation plan, with $21.9 million going towards families affected by family violence, focusing on a "trauma-aware" approach.
The ANU Indigenous Department posted infographics on their Facebook page in 2021 regarding 'Sorry Day', its significance, and ways in which members of the community can educate themselves on such topics. It also included a link to the 1997 Bringing Them Home report, which was a national inquiry into the separation of Aboriginal and Torres Strait Islander children from their families.
Support services:
ANU Counselling 02 6125 2442
ANU 24/7 Wellbeing & Support: 24/7 1300 050 327 or 0488 884 170
ANU Security: 02 6125 5549
Indigenous Department: [email protected] 
BIPOC Department: [email protected]

Graphics by Will Novak
---
Know something we don't know? Email [email protected] or use our anonymous tip submission.
If you have an issue with this article, or a correction to make, you can contact us at [email protected], submit a formal dispute, or angry react to the Facebook post.
Want to get involved? You can write articles, photograph, livestream or do web support. We're also looking for someone to yell "extra!" outside Davey Lodge at 1AM. Apply today!
---