ANU
ANU Union announced it will open a bar under Lena Karmel Lodge in the space currently known as ANU Commons. The area will open in Semester 1 2019 and will include a "modern bar, beer gardens, food hall (with multiple food and beverage outlets), café and functions space". Observer has previously reported on  allegedly tensions between the Union and the University over the name "ANU Bar". These tensions were later denied, although the space was not officially named in the joint press release by ANU and the ANU Union.
Clubs, Societies and Associations
The ANUSA Probity Team released their report at ANUSA's most recent OGM meeting and outlined a total of 17 allegations of electoral violations. The violations range from minor cases including advocating shooting campaigners  with water pistols, to more serious allegations of using lecture times and spaces for campaigning.
ANU Film Group held its last ever screening at the Coombs Theatre on November 24. The lecture hall was Canberra's oldest cinema, and the ANU Film Group had been showing screenings there since 1968. The group will move to a new 300-seat cinema in Kambri for 2019. The club has about 200 members, including many non-students. The final films to be shown? Ladies in Black (2018) and Christopher Robin (2018).
The results of the elections for Clubs Council Executive were announced on 6 November. The new committee will be as follows:
Chair: James Howarth
Secretary: Jason Pover
Funding Officer: Jacob Howland
Community Officer: Seren Heyman-Griffiths
Affiliations Officer: Mandy Ho
Communications Officer: Ji Woo Ahn
General Officers: Zeyi Wang, Cahill Di Donato and Niam Foxcroft
Faith & Religion Branch Officer: Elisheva Madar
Political Branch Officer: Ben Rowley
Discipline Branch Officer: Harry Vinter
The elections had been extended due to issues relating to the online voting platform.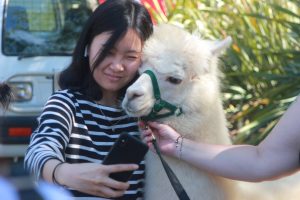 ANUSA held its 'Less-Stresstival' week during STUVAC. The activities included yoga, craft sessions, and visits from alpacas and miniature horses. Free stress-less packs – which included Skittles, face masks, and stationery – were also given out as part of the event.
Following an attack on the Pittsburgh Synagogue, the ANU Jewish Students' Society held a Walk of Solidarity, where students walked across campus in memory of the victims of the attack. The walk was followed by a service at the Forestry Fire Pit.
Residences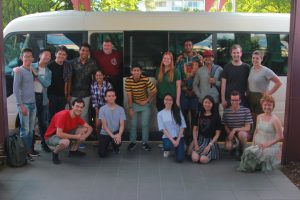 On November 16, the students of Fenner Hall gathered together on the last ever bus run as a farewell to the services of Ray and Kathy Scarlett. Since 2002, the two have served as drivers for the Fenner Hall shuttle bus. Because of Fenner Hall's relocation to campus next year, the shuttle bus has been discontinued.
Dr Susan Cossetto was announced as the new Head of Ursula Hall. Cossetto was previously the Sub-Dean (Student Experience) in the College of Science. She has taken up the position part-time from 26 November, and will move into the role full time from 21 January.
SSAF
The SSAF process is currently open for student consultation until 20 December. Approximately $5.6m in SSAF funds are available for allocation in 2019. The SSAF-receiving organisations for 2019 are ANUSA, PARSA, Woroni, ANU Sport, The ANU Observer, and the Division of Student Life
Academia
Final results for Semester 2 will be released on Thursday 29 November. Good luck everyone!
ANU Observer
ANU Observer's new editorial team and council will begin their leadership roles from December 1. The 2019 editorial team will be Eliza Croft, Adelle Millhouse and Jessica Whiting. Konstantinos Katsanis was re-elected to the position of Digital Editor. As part of the ANU Observer Council, Jason Pover will be taking on a new role as Secretary, while Julian Lee will continue his role as Treasurer. This team was elected in October at Observer's second General Meeting of the year.
We'd like to thank outgoing editors Skanda Panditharatne and Taz Hudson, as well as outgoing secretary Joel Baker, for their work this year, and wish them the best in their future endeavors.  
Jason Pover did not contribute to the writing of this article.
Know something we don't know? Email [email protected] or use our anonymous tip submission.
If you have an issue with this article, or a correction to make, you can contact us at [email protected], submit a formal dispute, or angery react the Facebook post.
Want to get involved? You can write articles, photograph, livestream or do web support. We're also looking for someone to yell "extra!" outside Davey Lodge at 1AM. Apply today!