University Avenue To Close Between Pop-Up and Copland
---
There will soon be no access across University Avenue between the Pop-Up Village and the Copland Building, ANU Vice-Chancellor Brian Schmidt confirmed in his blog on Friday. Students will have to walk around via Kingsley Place or Childers Street until the Kambri redevelopment is completed in early 2019.  
In a blog post, Schmidt stated the closure would take place in "late April". Observer has received reports that this will occur within the next week, although the University has not responded to requests for confirmation at time of publication. Schmidt said the closure is necessary in order to "create a spectacular gateway into the new precinct".
The closure will primarily cause delays to students attempting to access classrooms in Haydon-Allen, Copland, Crisp, and the College of Business and Economics (CBE). Residents in neighbouring Unilodges, particularly Warrumbul Lodge, will also have to walk further.
Schmidt suggested that "using Kingsley Lane nearby should only add a few minutes to your walk between classes". Kingsley Lane, however, does not exist – it is unclear if Schmidt meant Kingsley Street or Kingsley Place, though it is likely the latter since Kingsley Street ends at the Copland building. According to Google Maps, it would take around 4 minutes to walk via Kingsley Place from the Pop-Up village to the CBE building. However, Observer found that Kingsley Place is currently closed off for construction. Trials by an intrepid Observer reporter found that it took about 9 minutes to walk from the centre of the Copland courtyard to the centre of the Pop-Up Village via Childers Street.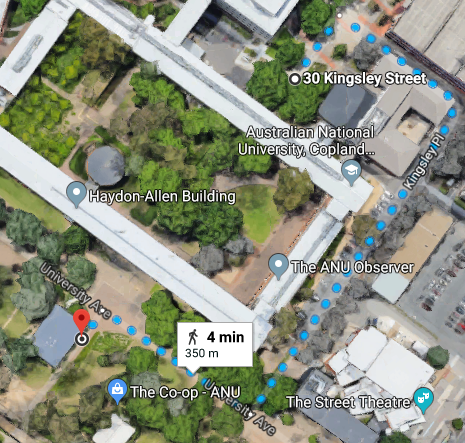 Schmidt, in his blog, acknowledged the "serious inconvenience" of the closure, and apologised for it. Schmidt also apologised for "noise and construction impact". Copland classrooms were also affected in March by significant noise impact stemming from the removal of trees on University Avenue, and in August last year by noise from the demolition of Manning Clark.
At time of publication, it was unclear how much notice had been given of the closure. Schmidt phrased the announcement as a "remind[er]", but Observer was unable to find earlier notice of the closure on the Kambri website. ANU Media did not respond to requests for clarification by time of publishing.
The closure is due to the Kambri redevelopment, which is scheduled to be completed in early 2019. The redevelopment has caused several other closures on campus, most notably in the former Union Court, lengthening commutes between classes.
Jessica Whiting and Oskah Dunnin contributed to this story.
Know something we don't know? Email [email protected] or use our anonymous tip submission.
If you have an issue with this article, or a correction to make, you can contact us at [email protected], submit a formal dispute, or angery react the Facebook post.
Want to get involved? You can write articles, photograph, livestream or do web support. We're also looking for someone to yell "extra!" outside Davey Lodge at 1AM. Apply today!
---