'Kai for Council': Kai Clark Launches Independent Ticket for UMAC
---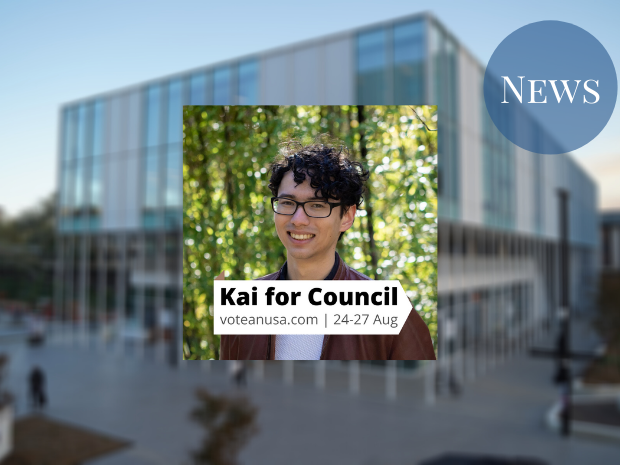 By Sam Wright
Former ANUSA CAP Representative Kai Clark has announced that he will contest the position of Undergraduate Member on ANU Council (UMAC). Clark will be running on the independent ticket 'Kai for Council'. 
'Kai for Council' now stands as the second independent ticket to contest the position of UMAC. Clark will be running against Benjamin Chesler, who announced his ticket, 'Undergraduate Voice for ANU Council, earlier this week. This comes after Clark endorsed Chesler in his 2019 election campaign for UMAC. 
Clark told Observer that, as a general policy, he supports "all independents who run" for UMAC. Clark said that his endorsement of Chesler was based upon the "principle of his candidacy", and that his endorsements last year "covered all independents who put in a serious campaign".
In his 'Comprehensive Election Platform Document', Clark states that "with so little information on how the Undergraduate Representative acts on Council, it's almost impossible to have an election on policy". As such, Clark says that all he can promise is the "direction" he plans on taking.  This direction is based around the tenets of  "autonomy", "transparency", "democracy", and a "Students First Doctrine". 
Addressing his decision to run on an independent ticket, Clark claims the ANUSA President cannot serve as an effective UMAC, not just because of conflict of interest issues in relation to decisions concerning ANUSA – as noted by fellow candidate Benjamin Chesler – but also due to time constraints. Clark also claims that the position of UMAC has been "held hostage", as only ANUSA "can lay claim to understanding the role and how to best operate it". 
In his discussion of proposed policy changes in his 'Statement to Students', Clark announced his goal of creating a 'SSAF Watchdog'. The proposed watchdog would "oversee student funds, handle complaints, and ensure transparency from University organisations that receive a significant portion of SSAF Funding with little student oversight". 
Other proposed changes Clark addresses in his Statement is to seek ways to "improve student welfare on campus", as well as his plan to set up a national network of undergraduate students on University Councils to "share information". In his 'Comprehensive Election Platform Document' he also raised the possibility of undertaking projects aimed at enhancing  "student awareness and educational issues on campus". 
Clark's primary concern appears to be his plans to reform the role of UMAC. Clark says that he is currently consulting with "current and former office-bearers over the fiduciary duties of the role", and that much of his term will be spent "consulting legal advice on fiduciary duties and negotiations with the University over publicising important details". 
Clark has announced that, if elected, he would form a working group "within the first month of taking council". This working group would investigate the legal responsibility associated with the role of UMAC, and identify "appropriate measures to ensure proper accountability to the student body". 
Clark also lists his intention to create a 'Transition Plan' for the handover of the role, as well as his plans to create an advisory board for the UMAC, and  an office for the UMAC. Clark also states that he wishes to "democratise the role", and ensure that the role of UMAC is "transparent and available to scrutiny". 
In a Facebook announcement post, Clark has said that he will "fight for what's right, regardless of personal cost".
Clark is a member of the Australian Labor Party but asserts that he does not sit with any student faction. Apart from attending two ACT Independents Meetings, Clark says that he has been politically "inactive". 
Brandon How contributed to reporting 
Kai Clark was a member of the Observer team, and resigned in 2018. He has no ongoing role in the organisation.
Know something we don't know? Email [email protected] or use our anonymous tip submission.
If you have an issue with this article, or a correction to make, you can contact us at [email protected], submit a formal dispute, or angery react the Facebook post.
Want to get involved? You can write articles, photograph, livestream or do web support. We're also looking for someone to yell "extra!" outside Davey Lodge at 1AM. Apply today!
---