"We are Racists": Neo-Nazi Activity Documented Around Campus
Posted On September 12, 2020
---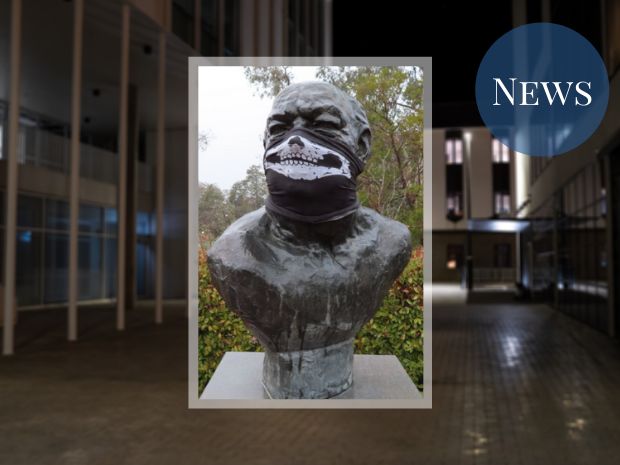 By Brandon How
Content warning: This article contains discussion of Nazism, racism, xenophobia and homophobia.
Over the last month the presence of the National Socialist Network (NSN) has been documented around the ANU campus, leaving a trail of neo-Nazi stickers. Members also covered the Winston Churchill bust with a skull mask in response to the Ethnocultural Department's petition urging the University to remove "imperialist statues" from campus.   
An undergraduate student, who wishes to remain anonymous, claims that there has been "a massive surge" in the number of neo-Nazi stickers and racist graffiti tags around campus and Canberra more widely. The student also stated that they "wouldn't be surprised" if alt-right members from outside Canberra were coming in "to do [Nazi] stuff". They also expressed their belief that the surge is a reaction to the recent resurgence of the Black Lives Matter movement.
The National Socialist Network
The NSN is an openly neo-Nazi group that has officially been in existence since late 2019. As stated on the NSN website, the group sees itself as "a revolutionary movement" fighting for a so-called "White Australia". They declare on their website that "we are racists", and claim to oppose what they call "the non-White invasion of this continent". They assert that "the right-wing is inundated with cowards and traitors", declaring their loyalty "to National Socialism and nothing else".
The group operates across several Australian states, with a tendency to target University campuses. On 30 June, the group uploaded a picture of its members showing off their flag at Swinburne University of Technology, and again on 19 July at the University of Queensland. Their stickers have also been seen several times at the University of Sydney and the University of Melbourne. The group has declared on social media that the Melbourne University "is probably [their] favourite spot for racism". However, the NSN Canberra branch does not appear as popular as those in other states, with no more than two members ever pictured in their social media uploads.
Neo-Nazi Activity on Campus
Around campus, two types of stickers have been reported. They are often found plastered on top of other posters, such as those promoting the ANU Ally Network, or those with reference to Chinese students and culture. The most commonly reported sticker is approximately the size of the palm of a hand, and depicts the NSN flag behind the Australian flag, accompanied by the slogan "Australian Fascist Action". The second sticker has the slogan "white revolution is the only solution" above a small NSN logo. Over the last month, there have been four documented instances of the stickers being found on campus.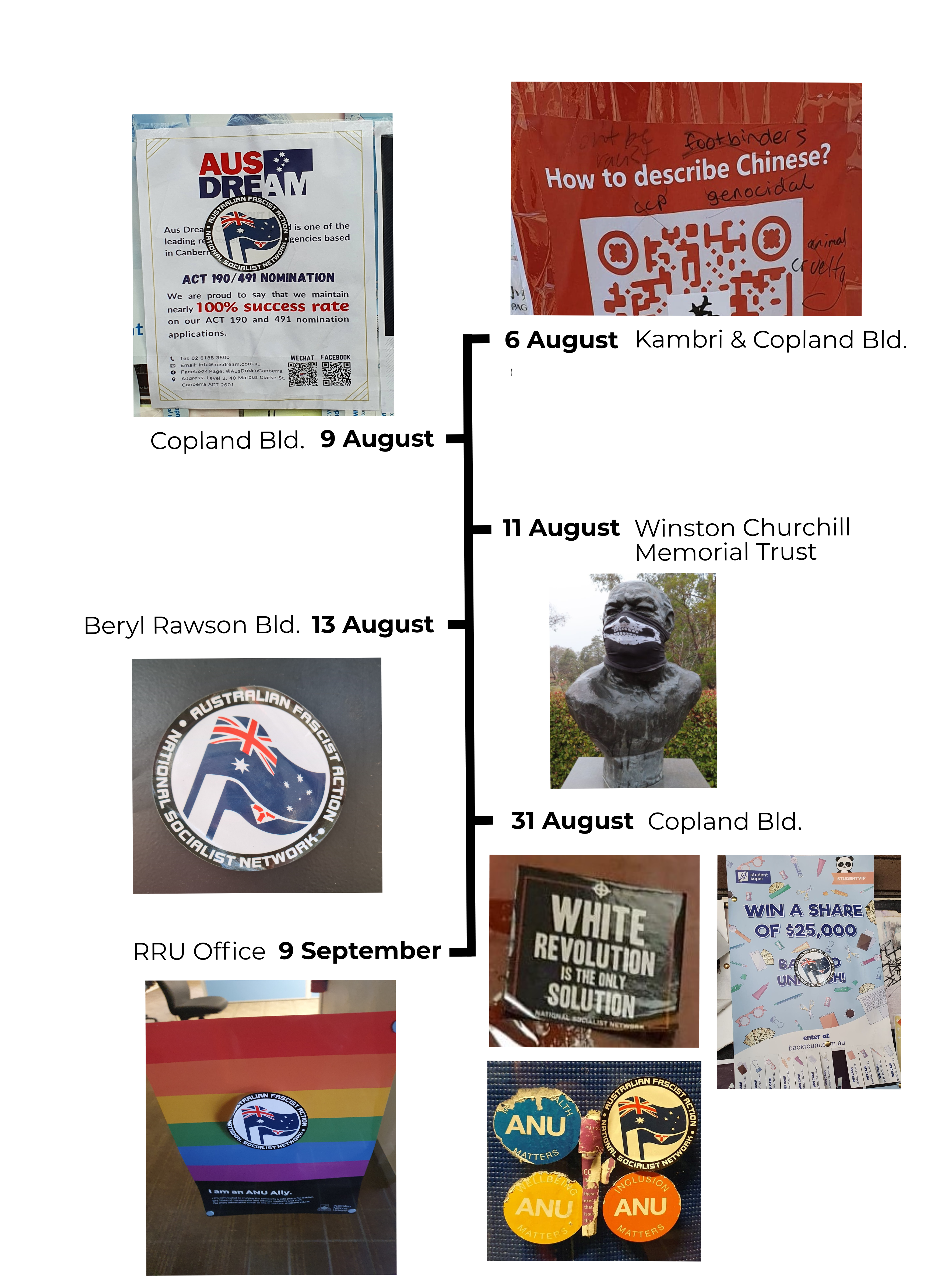 A postgraduate student, who said they kept "an eye out for this garbage", told Observer that they had found NSN stickers attached to posters which had Chinese writing on them. This included "the 'AUS Dream' posters near Copland, the 'Hello, ANU!' posters on the AD Hope Building, and on posters for a Mandarin calligraphy virtual tour in Kambri". They also claim to have seen a Proud Boys sticker "near the bus stop, near Domino's [located under Lena Karmel Lodge]". Proud Boys are a far-right group based in America.
On 6 August, the postgraduate student reported racist graffiti on top of a number of posters that were advertising a virtual Chinese calligraphy tour. In response to a hypothetical question posed by the post – "How to describe Chinese?" – the perpetrator(s) wrote "genocidal", "CCP horrors", "footbinders" and "animal cruelty". It is unclear if the NSN was responsible for this incident.
In response to the petition launched by the ANU Ethnocultural Department (now the ANU BIPOC Department), which referred to Churchill as an "icon of white supremacy", an image of the Churchill bust with a skull mask on it was uploaded to NSN's social media pages on 11 August. NSN states in the post that this was done to "celebrate Winnie's new status" as an "icon of white supremacy". The post, however, also describes Churchill as "a disgusting race-traitor". The campus Churchill bust is located on the grounds of the Winston Churchill Memorial Trust along Balmain Crescent.
In a statement made by the ANU BIPOC Department Publicity Officers, the Department expressed their strong condemnation of "any neo-Nazi groups" as "racist, illegitimate, and harmful to the ANU community". The statement reports that the Department "will be looking into what we can do", and further emphasised that "the existence of an explicitly racist hate group on campus should be treated as a matter of grave importance".
Observer understands that the most recent reported sighting of NSN neo-Nazi stickers was made on Wednesday, by the postgraduate student. The sticker was pasted on top of an ANU Ally Network poster on the door of the RRU's Office in the Copland Building. "It's awful. It's taxing and I hate it", the postgraduate told Observer on their discovery of the sticker. They emphatically stated that neo-Nazis are "not welcome, they're not tolerated, and that their violence can and will be nullified". They further asserted that covering posters with neo-Nazi stickers "[is] violence". The student has recorded several other encounters with racist graffiti and NSN stickers around campus since 6 August.
In a comment to Observer, an ANU staff member who discovered two stickers on the Beryl Rawson building encouraged "others to stand up to Nazis in any way they can". She added that people should be careful when trying to "remove any stickers like these", as they can sometimes "have razors underneath them". The undergraduate student also urged caution, suggesting that people "scrape off" the stickers with "keys or another object in case there [are] razors underneath them".
A researcher at the ANU has claimed that "far-right" activity on campus is "not a new phenomenon". They assert that activities similar to those reported occur "every few years or so", referring to the actions of other fringe movements such as the "National Anarchists in the 2000's, or Combat 18".
The researcher describes the groups' average membership as either "some preppy clever-dick" or a "bunch of nerds that live in their parents basement that like to dress up in full WW2 regalia and seig-heil the mirror on the family dresser". They also noted that these groups are "not large", adding that they did not believe the groups would grow by "putting some stickers near Chifley Library".
ANU's Response
In mid-August, the staff member and the postgraduate student made official reports to the Dean of Staff and 'building management' respectively. The issue has since been escalated to ANU Security. In an email received by the staff member, ANU Security claimed to be "actively keeping an eye on [neo-Nazi activity]", and have since conducted a "review of CCTV and physical locations to identify any additional/similar content". All instances of on-campus neo-Nazi materials reported in this article have since been removed by the ANU Gardens and Grounds Team, or members of the ANU community.
In their statement, the ANU BIPOC Department demanded that "the University take action in denouncing the group's activity and acting to ensure it does not continue". They further expressed hope that the "University will take this issue seriously" so that there would be no need for the Department to "intervene". In response, a spokesperson for the University stated that "ANU denounces any form of racism. This behaviour is unacceptable and is not tolerated". The spokesperson also sought to assure members of the University community of their safety by reiterating that "the University maintains a range of security measures…including security staff, patrols and infrastructure".
The BIPOC Department encourages anyone who "come[s] across anything relating to "neo-Nazis to contact them or the Dean of Students at [email protected]. The University spokesperson stated that "if people see behaviour or materials that make them feel unsafe, they should immediately tell ANU Security by calling 02 6125 2249". The spokesperson added that "if anyone feels they are in immediate danger they should call the police on 000".
Despite the University's statements of reassurance, the undergraduate student has expressed their "incredible distrust" in ANU security, explaining that they perceive "police officers and military" as aligned with the "alt-right across the world". The undergraduate also stated that they would "rather not go to the University about it [as] they generally do nothing about serious issues anyway".
The University spokesperson categorically rejected the undergraduate student's claims, describing ANU security as "responsive, professional and [providing] a vital service" to the entire ANU community. They reiterated that "ANU security takes all security matters seriously", and that "anyone who feels they need their services should not hesitate to contact them". 
Support is available:
ANU Counselling: (02) 6178 0455
(8am-5pm, Mon-Fri)
or
Lifeline (Crisis Support Service): 13 11 14
Beyond Blue (Mental Wellbeing Support Service): 1300 22 4636
(Available 24/7)
This article has been edited to include comment from a researcher at the ANU on Neo-Nazi activity on campus.
Graphics by Brandon How
Know something we don't know? Email [email protected] or use our anonymous tip submission.
If you have an issue with this article, or a correction to make, you can contact us at [email protected], submit a formal dispute, or angery react the Facebook post.
Want to get involved? You can write articles, photograph, livestream or do web support. We're also looking for someone to yell "extra!" outside Davey Lodge at 1AM. Apply today!
---