"We're like a bad rash, we'll never go away". Meet the Jedi Council running for the ANUSA Elections
Posted On September 28, 2022
---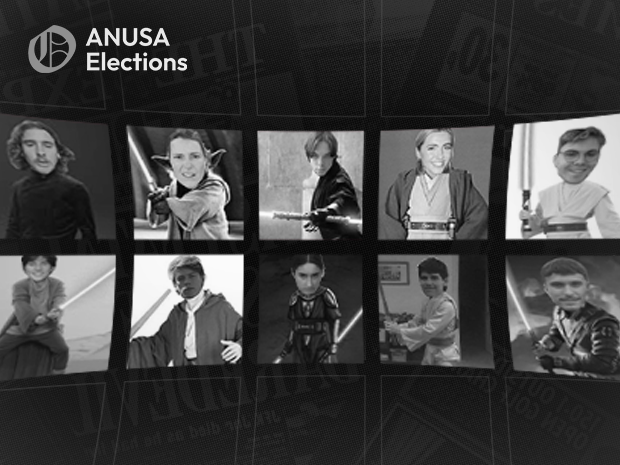 By Hannah Farrow 
The Jedi Council has officially launched their ticket for the 2022 ANUSA election. The Jedi Council's platform is based on encouraging significant change to the status quo of student politics on campus, stating their goal is to "not do it for the CV". The ticket is putting forward Gus Coleman for President and Will Byrnes for Vice President. 
No candidates on the Jedi Council ticket have previously held ANUSA positions. In relation to the current state of student politics at ANU and ANUSA itself, they currently believe that they "put on a pretty good free brekkie". 
Observer spoke with members of the Council to understand their policies and journey so far, as the ANUSA election kicked off on 26 September. 
Their published manifesto highlights that "Brian Schmidt made the university a $150 million profit last year, whilst overseeing mass course cuts, degree extinctions & staff layoffs."
This refers to the current student protests triggered by mass course disestablishment. In the last year, CASS had 126 courses disestablished from each college, and another 129 courses were cut ANU wide according to a recently released FOI report. In 2020, ANU lost roughly 456 jobs due to the financial strains from COVID, according to the ABC.
The manifesto continues that despite this, "[Schmidt] still managed to get himself a payday that's higher than the Prime Minister's salary". 
Brian Schmidt's Vice-Chancellor salary was $484,000 as of last year – making him among the lowest-paid vice chancellors in the country. Schmidt also claimed last year that he donated $100,000 of his share of the Nobel Prize money to financially support a science program which had been defunded. He also donated his $14,000 long-service leave pay to staff welfare. 
Albanese makes $564,000 a year after a 2.75% pay rise from June this year, according to the Australian Financial Review. 
The Jedi Council has also invited the student body to "help restore balance to the universe by voting in a bunch of Jedis, who they will be obliged to meet with every fortnight".
The Jedi Council would like to highlight to the ANU community that they were not included in any of the debates that occurred before the election between the 'Power in Community', 'Climate Action', 'Action!' and 'Voices' tickets. 
The Jedi Council has published their policies online, with their "election promises" from every  member of the ticket posted to Facebook. 
"Whilst we are taking the piss, are we actually getting our bang for our buck from ANUSA?", questioned the Council. "[Currently], the only cheap meal on campus is being friends with a Johns ressie (but at what cost?)", they added.  
The members include Gus Coleman – their Presidential candidate – whose election promise is to "cancel all student parking fines on campus". Will Byrnes – the candidate for Vice President – hopes to "to fix the debt problem at ANUSA", stating "we will take the entire budget (approx. $5 million) to the casino. All 5 [million] will go on black".
Leo Hadley – the Welfare Officer candidate –  has promised that "all future elections must be settled by a lightsaber battle on Kambri Lawns".
D'Arcy Todd – their General Secretary candidate – is determined to "put a Bunnings Lightweight Pot Plant on the roof of Bruce Hall, thereby being slightly taller than Wright" as his election promise. 
Noah Edwards -their general representative- is intending on "making the week of May the 4th a national holiday" as his election promise.
The following students are members of the Council, but do not have positions within the ticket.
Matt Graham has promised to "use the budget to buy a really big fan to blow all of the clouds out of the sky so we have more sunny days". 
August Willoughby entered the Jedi Council team "to bring the Telstra Tower down Black Mountain and put it on top of Marie Reay".
Lucia Mavris has promised to solve a "huge issue here", stating "we need to change the seating arrangement in HC Coombs Building Level 1 3105 Seminar Room D". 
Liv Roulstone stated her election promise is to "drop the price of the cheapest Badger schooner to $1.69". 
Sophie Nell has promised to "sell Toad Hall to a real estate developer and use the money to buy every ANU student a Tesla".
Observer discussed their election chances with the ticket and their plan of action if they ultimately lose the election. The members responded with "we're like a bad rash, we'll never go away". The chances of them winning are "concerningly big" and "discouragingly likely", according to them.
The members stated to "blame it on SAlt" if anything goes wrong. 
The election opened 26 September and will close at 12pm 29 September. 
Graphics by Will Novak
Know something we don't know? Email [email protected] or use our anonymous tip submission.
If you have an issue with this article, or a correction to make, you can contact us at [email protected], submit a formal dispute, or angry react the Facebook post.
Want to get involved? You can write articles, photograph, livestream or do web support. We're also looking for someone to yell "extra!" outside Davey Lodge at 1AM. Apply today!
---