Tinder dates, foreign spies, and lessons in dating at ANU
Posted On October 27, 2022
---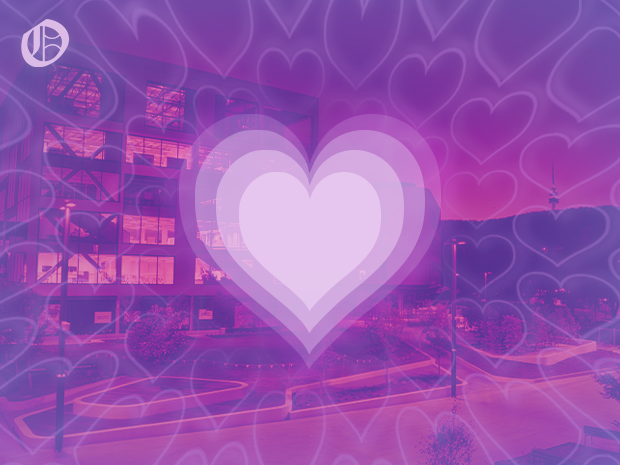 Written by Mackenzie Watkins
Dating at ANU is something on most students' minds. From having a crush on a classmate in your tutorial, to double-taking a cute person in Kambri – dating, even when the opportunity is fleeting, is always a hot topic.
Pages such as ANU Crushes 2.0 attest to the prevalence of love on campus, and the preoccupation with confessing it. Scrolling through their Facebook, you'll find detailed descriptions of the object of someone's crush, usually ending with a request for a date. Comments are filled with students presuming their friends to be the crush. 
The moderators say a common theme in the crushes they receive is confessor shyness. "It's hard not to provide advice to a lot of submissions where people lack the confidence to strike an awkward conversation," they said. "Most people just need to shoot their shot and learn that the consequences might not be as bad as they think."
Another trend the moderators have observed is that "the vast majority of people using our platform write about friends, classmates or other people they may know." There has also been "an uptick in submissions which are more advertising friends etc., rather than about someone else." 
Times of year are also thought to have an effect on relationships, love, and confessing  crushes. "We tend to get the back end…of this cycle with positive submissions in the good times and more upsetting ones in the bad," they said. Based on the trends in crush submissions, they said most new relationships at ANU begin in early autumn and spring, while tending to conclude towards mid-winter and summer – reflecting the semester breaks.
Kym Robinson, an ACT-based sex and relationships counsellor, has noticed a similar mix of positive and negative trends in dating culture. 
She's seen welcome shifts toward "more public visibility of LGBTQI+ relationships; awareness and attending to verbal consent…and less 'slut shaming' as more women learn to embrace their sexuality and challenge the idea that sexual pleasure is more for the men." 
On hookup culture, Robinson said it "has always been a part of society but it's certainly more visible, culturally normalised, and accessible since the introduction of dating apps." 
Robinson has found trends of increased ghosting, unsafe sexual practices, and revenge porn to be concerning. 
When asked how ANU students can best maintain healthy relationships, she puts it down to safe sexual practices and good communication. 
"Maintaining a healthy relationship means taking care of your own and your partner's physical, mental and emotional health," she said. 
Observer created a Tinder account to connect with ANU students and their dating experiences – in the name of research. We were removed and blocked from the platform in a matter of 12 hours. So we branched out and created a form. 
From the form, stories from ANU students started rolling in. Featured below are some of the highlights.
"I once had a guy who I had been talking to over text for about a week send me a photo of a wedding saying that his favourite colour was the tiny bit of blue visible in the corner. He also said he told his mother about me and wanted me to meet her – this was a week after we started talking." – Georgia

"For my job, I hold a security clearance. I managed to date a foreign spy (I think). I met a cute girl at Badger, let's call her Natalie. We dated for about two months before I formally reported it to AGSVA (who are responsible for security clearances) as I am required to do. About two weeks later, I got a phone call from AGSVA asking me lots of questions about her, slightly concerning questions. I then got a call from someone at my work's personnel security department asking about my working from home agreement (that was all formally signed off). Two days later I got a cryptic meeting invite for a two hour in person meeting with someone from the security vetting team at work. I was to immediately cease all contact with Natalie as there was 'credible adverse evidence' against her and I was 'vulnerable to coercion, exploitation or duress'. I was pretty devastated and it took a pretty big toll on my studies, I ended up skipping that semester." – Matthew

"I'm a first year and having spent high school at an all-boys school and hardly talking to any girls, I somehow had my first kiss in O-Week. I actually did (and still do) like her, so I stupidly hoped we would actually become a couple after one kiss at Hopscotch, but very quickly I realised that just because you kiss while drunk, it does not mean she will like you when she's sober. Lesson learnt." – Anonymous

"I feel like as a mature aged student or just not 18/19 you're just excluded from dating entirely. Love at ANU is a myth at this point unless you want to hook up with some boy who doesn't know what he wants in life yet." – Anonymous

"In second year I fell off my skateboard and sprained my elbow. I needed to get to the hospital, but I didn't know anyone with a car. I ended up finding someone on Tinder who could drive me, and we had a cute date in the Belconnen Calvary ER. That night was the first and only time I've hooked up with someone with my arm in a sling. Honestly, can't recommend." – Anonymous
Graphic by Will Novak
Know something we don't know? Email [email protected] or use our anonymous tip submission.
If you have an issue with this article, or a correction to make, you can contact us at [email protected], submit a formal dispute, or angry react the Facebook post.
Want to get involved? You can write articles, photograph, livestream or do web support. We're also looking for someone to yell "extra!" outside Davey Lodge at 1AM. Apply today!
---