What is ANUSA & Why Should I Care?
Posted On February 23, 2023
---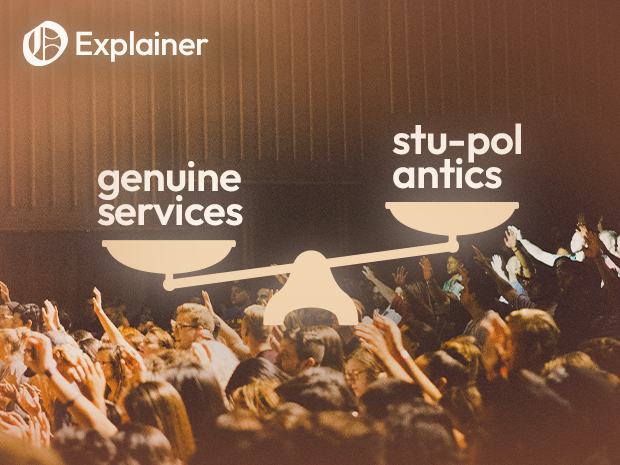 By Ryan Bourke, 
Graphic by Will Novak.
When starting at ANU, it is not unusual to find yourself confronted by groups, organisations, and unions spamming you with emails and pamphlets on University Avenue.
Amongst acronyms like SAlt, EAP, and PARSA, students are also likely to come across   ANUSA, which stands for the ANU Students' Association. 
Akin to a workplace or industry union, ANUSA is an elected body of students designed to represent the interests of others at the university, and provide them with essential services.
Historically, students have told Observer they perceive ANUSA student politicians as a "far away" group rarely interacted with. 
Nonetheless, ANUSA provides a variety of services, social events, and welfare support to make the student experience easier and more equitable. 
 Even if you don't count yourself among the 11% of student who actually vote in student  elections, you are still entitled to these services, which are funded by the $163 fee charged to you at the beginning of each semester.
But what are these services and how can you take advantage of them?
One service provided to students by ANUSA is its free legal service. The in-house lawyer can assist with issues across tenancy, migration, the workplace, SASH and so on. 
For students experiencing hardship, ANUSA can provide up to $750 for financial difficulties that could potentially jeopardize the applicant's education. 
To be eligible the applicant must:
Have accepted an offer of enrolment at the ANU & be enrolled for the semester;

Be in search of long-term accommodation;

Be in need of short-term emergency accommodation; and

Not rely on Emergency Accommodation Assistance for long-term occupancy
There is also a $300 medical grant available for students struggling to cover their medical bills, and a $1000 carers grant for students who are carers and experiencing financial hardship.
ANUSA also offers a grocery voucher program, where students can access a one-off $50 grocery voucher per semester. 
For students in need of emergency accommodation, ANUSA provides the Accommodation Assistance Program, which  "provides emergency accommodation assistance to eligible enrolled undergraduate students who are experiencing an emergency that has resulted in difficulties securing accommodation." 
This assistance includes temporary accommodation at the Canberra Accommodation Centre, which ANUSA can cover for up to 7 nights.
ANUSA has long maintained the Brian Kenyon Student Space (BKSS), opposite Marie Reay in Kambri. This facility offers students access to free breakfasts, coffee and tea, kitchenette spaces, and aid distribution. 
The space runs the Universal Lunch Hour barbecue on a weekly basis, and distributes non-perishable items to students through its Student Bites program.
ANUSA funds student clubs and independent events for students to enjoy throughout the year. ANUSA's events on offer usually include the annual Friday Night Party, and various O-Week events and celebrations. Check out the clubs list here. 
If you would like to access any of the services listed above, be sure to reach out to ANUSA's Student Assistance team via email at [email protected] or in person at the Di Riddell Student Centre in Kambri. You can also speak with the team at the BKSS by emailing [email protected] or calling 02 6125 7458.
Graphics by Will Novak
Know something we don't know? Email [email protected] or use our anonymous tip submission.
If you have an issue with this article, or a correction to make, you can contact us at [email protected], submit a formal dispute, or angery react the Facebook post.
Want to get involved? You can write articles, photograph, livestream or do web support. We're also looking for someone to yell "extra!" outside Davey Lodge at 1AM. Apply today!
---