"Pushed Into the Deep End": Res-Hall Representatives "Frustrated" by Insufficient Pastoral Care Training
---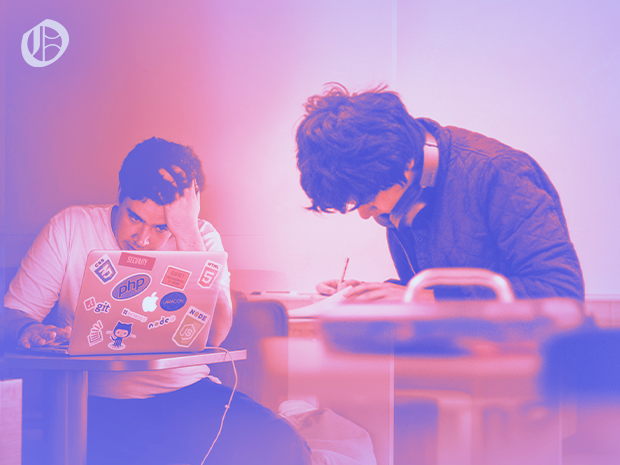 By James Weatherman
[Content Warning]:  Mental Health
For many ANU students in on-campus accommodation, the opportunities for leadership positions are abundant. 
Student leaders help build culture, administer events, and provide mental health and academic support for residents. They are overall an "invaluable part of the ANU community", as one ANU Spokesperson commented. 
Within Colleges at ANU, there are positions of Leadership that cover roles such as Women's, Mens, International and Queer. These individuals that take on these positions are volunteers, but receive extensive training before the role commences.
However, according to these volunteers, it can be difficult for them to determine where their duty ends. One Burton and Garran Hall Queer Rep, Sarah*, summarised her experience as being "pushed right into the deep end". 
However, recently many accounts of various representatives from recent years agree that increased diversity and pastoral training is necessary for future representatives. Such training, as discussed by the representatives, could allow them to identify issues more accurately so as to appropriately delegate them to Senior Residents, and in more serious cases, the appropriate mental health resources.
Sarah from Burton and Garran Hall commented that their training, which took place in November of the prior year, consisted of Student Safety and Wellbeing Training, along with the Respectful Relationships Unit.
The following training scheduled for February before O-Week 'did not happen'. It was supposed to include "ally, disability, anti-racism and cultural awareness training' but never ended up 'amounting to anything." 
Sarah further noted that "these could've been really helpful!" Especially with "more intersectional issues, it's really hard to assess or help without passing on to someone else". 
Tom*, a Bruce Hall Men's Representative, stated that his advocate training was "well rounded but fairly relaxed". Tom attributes this to the lack of a "pastoral" element within his role, compared to Senior Residents (SRs). Instead, his role focused more on "organis[ing] events… administration… [and] allyship". 
He additionally commented that "the most important aspect of being an advocate ended up being the ability to collaborate with other advocates, SRs and the CRC." 
Tom* conceded that refining his "communication, patience and compassion" skills was essential to working alongside SRs who had administered disciplinary action, especially during the Covid-19 lockdown era. Observer has reported on the intersection between pandemic restrictions and frustrated leadership before.
Jane*, a Burgmann Women's Representative, said that her training similarly included the Respectful Relationships Unit and Student Safety and Wellbeing Training, and that it all focused on "community building and holding events". 
However, Jane also mentioned that "a vast majority of our training was completed alongside RAs and other members of the leadership team". The role of Residential Advisor (RA) is alike to that of SRs. 
These student leaders are not paid, but the boundary of their duties has been discussed as one that is "'often blurred".
For instance, Sarah acknowledged that young people "are the ones who need the most help, especially in the queer environment, and it is really hard to actually know what to do when they come to you". 
Her frustration amounts to uncertainty surrounding whether she has a confidentiality clause: "Do I have to report serious harm or potential for serious harm? What are my limits?"
In face of minimal training, Sarah additionally commented that, for the Cultural Development Committee (CDC) at B&G, "there is not nearly enough support". 
They explained, "if someone came to me with a crisis, apart from turning to my other queer reps… there is not really a devoted line of communication between ResComm and admin". 
Dealing with the issues of a resident who has come to you can be "frustrating" because "you're supposed to be a leading figure in the community who is a guide for others, but if you do not know what you are doing how are you supposed to tell others what to do?" 
An ANU Spokesperson commented that student leaders have a "number of avenues for support", specifying particularly "ANU Wellbeing and Support Line, which operates 24/7, the ANU Student Safety and Wellbeing Team and ANU Counselling". 
Nevertheless, Sarah cites "dedicated, year-round training" as a necessary solution which ought to be implemented in future years. 
Jane from Burgmann cited the most helpful areas of training as "those that specifically catered to the women's rep experience". Nevertheless, she found that the college administration and other leaders "looked to [her] and the other GSEAs for guidance when running events". 
While this "culture of consultation was an awesome part of the role", Jane admitted that she felt "unprepared at times" when faced with intersectional issues such as "diversity and inclusion that [she] did not have personal experience in". 
Tom also believes that "receiving training similar to other leadership positions with pastoral elements" could be beneficial. In his own experience, "when presented with sensitive situations, simply passing the information up the line [was] not always the best policy". One case he handled with a resident he believes was "not treated as seriously as it should have been by SRs or CEC". 
Tom also stated that it is "in the hall's best interest to ensure that the first response to a resident seeking help is the best it can be. When issues are time sensitive the first person to respond can also be the most important."
Jane agreed with this sentiment, stating that she would "encourage a further reframing of the role so that pastoral care is more separate." 
*For the purpose of anonymity, Observer has changed the names of the representatives who gave testimony
†Observer notes that the individual experiences of student leaders are diverse and relative to their respective colleges
Support Services and Contacts
Access and Inclusion: 02 6125 5036 or [email protected]
ANU Counselling: 02 6125 2211or 02 6178 0455 or [email protected]
ANU Student and Wellbeing: 02 6125 2211 or [email protected] or visit the Health and Wellbeing Centre
ANU Health: 02 6125 3598 or 02 6178 0400
ANU 24/7 Crisis Support Line: Call 1300 05 0327 or Text 0488 884 170
Access Mental Health (ACT): 1800 629 354
Lifeline: 13 11 14
Graphics by Will Novak
______________________________________________________________________________________________
Know something we don't know? Email [email protected] or use our anonymous tip submission.
If you have an issue with this article, or a correction to make, you can contact us at [email protected], submit a formal dispute, or angery react the Facebook post.
Want to get involved? You can write articles, photograph, livestream or do web support. We're also looking for someone to yell "extra!" outside Davey Lodge at 1AM. Apply today!
---