"Time of my Life": BNO 2023
---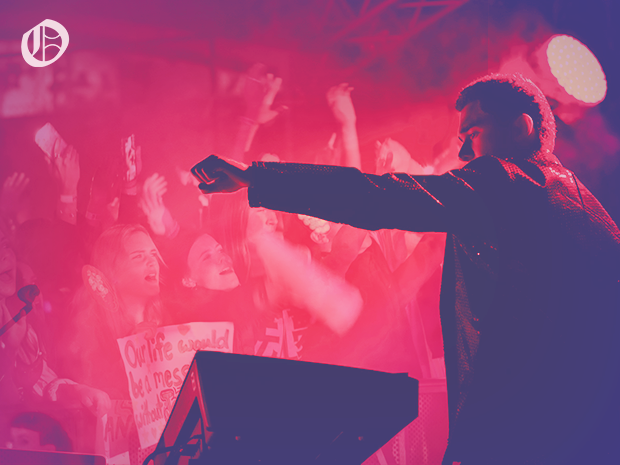 By Rowey Worner Butcher
Photography by Pratyush Sarma
On Thursday, 4 May the Interhall Arts Committee (IAC) held the latest instalment of their Interhall Arts Shield, Big Night Out (BNO). The competition has pitted each of ANU's Residential Halls against each other in tournaments of trivia, debating, and film, this semester. BNO is IAC's "biggest event", taking a "battle of the bands" music festival style format. 
Tickets sold out for BNO days before the event, and the energy from the crowd was high. The crowd showed their support with sing alongs, team colours, and hand-made signs.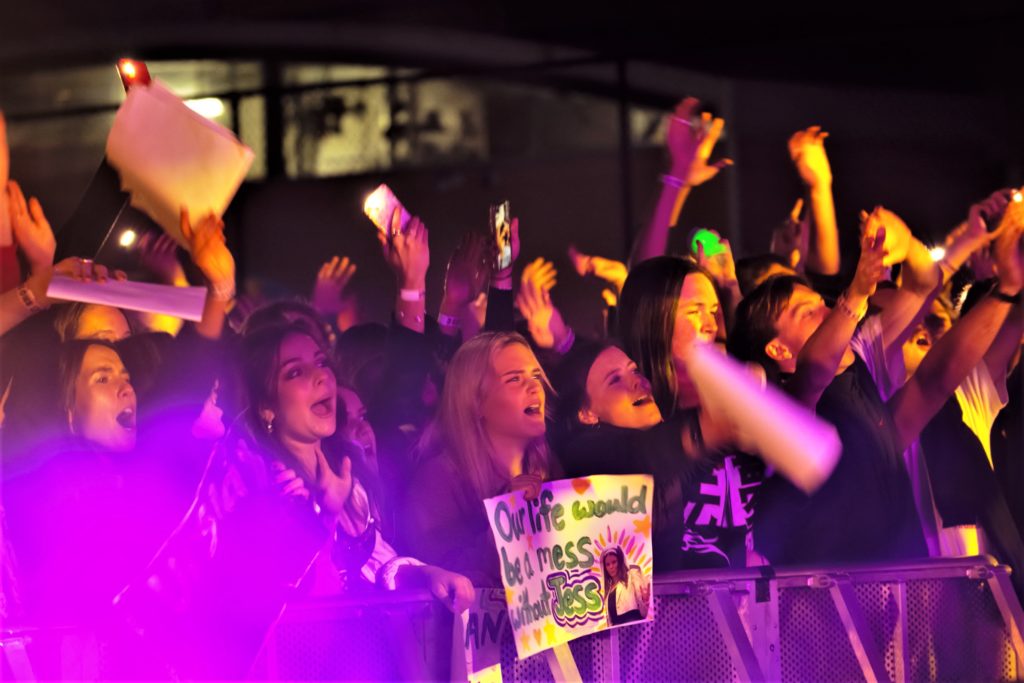 The night was defined by coordinated outfits, dance routines and costume changes, with some halls even dabbling in the occasional piece of theatre. Bringing together the colleges, roughly 1500 attended next to Willows Oval at ANU. 
However, the night wasn't without its dramas. UniLodge tempted the audience with a rose for the final song of their performance: their rendition of the Jet classic "Are You Gonna Be My Girl?"
Despite the crowd-pleasing performance, a member of the UniLodge band revealed to Observer later that not all went as planned. 
"We lost our lead guitarist…he contracted COVID 24 hours before the event," they said. "We didn't do as good as we would have, obviously… we had to rearrange our whole set today 'cause IAC wouldn't let us have him here even though there's no COVID restrictions." 
"We respect their decision, but it did suck for us," they continued.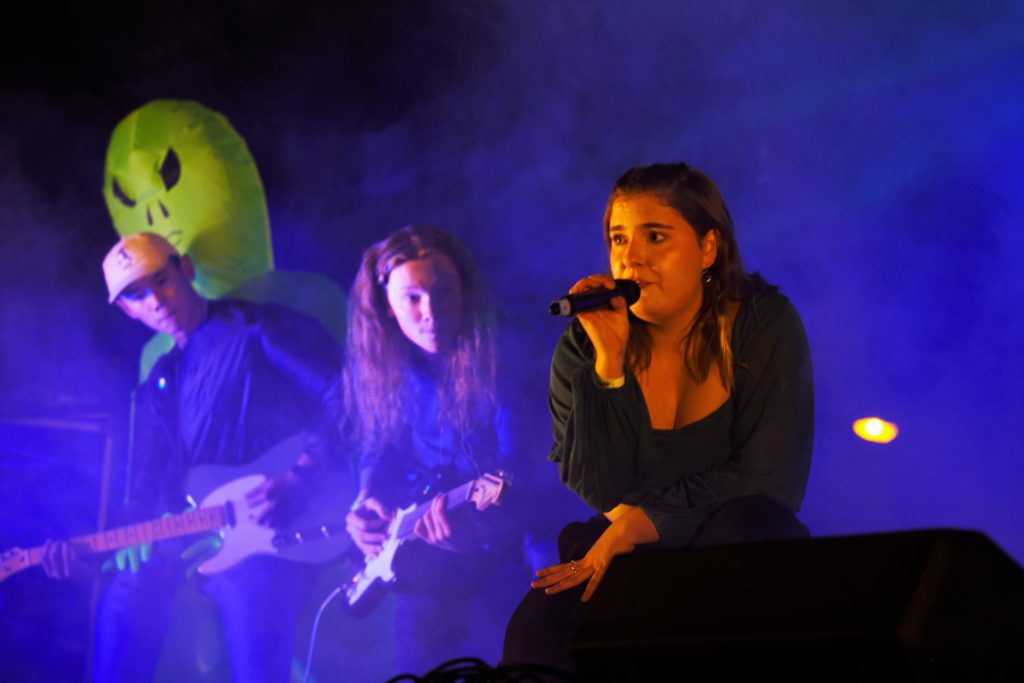 When asked about the matter, an IAC spokesperson responded "IAC has a responsibility to ensure that all our event attendees, participants, volunteers, and staff are able to participate safely." 
"We asked the individual to leave sound check, for their safety as well as that of others. Later, additional information was supplied to us by a private contractor." 
"The decision that the individual should not perform was made with the unanimous approval of the IAC Executive team and our IAC BNO Directors."
UniLodge wasn't the only band affected by Covid-19, with all the performers of Yukeembruk contracting it the week prior. 
"There's been a lot of chat about us being debutantes," one of the band members stated, "but we pulled through."
Lack of BNO experience wasn't an issue for the band, who delivered a high-energy set made of both modern and classic songs, all adorned in red boas.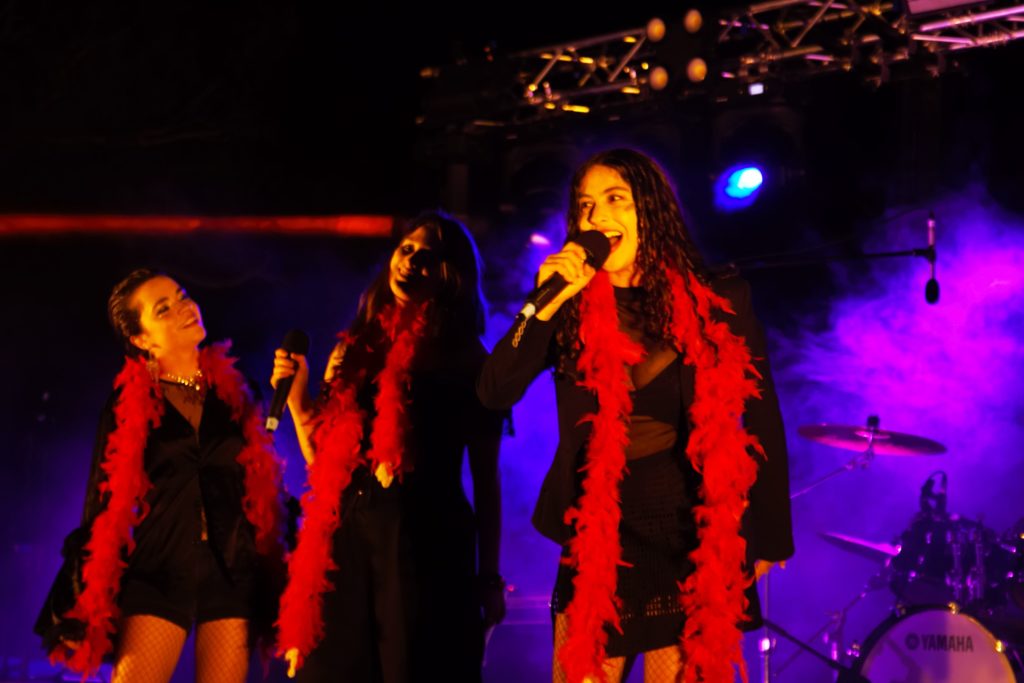 IAC has worked hard to overcome the challenges that Covid-19 has presented. Last year was the first time BNO was presented since 2019 due to the previous Covid-19 pandemic restrictions.
When asked about their performance one member of the Wright band said, "It was just so fun, hearing the crowd sing… even [people] not from Wright hall, it was all so good." 
Similarly, after their performance a member of the Burgmann band stated "I'm elated, I don't know what to say."
Members from the Ursula Hall band stated that "We added it up… and we've had over 40 hours of practice."
"I think we did pretty good." They said, "We had a pretty good reaction, and it was such a big turnout."
Observer spoke to one of the IAC BNO directors, who said that it wasn't without its hitches, with the weather and technology proving the biggest hurdles for the organisers. According to them, the night prior they were "rained out in soundcheck," further remarking, "but the show still goes on!" 
Rain held out for the event itself, but technological issues caused some hitches along the way. Early in the event one of the keyboards stopped working and required a mid-show changeover. 
IAC President Oskah Dunnin said they were "incredibly" happy with how the night went. 
Each band is given exactly 20 minutes to perform "from the moment their first member steps on the stage," stated Dunnin. 
"We do actively take into consideration the time spent setting up each band for their individual performance," they continued. 
"This was the first time an event of this scale has been run in the Willows Grass Area venue, and we believe it turned out to be quite successful,"
When asked for their opinion of the night, one supporter from Wright Hall stated: "I have had the time of my life, like, I genuinely think this is so much better than last year." 
"The bands are great, the music's great, the vibes are great." 
Another supporter said that Fenner were the "crowd favourite". Their coordinated medley of Tame Impala and Portugal the Man, as well as a strong opening of Arctic Monkeys' "505" was enough to secure them the top spot. 
The top five halls were announced by the IAC judges on the night who stated that "It takes a lot of courage to get up here." They further emphasised to the crowd that "music and rankings don't go together." 
The IAC BNO directors worked closely with ANU to ensure security for the event through providing first aid responders, Red Frogs and sober college representatives. 
"This event could not have run without our fantastic IAC Big Night Out Directors," Dunnin stated. The IAC BNO directors, Patrick Guthridge, Dorothy Daley, and Ashlee Weeks, as well as student light technician Paige Horrigan are all volunteers who "delivered an exceptional experience unique to the ANU." 
The top five results from the night are as follows: 
Fenner Hall

Burgmann College

Burton and Garran

Ursula Hall

Yukeembruk
The rest of the results are available on the IAC Facebook Page, as well as the overall rankings for semester one. With only Chess and Theatre Sports left for the competition, every point counts.
Graphics by Will Novak
_____________________________________________________________
Know something we don't know? Email [email protected] or use our anonymous tip submission.
If you have an issue with this article, or a correction to make, you can contact us at [email protected], submit a formal dispute, or angery react the Facebook post.
Want to get involved? You can write articles, photograph, livestream or do web support. We're also looking for someone to yell "extra!" outside Davey Lodge at 1AM. Apply today!
---