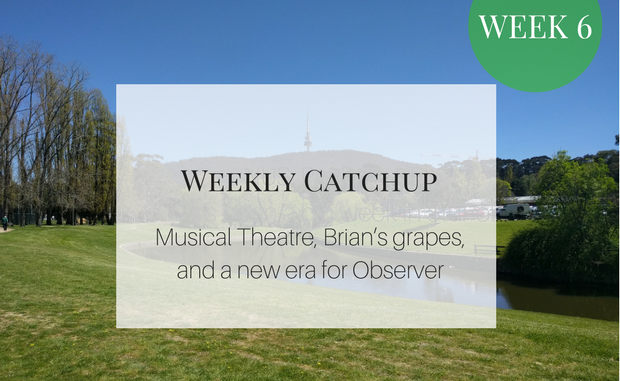 Adelle Millhouse & Eliza Croft
Welcome to the end of Week Six! If your mid-semester exams left no time for the news, or you're having trouble working out which headlines are April Fool's pranks, here's what you might have missed this week.
ANUSA
There have been more issues around the conditions ANUSA put on its accreditation with National Union of Students, which were to be presented by multiple universities. The President of Melbourne University's student union, Desiree Cai, has claimed that she had not even seen the KPI letter before her name was added as a signatory. This comes after Imogen Grant, USyd SRC President, made similar claims last week.
ANUSA announced plans to purchase new items for the Spoons Space, a space for students with disability including braille playing cards and a new couch. ANUSA held a consultation session on Wednesday, and is seeking funding from the Student Services and Amenities Fee capital works fund for the refurbishment. The purchases are costed at $1238.
Clubs
The ANU Musical Theatre Company announced its plans to stage the musical 'Dogfight' in August. This year will be the first that students can participate even if they are not part of a residential hall, after the society overhauled its constitution and changed its name last year.
Brian Schmidt
Brian Schmidt's vineyard, Maipenrai, had a record low grape harvest after kangaroos caused extensive damage. Schmidt estimates his losses to be around $80 000. However, he still plans to produce his famous pinot noir this year, by sourcing grapes from elsewhere.
ANU Observer
Observer News Editor and Council Chair Michael Turvey stepped down from their position yesterday, in order to focus on work and study as they finish their degree. They will be staying on for the year as Reporter-at-large, working more autonomously and concentrating on investigative work. In accordance with Observer's casual vacancy provisions, Taz Hudson has taken over as News Editor, and Eliza Croft is now Council Chair.
Know something we don't know? Email [email protected] or use our anonymous tip submission.
If you have an issue with this article, or a correction to make, you can contact us at [email protected], submit a formal dispute, or angery react the Facebook post.
Want to get involved? You can write articles, photograph, livestream or do web support. We're also looking for someone to yell "extra!" outside Davey Lodge at 1AM. Apply today!