News you might have missed: Week 7
---
Welcome back to Week 7. If you're lost and still confused about what day it is, here's the news you might have missed.
ANUSA
The proposed Bachelor of Western Civilisation degree is once again on the radar, after ANUSA representatives voted to condemn it. A motion passed at this weeks SRC meeting,  protesting to the lack of student consultation from ANU and the Ramsay Centre. The course's proposed content, however, was not addressed in the motion.
Elections for the Disputes Committee were held at SRC 3 on Tuesday night. Five members were elected with the requisite ⅔ majority. Elections for Probity Officers were also scheduled, but these were pushed back until next meeting, as there were not enough candidates. Some representatives also mentioned wanting to see more diversity among candidates, given that Probity may have to liaise with ANUSA's autonomous departments. Between the two nominee pools, it appeared only one out of ten candidates identified as a woman.
PARSA
PARSA and ANU Thai Association held a 'Global Cafe' yesterday. Along with free food, the festival also featured Muay Thai workshops and a water fight. The event celebrated the Thai New Year, and had representatives from the Vietnamese Students' Association, the International Students' Department, the ANU Buddhist Association, ASEAN, and the UC Thai Student Club.
Campus
University Avenue will soon be closed between the Pop-Up and the Copland Building. Students will have to detour via Kingsley Place, Childers Street, or a temporary footpath near Access and Inclusion. It remains unclear at this stage when the closure will occur, though a recent parking email suggests it may be around 26 April.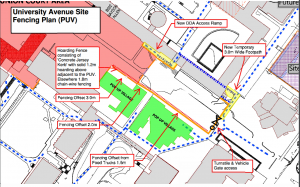 ANU experienced a network outage for approximately two hours on Wednesday morning. This impacted all online facets of the university, including Wattle, email, and campus wifi. The disruption was apparently due to a "bug in the network", and ANU stated that it did "not expect any further interruptions".
Speaking of bugs, the Economist once again visited campus, providing free insect ice cream to the masses.
Just had some of the icecream of the future from the pop-up village – bugs and all – I think I'll stick with Ben and Jerry's … pic.twitter.com/X3ID7jfx5P
— ANU Vice-Chancellor (@VC_ANU) March 2, 2018
---