CRS/CRN Returns for Every Student
---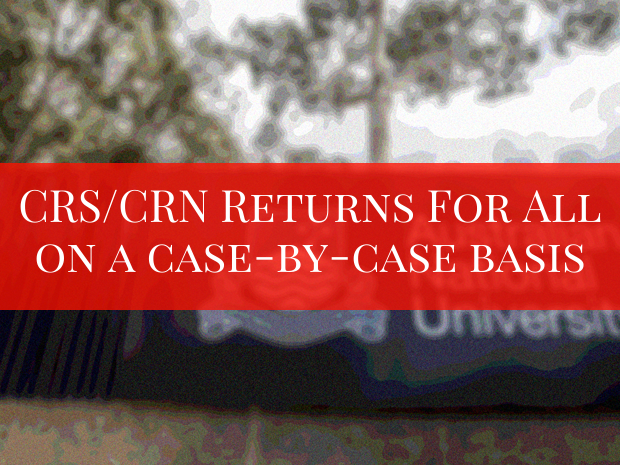 By Tom Kersten
An ANU spokesperson has confirmed that all students will be able to request consideration for CRS/CRN grades, which will be applied on a case-by-case basis.
This will be different from the process used last year, under which students could opt-in to receive CRS/CRN. Students will now have to apply for CRS/CRN via special consideration.
Earlier today, Observer reported on special arrangements being made available to ANU Students in India. ANU also announced the postponement of the deadline for 'withdrawing without failure' to 2 June at 11:59 pm (AEST).
"Under these proposed arrangements students will now be able to request that they be considered for CRS/CRN grades", a University spokesperson confirmed.
When approached for comment, ANUSA President Madhumitha Janagaraja said, "I think everyone has been differently affected by the pandemic". Janagaraja believes that "anyone who's been struggling as a consequence is deserving of the accommodation" in grading.
International Students' Department President Benedict Chin told Observer that the department is "very happy to finally see all our efforts going into something". Benedict hopes to see "more to come". Chin said he would like to thank his entire team for all their efforts – "I am very proud of what we have achieved so far".
These announcements come after the University's Academic Board met on Monday. Documents obtained by Observer show that the Academic Board discussed the return of CRS/CRN. Although these were not formally voted on, the recommendations made to the Deputy Vice-Chancellor (Academic) Grady Venville have since been implemented.
The University previously stated that they had not received "special dispensation" from the Tertiary Education Quality and Standards Agency (TEQSA) "to use CRS/CRN grades in 2021".
In response to an email inquiry regarding the compliance of alternative grading systems made by Janagaraja, TEQSA stated they "did not identify any concerns" with the use of CRS/CRN in semester 1 2020. The Agency stated that further to that initial advice, they "had not imposed any restrictions on ANU in regards to grading, nor would it be able to".
TESQA can only take regulatory action if a university fails to comply with the Higher Education Standards Framework (HES Framework). TESQA stated that "matters of academic judgement" are the responsibility of individual universities provided they meet the requirements of the HES Framework.
The ANU Spokesperson told Observer that "the University is able to look at providing students these options as they are being used on a case-by-case basis and on the individual academic merits of each case". 
Contributing reporting by Grace Danielson
Know something we don't know? Email [email protected] or use our anonymous tip submission.
If you have an issue with this article, or a correction to make, you can contact us at [email protected], submit a formal dispute, or angry react the Facebook post.
---