The Privatisation of Daley Road: How ANU's Deal With a Hedge Fund Has Impacted Rents and Accessibility
---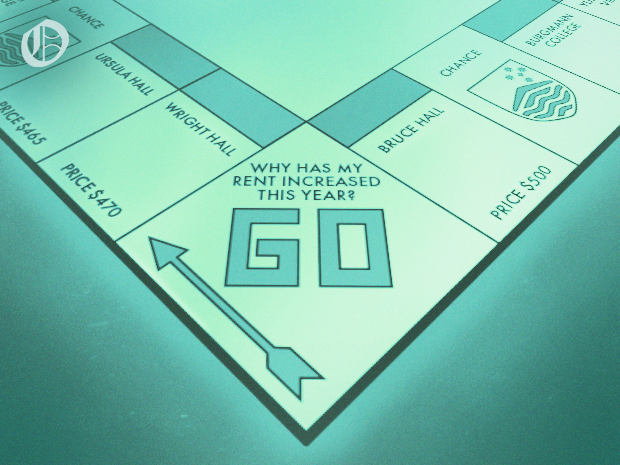 By Ryan Bourke,
In November last year, Observer investigated how successive increases in res hall tariffs were beginning to lock out low socio-economic students from a residential experience at ANU, with weekly rent surpassing $500 at some colleges.  
Now, in 2023, Observer is investigating the role played by hedge funds in this worrying trend. 
In recent months, Australian universities have received increased scrutiny over the privatisation of student accommodation. At ANU, student leaders have criticised the university for worsening the cost of living and rental crisis for its students through its partial sell-off of Residential halls.
ANUSA representatives have also called upon the university to freeze the successive rises in rent and renegotiate concession agreements under which rents are determined in part by ANU's financial obligations to hedge-fund AMP capital. 
But what are ANU's obligations under this deal, and how have they eroded the accessibility of on-campus accommodation?
How We Got Here: The Pathway to Privatisation
In 2016 ANU entered a concession agreement with H.R.L Morrison and Co., an investment management firm. Under the deal, ANU was paid an upfront lump sum of $82.5 million in exchange for 30 years' worth of revenue from rents paid by residents at 9 of the student accommodations that make up its Purpose Built Student Accommodation Portfolio (PBSA).
In a press release issued that year, ANU said the lump sum would be used to "repay University debt, help fund the proposed redevelopment of Union Court [Kambri] and improve student services." 
In 2019, the firm sold its stake in the PBSA to the hedge-fund AMP Capital for $162 million, which was almost double the lump sum that ANU sold it for 3 years earlier. AMP told investors that it valued the 30+ year deal at over $700 million.
While concession agreements like this became incredibly common across Australian Universities during the 2010s, ANU has the largest one in the country.
Currently, AMP's website boasts that it "owns 100% of ANU's Purpose-Built Student Accommodation portfolio", which today includes "10 residences". That number rose to 11 in December 2022, when 35 years' worth of rent from the newly opened SA8 "Yukeembruk" accommodation was conceded to AMP for $112 million.
Terms of the deal:
While ANU retained responsibility for the day-to-day operations of its residences, AMP takes responsibility for building maintenance across all 10 of the portfolio's residences.
In order to remain profitable for stakeholders the concession agreement also saw changes in the way rents were determined. 
Rather than being determined by the University in accordance with its financial position and student needs, tariffs are pegged to inflation in order to ensure that the hedge fund's investment remains profitable. 
A 2016 press release from HRL Morrison and Co also assured investors that the deal would provide the hedge fund with "rights and protections regarding the development of additional on-campus PBSA residences". Observer asked ANU if this detail of the deal had any relationship with the sale of 35 years worth of the new Yukeembrook hall's revenue for $112 Million. A spokesperson from the university replied, "As with all commercial contracts, the full details of the PBSA are confidential".
Effects on the Residential Experience: 
In the years since the concession agreement was struck, rents on Daley Road have risen dramatically. In November 2022, College leaders told Observer they were distressed about how rising tariffs were locking out low socio-economic students, and called upon the university to increase the number of residential scholarships.
According to ANUSA President Ben Yates, "Privatisation has caused residents to lose control over their communities."
"With residential hall tariffs tied to above-CPI increases annually, ANU accommodation is becoming less and less accessible to diverse demographics."
"Many residential student leaders and staff members have remarked to me that the cultural problems of Sydney and Melbourne private schools are effectively being imported into ANU halls."
Yates also spoke about how ANU's privatised residential accommodation arrangements impacted students during the Covid-19 pandemic.
This is potentially due to ANU's commercial agreements, which Yates believes created a situation where "immuno-compromised students did not have the opportunity for a no-cost cancellation of their contract, if they did not feel safe living in the residential hall environment".
Other residents found themselves trapped interstate due to lockdowns. They were also denied the ability to cancel their contracts and continued to be charged rent for accommodation they could not access.
When asked what ANUSA believes ANU should do, Yates called upon the University to "radically renegotiate the PBSA agreements to reduce and freeze tariffs. It appears affordable tariffs are simply incompatible with the financial agreements ANU has entered into for residential halls."
ANUSA has also convened a Housing Action Collective. ANUSA General Secretary Phoenix O'Neill told Observer that the Collective aims to "help students campaign for affordable student housing at the ANU and in the ACT".
O'Neill said that the Collective was necessary because "the ANU has repeatedly failed students by selling off residential halls to private interests".
When asked how much influence AMP capital had over residential hall rents, an ANU spokesperson stated that "the full details of the PBSA are confidential." However, they did confirm that "during the time period covered by the agreement, AMP will receive revenue from rent and are responsible for maintenance of the buildings".
ANU also told Observer that "during the pandemic, consideration was given to residents who were unable to meet their financial obligations due to unforeseen circumstances".
Despite rents at some colleges surpassing $500 a week, ANU insisted that "student rent at ANU does not exceed 75 per cent of market value. This is to ensure students are not charged GST on their tariffs and accommodation remains an affordable option".
"If students need financial assistance or other support, the University considers such requests on a case-by-case basis to find solutions that meet the needs of and work best for both parties".
Graphics by Will Novak
Know something we don't know? Email [email protected] or use our anonymous tip submission.
If you have an issue with this article, or a correction to make, you can contact us at [email protected], submit a formal dispute, or angry react the Facebook post.
Want to get involved? You can write articles, photograph, livestream or do web support. We're also looking for someone to yell "extra!" outside Davey Lodge at 1AM. Apply today!
---