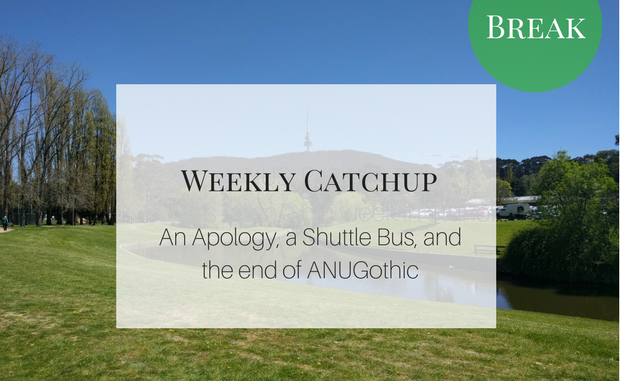 Content Warning: this article contains a mention of homophobia
Can you believe that it's the end of the mid-semester break? If you've been too busy relaxing to keep up with the news, here's what you might have missed.
ANU Administration
Following ABC's reporting of homophobic threats made to a student at Ursula College this week, Vice Chancellor Brian Schmidt has made an official response. Schmidt said on his blog that he was "sickened" by the behaviour, which "let down a member of our community". He encouraged all staff and students to join the ANU Ally Network, stressing that strength is greater in numbers. Observer first reported this story in February.
ANUSA
Nominations for ANUSA's Probity Officers and Disputes Committee closed this week. Probity Officers assist in running ANUSA Elections, while the Disputes Committee has judicial power, interpreting the ANUSA Constitution in the event of a conflict. Elections for both positions will occur at SRC 3 this Tuesday.
Clubs Council
The Clubs Council has missed another deadline for the launch of the new funding system, meaning clubs and societies have once again had the processing of their grants delayed. Many clubs have been left out of pocket as a result of this delay.
Campus
A free shuttle bus between Hancock and the National Library of Australia began operating on 3 April. The bus departs hourly from Hancock between 10am and 5pm, and return buses from the National Library at 15 minutes past the hour, with the last bus departing at 5:15.
Online Life
ANU Gothic has announced the page will be retiring at the end of the year. Its posts will remain accessible online, but no new content will be produced. The individual or individuals behind the page are still unknown. Dark days ahead.
Know something we don't know? Email [email protected] or use our anonymous tip submission.
If you have an issue with this article, or a correction to make, you can contact us at [email protected], submit a formal dispute, or angery react the Facebook post.
Want to get involved? You can write articles, photograph, livestream or do web support. We're also looking for someone to yell "extra!" outside Davey Lodge at 1AM. Apply today!