'Proud! Of Our ANUSA' Launches as "Fun, Fierce and Focused"
Posted On August 11, 2020
---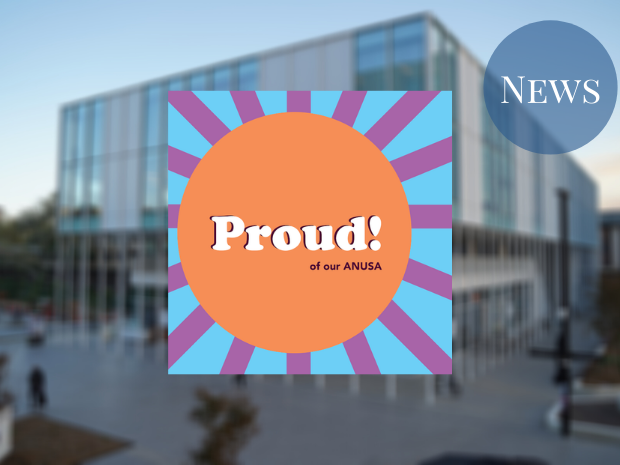 By Declan Milton 
After a 'soft launch' on 12 July, current Gen Rep Ben Wicks has officially launched his ticket, 'Proud! Of Your ANUSA' (Proud!). With the aim of "building an association we can be proud of", the ticket bills itself as "fun, fierce and focused". 
Like other tickets, Proud! is fielding candidates for all available executive positions. However, Proud! is not running any candidates for NUS delegate, stating that the ticket is "solely about ANUSA and ANU". 
Ben Wicks is running for both President and UMAC. Focused largely on the convoluted nature of SSAF funding, Wicks wants to see a "pivot" in "SSAF rhetoric" so that ANUSA can "fiercely fight any cuts to the association". This will also allow members to "see an association that truly takes its responsibility of holistically enhancing the student experience seriously". With regards to ANUSA's financial situation due to COVID-19, Wicks told Observer that "we're heading for a financial cliff, and [fellow Presidential candidates] Madhu [Jangaraja] and Skanda [Panditharatne] are bracing to crash but I really think there is an opportunity to fly". 
Running for Vice President is the ANUSA Disabilities Officer, Zoe Ranganathan. Discussing personal experiences as a Department Officer, Ranganathan recalls just one "check in" from a member of the ANUSA executive. According to Proud!'s press release, Ranganathan views the position of VP "as a pastoral care role for the representatives". She added that "without a healthy SRC, we can't have a healthy ANUSA". The issue of pastoral care in the SRC has been highlighted this year by the resignation of International Officer LC Yip after she received a "lack of support" from other members within the Association.
Gen Rep Ben Yates is running for General Secretary, hoping to use his extensive experience as a member of a number of working groups to create a framework "to make the Gen Sec's significant powers more transparent and accountable". He will face four other candidates for the position, including independent Dominic Harvey-Taylor. 
Running for Treasurer is Stefan Thottunkal, who aims to create "alternate funding sources" for ANUSA, including the prospect of opening an ANUSA cafe and/or selling ANUSA merchandise. This may allow ANUSA to diversify funding and counter what other tickets are predicting as "likely" budget cuts due to COVID-19.
Maddie Chia is running for Education Officer, aiming to utilise her experience in the space of advocacy for "niche subjects". Currently working as Deputy Chair for the ANUSA Mental Health Committee and as Respectful Relationship Ambassador, Chia's platform is to ensure that "voices from all different facets of students are consulted". 
The Social Officer role will be contested by Maddy Watson, who aims to "rejuvinate an ANU social community that has been devastated by the pandemic". Wicks stated in an interview with Observer that this will be of special importance to the Year 12 cohort which has spent the majority of the year online. 
Proud! will also contest 7 of the 14 available Gen Rep positions, nominating the following: Noa Amiry, Coby Howell, Cat Yeong, Lachlan Kaye, Grace King, Isha Singhal and Casper Wallen. For College Representatives, Riley Smithers is running for CBE, Su-En Hia for JCOS, Yasmin Kirk for CASS, and Swatantra Roy for CECS Rep. 
In their press release, Proud! stated that they "reject the divisive nature of student politics", and are instead fielding candidates from a "diverse range of progressive political backgrounds". They stress that they are "not affiliated to an NUS faction or political party". Given that the executive is likely to be divided between a number of tickets, Ranganathan stated that Proud! will be "comfortable working with the non-Liberal tickets". She added that she is "scared" about what Liberals on the executive means for the future of the Association, and that she doesn't "feel comfortable" with having Liberals in student unions. Liberal-affiliated ticket 'You! For ANUSA' officially launched last night, and is only contesting the position of Treasurer on the executive. 
Proud!'s "fun, fierce and focused tagline" reflects their "shared vision of an association that doesn't compromise". "A fun association" involves ANUSA being "present in students' lives and more relevant to the day to day student experience". "Fierce" relates to student advocacy, with the ticket stating that "an activist association is essential to maintain our relevance as the peak body for ANU students". Being focused involves "a relentless ambition to materially improve students lives". Proud! as of yet have not announced a detailed policy outline, but said that unlike other tickets, who may run on "populist" policies like "free beer", Proud! are running with "nuanced" policies which have been developed with "consideration".
Observer understands Zoe Ranganathan is running as an NUS delegate on a seperate ticket, to be launched tomorrow evening. 
In an interview with the ticket, Observer was told that two nominees for executive positions are members of the Australian Labor Party and National Labor Students. More details on political affiliations are to be released on the ticket's website in the near future.
Anthony Lotric contributed to reporting
Know something we don't know? Email [email protected] or use our anonymous tip submission.
If you have an issue with this article, or a correction to make, you can contact us at [email protected], submit a formal dispute, or angery react the Facebook post.
Want to get involved? You can write articles, photograph, livestream or do web support. We're also looking for someone to yell "extra!" outside Davey Lodge at 1AM. Apply today!
---